Authentic, delicious, inspiring
When hand-picking hotels, we seek out passionate chefs who source local produce and experiment with menus according to what's fresh and in season.
Enjoy the culinary delights of the gastronomic restaurants on offer in Gevrey Chambertin and in Le Richebourg on our Gastronomic Burgundy Walking trip. Or take advantage of the Ciasa Salares four restaurants on our Walking the Dolomites of Alta Badia holiday and indulge in a chocolate experience, a cheese room evening or fine dine in the 'bottle cork' cellar restaurant amongst 1900 labels, 24,000 bottles from every corner of the world, making this a wine connoisseur's dream experience.
No matter where you choose to travel, we ensure your food is always served in spectacular surroundings. On self-guided holidays, you will always be offered a table suited to the size of your party; on guided holidays, meals are usually enjoyed as a group. If you are travelling alone and are concerned about a lack of company at meal times, we would advise you to book a guided holiday.
"The food was excellent - both the provided dinners and in the restaurants we went to."
"Mr Stapleton, Canada"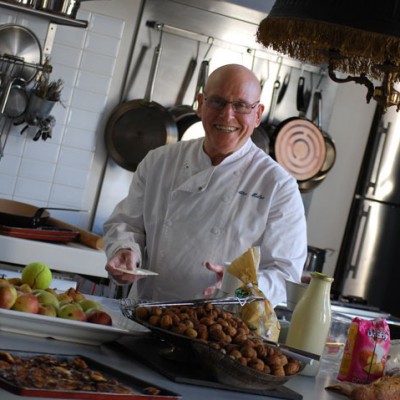 What's included?
Breakfast is included at every hotel you stay at, although what's provided will vary greatly from country to country. As a minimum, you will be offered continental style drinks/ breads/ pastries, however in some of our hotels you can expect lavish hot and cold international buffets.
Lunches are usually left to you – although we do include these on selected guided walking holidays. Where lunch is included, it will either be a picnic or a light lunch in a local cafe/restaurant. On holidays where lunch is left to you, we give you recommendations of places to stop and eat en route, or on where you might like to go to make up a picnic. Most of our hoteliers are also happy to provide a packed lunch for you.
In the evenings, meals are usually included – unless you are staying somewhere with lots of local restaurants to choose from. Menus vary enormously from country to country, however you can expect a minimum of three courses – often four or five – with dishes reflecting the best of regional cuisine. If fine dining is particularly important to you, then perhaps consider one of our 'gastronomic' holidays where we include gourmet menus on every night of your stay.
Why not take a look at our holidays that are perfect for food lovers or perfect for wine lovers?