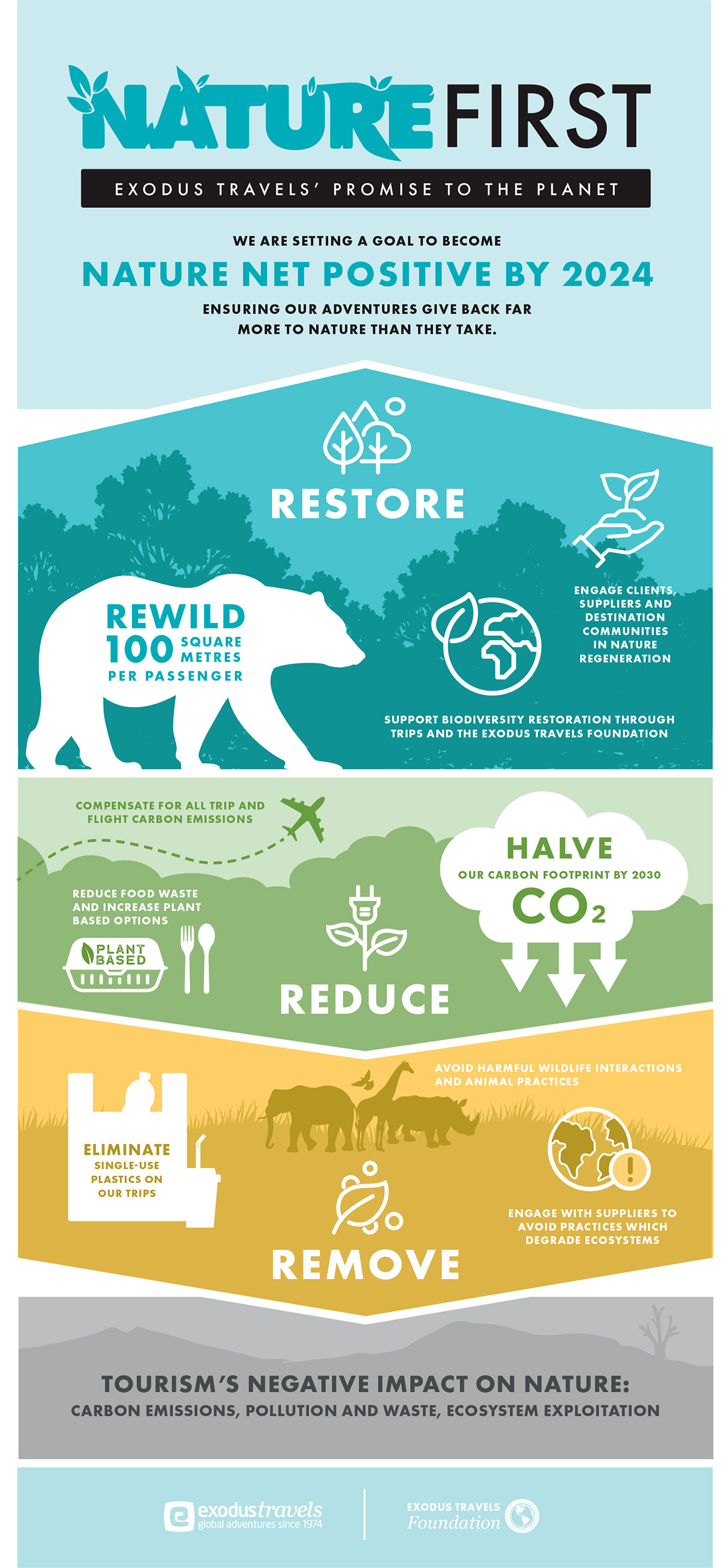 Our Nature Net Positive Commitment
In 2021, we became the first tour operator to set the goal of becoming Nature Net Positive by 2024, with our Nature First commitment.
Partnering with Rewilding Europe, we're helping to rewild 5,000 hectares in the Italian Apennines over five years, and an extra 100 square metres of land will be rewilded for every passenger who books a holiday with us. You can find out more about our rewilding partnership here.
As Headwater's sister company, Exodus' sustainability commitments and activity encompass all Headwater trips too.

Headwater Declares a Climate Emergency
We are delighted to be a signatory of Tourism Declares a Climate Emergency, a collective of travel businesses and organisations committed to delivering effective climate action. As part of Tourism Declares:
We publicly accept the current IPCC advice that we need to cut global carbon emissions to 55% below 2017 levels by 2030 to keep the planet within 1.5 degrees of warming.
We are developing a Climate Change Action Plan with a science-based target to halve our carbon footprint per client by 2030.
We commit to publicly communicating both our plan and our progress.
We will work with our suppliers and partners, to encourage them to make their own declaration, and with the Tourism Declares community to share best practice and solutions with the wider travel industry.
We recognise the need for system change across the industry and will join others in calling for urgent regulatory action to accelerate the transition towards zero carbon air travel.
Any questions or comments, email sustainabletravel@exodus.co.uk.
The Exodus Travels Foundation
Here at Headwater, and at our sister company Exodus Travels, we are all passionate about the power of travel to make a positive impact on the world around us. We work hard to make sure our adventures empower and protect the communities and environments we take people to visit, and we are thrilled to support this goal further through the Exodus Travels Foundation.
To read more about the foundation, its goals and its projects click here.