Geilo Winter Activity
Welcome to the wonderful winter wonderland of Geilo. This pretty village sits half way between Bergen and Oslo, on the edge of the Hardangervidda National Park. A stopping point for travellers between the cities of Oslo and Bergen since the late C19, it gained early fame for its clean air and has now become a mecca for winter sports aficionados. From ice fishing to kite skiing you can pretty much do any winter sport here.

This is the perfect place to base your winter activity holiday, offering you the chance to learn and enjoy four winter sports. We start with gentle gliding on the skinny cross-country skis around Geilo's beautiful lakeside trails, before swapping skis for snow shoes - a great way to cross deep virgin snow. We then meet the Huskies and after you help prepare these beautiful dogs and their sleds you'll take a tour through the winter wilderness. Finally we pick up the wider Alpine skis and teach you to snow plough on the friendly beginner slopes of Geilo's alpine centre.

This is a wonderful holiday for all the family or just for those who have never tried winter sports before. We leave plenty of time for you to hone your skills or explore the pretty village and sample its friendly bars and cafes. Cross-country ski hire is included all week.

You spend the week in the 4 acorn-rated Dr Holms Hotel, which sits on a perch above the town. The hotel is more than 100 years old and is probably the most famous hotel in Norway. The hotel has a superb spa, two swimming pools and nice lounge areas; there's also an after-ski bar with a balcony offering panoramic views of the town and the ski slopes on the other side of the valley.
Typical holiday itinerary
Day 1 - Arrive in Geilo
We meet you at Geilo railway station and transfer you to your hotel (5 mins) in time for dinner.
Day 2 - Cross country ski lesson
Today you meet your cross-country ski instructor for a 3-hour lesson in which you'll learn to glide along the snow, along the shores of the lake. You'll pass through beautiful forest and you might even be lucky enough to see Ptarmigan. The afternoon will give you a chance to practise by yourself or relax at the hotel.
Day 3 - Cross country ski lesson
There's a second cross-country lesson today. After finding your feet yesterday, it's time to improve your newfound skills and add a few more. Again, you'll keep to the shores of the lake, only this time you'll find you travel that little bit further. The afternoon will be free so you can practise a little bit more, or maybe rest the muscles in one of the town's cosy cafes or the hotel pool.
Day 4 - Snowshoeing
A new day, a new sport. Today we'll head off to see what snow shoeing is all about. Wander through woods with your private guide, learning about the history and folklore of Geilo, or check out the plateau above with its lunar landscape and chocolate-box cabins.
Day 5 - Husky dog sledding
After the peace of snowshoeing it's time to enjoy the experience of Husky dog sledding. You'll meet the handler down by the lake, where you'll prepare the dogs and sleds ready for your trip. Once ready, set off on a loop through the woods across the snow, letting the dogs take the strain. In the afternoon maybe take out your skis again.
Day 6 - Alpine skiing
Today it's time to try the blue riband of winter sports as we pick up the big, wider skis of Alpine skiing. A private lesson will teach you the basics and you'll soon be snow ploughing down the gentle slopes of one of Geilo's many runs. You have the option of extending your lesson (pay locally) or practising further in the afternoon, before heading down to the town for a taste of the local Apres-ski!
Day 7 - Free day
We leave this day free so you can continue your alpine adventure, enjoy a last cross-country ski, or spend a relaxing day following one of the winter walking trails. Alternatively, take the local train to join the Flam Railway, one of the top railway journeys in the world, before heading back to your hotel for a relaxing sauna and swim.
Day 8 - Leave Geilo
Leave Geilo.
Where you stay
This single-centre holiday is based at the following hotel. If you'd like to extend your stay here, or upgrade your room, just let us know at the time of booking. You can call our sales team on 1-800-567-6286 to discuss accommodation options.
Dr Holms Hotel, Geilo (4 Acorn)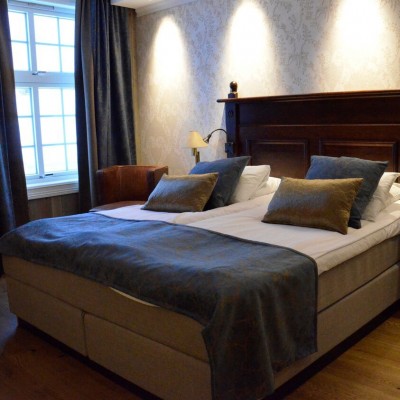 The elegant Dr Holms Hotel is our base in Geilo. The hotel has 126 rooms including 11 family rooms and 3 suites in its snow covered grounds, as well as a large spa offering a range of relaxing treatments (book and pay locally) and 2 swimming pools.

Rooms will be allocated either in the new wing, where the bedrooms are bright, modern and comfortable; or in the historic main building where the rooms are of classic English style and have varying sizes as this part of the building dates back to 1909 and is a graded building. All rooms are en-suite with either bath or shower and some have WIFI, the main reception has full WIFI.

The cuisine at the hotel is excellent and well presented - expect to try a tantalising range of classic winter and game dishes.

As well as the spa centre, in the main building there are also pleasant lounges and a cosy cafe and the famous après-ski bar which often has live music on Friday and Saturday afternoons. In the basement of the modern wing you will also find a wine style bar and bowling alley complete with diner.

Further details on the hotel website, and independent reviews on Trip Advisor.
---
Extra nights and stop over hotels
If you'd like to extend your trip with extra nights at the start or end, or if you'd like to arrange a stop off point en-route, then we recommend the following hotels.
Hotel Karl Johan, Oslo (3 star)
The Karl Johan hotel is centrally located on the main street of Oslo and has 111 beautifully furnished rooms with full private facilities including direct dial phone, satellite television, hairdryer, minibar and radio. Breakfast is a generous buffet and is served in the fourth floor breakfast room. There is also a separate restaurant and bar available for lunch and dinner.

Oslo is the oldest Scandinavian capital dating back to 1048, its name derived from the Norse words 'As' meaning God and 'Lo' meaning field. It's colourful, confident and can hold its own against any other major city. Today it is a cosmopolitan place with over half a million people and it exudes an easygoing ambience.

The old quarter houses some excellent museums and galleries, boasts an interesting street life with cafés, shops and restaurants and offers dignified parks and gardens. During the summer, the city is a real delight with street entertainers, open-air pavement cafés, and many festivals. It's worth spending a couple of nights just to take in the sights and sounds.

Further details on the hotel website, and independent reviews on Trip Advisor.
Hotel Cecil, Oslo (3 Star)
The Hotel Cecil is a modern 3 star hotel situated next to the parliament and is in an ideal location for exploring the city centre. All rooms are light and airy with full en-suite facilities. They also come equipped with direct dial telephone, cable television and air-conditioning. Breakfast is buffet style and there is a selection of restaurants within walking distance for your evening meal.

Further details on the hotel website, and independent reviews on Trip Advisor.
Travel options
Transfers included from Geilo train station at 19:17 and back to Geilo train station at 10:45. Transfers can be at other times at no other charge.
Please call our sales team on 1-800-567-6286 or email info@breakaway-adventures.com to arrange connecting flights.
Customer reviews
Everyone who goes on a Headwater holiday will be emailed a link to our post-holiday questionnaire where they can give us an honest assessment of all aspects of their holiday - everything from how quickly we answer the phone to how clean the hotels were - plus, of course, an overall rating and comments about their holiday.
Any feedback collected is posted straight to our website - totally unedited. So, for the real tales, twists and turns of our holidays, look no further than the reviews from our previous travellers.
Reviewed by Mis Griffiths on 02/01/2016
Great instructors at ski school. Hotel well located, traditional, great food and facilities. Excellent holiday
Reviewed by Mrs Tod on 19/03/2015
Headwater delivered exactly as brochure stated no hidden extras.Local reps were very professional and helpful The dog sledding was MEGA!!! Geilo Husky to be recommended.
Reviewed by Mrs Morgan on 24/01/2015
An excellent holiday. All of the activities were enjoyable and with great tuition from Geilo Ski school. The husky dog sledding was particularly memorable. We didn't want to go home on the last day and plan to return to Geilo as soon as we can!
Departure dates & prices
| | | |
| --- | --- | --- |
| December 2016 departures | Tour only | |
| Dec 11 | $1750 | |
| Dec 19 | $2182 | |
| Dec 26 | $2182 | |
| | | |
| --- | --- | --- |
| January 2017 departures | Tour only | |
| Jan 2 | $1795 | |
| Jan 8 | $1795 | |
| Jan 15 | $1795 | |
| Jan 22 | $1795 | |
| Jan 29 | $1795 | |
| | | |
| --- | --- | --- |
| February 2017 departures | Tour only | |
| Feb 5 | $1998 | |
| Feb 12 | $1998 | |
| Feb 19 | $1998 | |
| | | |
| --- | --- | --- |
| March 2017 departures | Tour only | |
| Mar 5 | $2150 | |
| Mar 12 | $2150 | |
| Mar 19 | $2150 | |
| Mar 26 | $2150 | |
| | | |
| --- | --- | --- |
| April 2017 departures | Tour only | |
| Apr 2 | $2150 | |
Holiday details
Holiday type
Snowshoeing holiday, single centre. Managed by Headwater appointed agent.
Departures
Sundays except 19, 26 Dec & 2 from 19 Dec '16 to 2 Apr '17, for 8 days (7 nights). Non standard departures can be arranged both with arrival airport and arrival day please call for details
Meals
7 nights half board with continental breakfast.
Other details
Please see our Planning your holiday and What's included in the price? pages for additional information. Please call us for single room supplements, room upgrade options and child prices.
Starting your tour
Transfers included from Geilo train station at 19:17 and back to Geilo train station at 10:45. Transfers can be at other times at no other charge.
Enquire about this holiday
Simply complete the form below and a member of our sales team will contact you (when it's most convenient for you) to provide availability information, travel options and additional information.

Not quite what you're looking for - then why not take a look at some of our similar holidays?