Family Cycling Holidays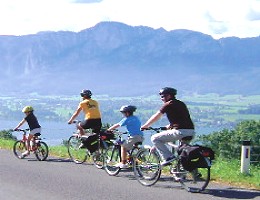 For a family cycling holiday with children up to about 4 years we can provide child seats which attach to adult bikes. Remember, though, that it is harder pedalling with a child on board, and you have to do a lot more stopping.
If you have older children in your party you should base your holiday choice on the bike rating for the tour. Children over about 8 can go on our 1-bike family cycling holidays, and 2-bike holidays are fine from about 11. We have special children's mountain bikes so that the whole family can enjoy a family cycling holiday together.
Children from about 4 are too big to go on child seats, and they can't really do a day's cycling till about the age of 8.