When Headwater's MD, Tina James, set out on a trip to the little-known Ebro Delta in Southern Catalunya, she was more than pleasantly surprised…
I'm a confirmed Francophile, so on the odd occasion that I get to visit other parts of Europe with work, I have mixed expectations. My most recent trip was to a little-known part of Spain called the Ebro Delta, just a couple of hours south of Barcelona by train.
I've been lucky enough to visit Catalunya before, albeit along the northern coast close to the French border; I've had a soft spot for it ever since. So, with a little trepidation, I embarked on my four-day visit to Southern Catalunya and the Ebro Delta, one of the newest regions in Headwater's portfolio. I needn't have worried – the region met and exceeded my expectations in every way.
After an early morning arrival into Barcelona-El Prat Airport, I easily negotiated the train journey across the city and began my journey along the coast; regular glimpses of the turquoise sea tempting me as the train sped towards L'Aldea-Amposta–Tortosa station. On reaching the station I was collected by Headwater's local representative, Triona – this is her second season working for us as a rep and she has also led groups for us in Portugal. I was whisked off to the lively seaside town of L'Ampolla, where Headwater customers stay on our 'Cycling around the River Ebro' and 'Undiscovered Southern Catalunya Cycling' holidays. The town has a good selection of restaurants for all pockets and is perfect for a seafront stroll before dinner.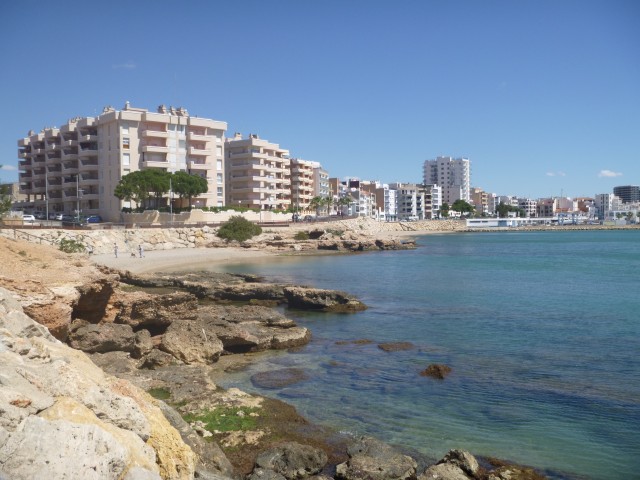 My real discovery of the region began the next morning when I met with Philippe, the walking guide for our 'Following in the Footsteps of Picasso' holiday based in Horta de Sant Joan. I arrived in drizzling rain and strong winds; thankfully I'd come prepared for the weather! After stopping at a little shop on the Plaça Catalunya for supplies and the obligatory cafe solo, we set off to complete the Holy Santa Barbara Mountain walk (day 2 of this holiday itinerary). As we left the town behind and descended towards the impressive Knights Templar monastery of Santa Maria dels Angels, vultures cruised the thermals overhead and we chatted about our backgrounds. Philippe and his wife Vera (who joined us on the walk) are both Belgian nationals. They quit their professions in Belgium 10 years ago and made their base in Southern Catalunya; from the amount of people they chatted to, they're well integrated into local life!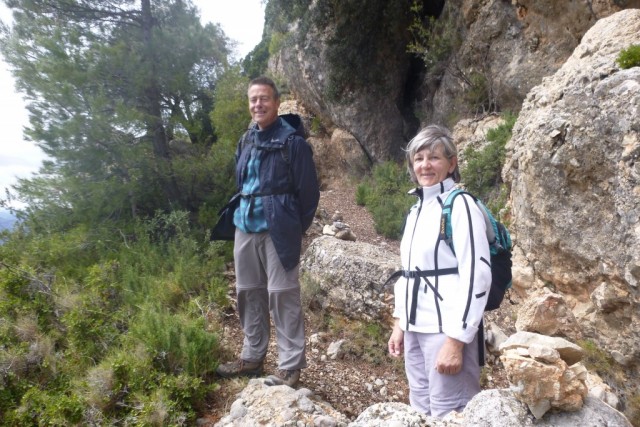 Philippe gave us a very interesting tour of the monastery before we commenced our ascent of Santa Barbara Mountain – the sun came out as we did so, just as he'd predicted. We passed the cave of Horta's patron saint, San Salvador, which a little boy had made his temporary den. He continued up the mountain with his parents, little red bike in tow; the bike didn't quite make it to the top even if he did! The views from the summit were simply spectacular, spanning over the Terra Alta and Matarrana plains and the descent, via a rough stony path, provided superb views of some of the places Headwater customers will discover on their holidays here. We arrived back at Horta de Sant Joan, hungry and luckily in time for a late, mouth-watering tapas lunch: patatas bravas, fried calamari and octopus and pan con tomate to name just a few delights, washed down with a glass of tasty, local organic red wine.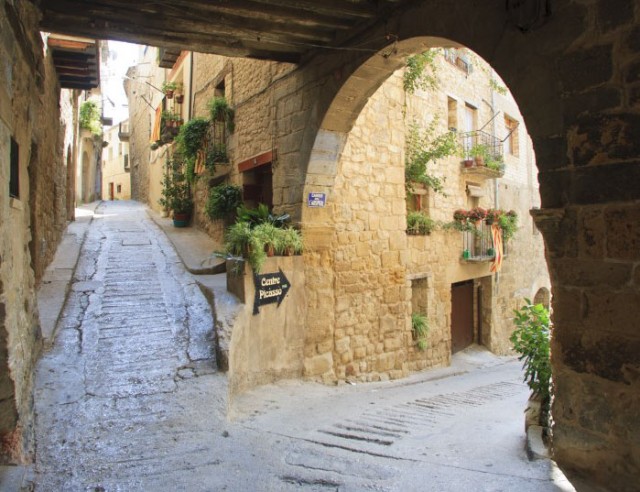 Sunday dawned with sunshine as Triona dropped me off in the town of Deltebre, the capital of the Ebro Delta. After my obligatory cafe solo I mounted my Headwater bike, which had been pre-adjusted to my size. With my puncture repair kit, tyre levers and lock safely stowed away in my panniers, I began my cycle over the bridge (there is a cycle path) which spans the River Ebro, heading into Sant Jaume d'Enveja from where I picked up the second half of Headwater's suggested day 3 circular ride on our 'Discovering the Ebro Delta by bike' holiday.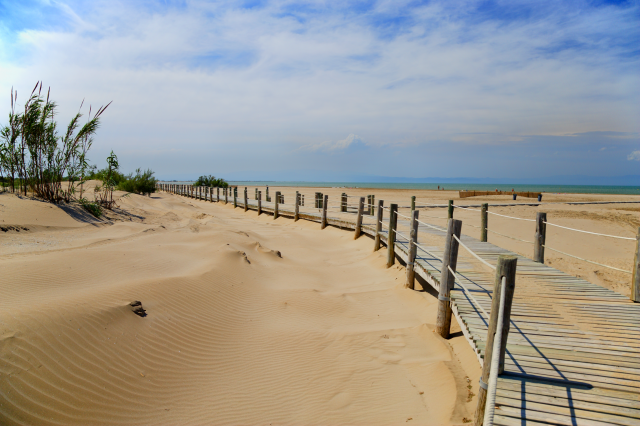 From the bridge I followed the cycle path along the banks of the River Ebro, my view, at times, obscured by towering bamboo lining the river towards Illa de Buda. It's a perfectly flat route with bird spotting opportunities along the way. Sadly I didn't have time to complete the 8km detour to the beach, but continued back towards Eucaliptus through the Delta d'Ebre Natural Park and back to the Hotel L'Algadir in Poble Nou del Delta. After a quick freshen up, I wandered around this charming town and found some well-earned tapas and a glass of the local red!
I'm now smiling at the very thought of reliving my visit to the Parador at Tortosa, a C10 castle perched on a hill with views to the Serres de Cardó-el Boix mountains, the Ebro River and Tortosa itself below. Headwater customers stay here on our 'Cycling around the River Ebro' and 'Undiscovered Southern Catalunya Cycling' holidays, and I can't put into words how spectacular the view is from the castle battlements – it must be seen to be believed!
Dragging myself away from the view, I followed the route of our 'Undiscovered Southern Catalunya Cycling' holiday along the old railway line (or Via Verde) towards Horta de Sant Joan – and what ensued was one of my favourite days of cycling ever in Headwater history!
A little nervous as to whether I was up to the task – the map I'd been given showed a 1,077m height gain today – I pedalled on, setting myself goals. The first was to reach the point marked on the map as Aldover station and I'm pleased to say that at this point there was no stopping me! I continued towards Xerta (also shown as Cherta) on the side of the old railway station, where I succumbed to a cafe solo, water and snack stop in the Plaça by the church, whilst reading some interesting public information about the floods that have overcome this town during the last 4 centuries. Each flood level can be seen on the front façade of the church itself; I certainly wouldn't want to have witnessed the devastation it wreaked at its highest point.
I left Xerta behind and continued my journey towards Benifallet station. This should have been the next opportunity for a refreshment stop but alas, the cafe wasn't open. I still had plenty of water though, so continued along the route, climbing all the way to Bot where there were plenty of bars and cafes. I stopped at a lovely bar just by the church, where I partook in some patatas bravas as my reward.
My last day arrived and I had a final minibus tour of the region with Triona, checking out a few hotspots prior to her first Headwater customers arriving! I was impressed by Sant Carles de la Ràpita, a seaside town just a stone's throw (as the crow flies) from Poble Nou del Delta and a lovely place to while away a couple of hours people watching! There's also the small town of Gandesa – the capital of the Terra Alta with a history dating back more than 2000 years; Miravet with its impressive cliff-top castle; and lively El Pinell de Brai with its Cathedral of Wine, one of the most impressive wine cellars built by Cesar Martinell – sadly I didn't get chance to visit but it's on my list for next time!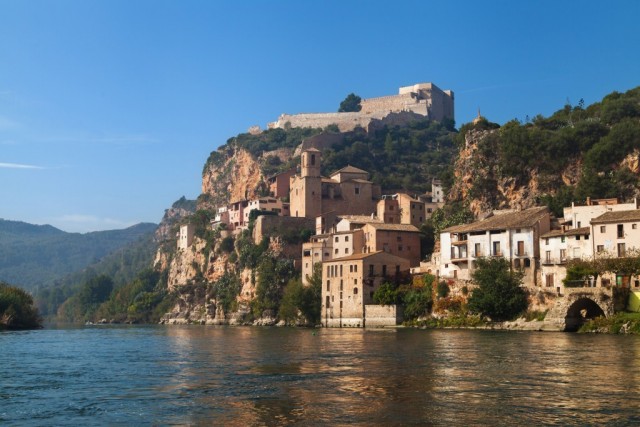 This region exceeded my expectations in so many ways: the history, the food and wine, the natural beauty… Words just can't describe how incredible the views were, from the meander of the River Ebro and the impressive mountains, to the gorges and bubbling streams. For me it was a mix of the Dordogne and the Ardèche in France, all rolled into one. Would I go back? In a heartbeat.
Headwater offers 10 walking and cycling holidays in Southern Catalunya, between 6 and 10 nights, as well as a range of self-catering villas and cottages.