Contrasts of Catalunya Cycling
Catalunya is a semi-autonomous area of Spain; steeped in culture, its traditions and festivals date back over thousands of years. Rich in mediaeval villages, highlights include prosperous Peratallada, peach-coloured Pals and fashionable Begur. The rocky coastline is dotted with pretty fishing villages, crystal clear waters and beautiful beaches which are perfect to explore.

This holiday is full of contrasts and variety and explores one of the most beautiful corners of Catalunya. It's gentle cycling too, occasionally off-road, through olive groves, peach orchards and pine forests, and along pretty coastal paths. The landscape is gently rolling for the most part, making this an easy cycle and a relaxing holiday. The changing seasons bring white blossom in spring, sunflower yellow in summer and warm gold at harvest time. Fabulous coastal views, beautiful beaches and aquamarine waters make this an inspirational area.

You stay in a variety of hotels, all with pools, which have been hand-picked for their charm and character. The family-run Hotel Garbi in the traditional fishing village of Calella de Palafrugell, is set on the hillside overlooking the sea. The stylish Hotel Sa Punta in Platja de Pals is set in attractive gardens and is within walking distance of the beach or you can cycle to nearby Begur. Two nights of the holiday are spent at the Castell d'Emporda, a magnificently restored C14 castle perched proudly on its outcrop, just outside La Bisbal. The breathtaking views over the plain from its sun terrace are not to be missed.
Read more about this holiday on the travel blog.
Day-by-day itinerary
Day 1 - Arrive in Calella de Palafrugell
You arrive at your hotel where all Headwater guests are accommodated in rooms with a private balcony and sea view. It's less than 5 minutes' walk to the centre of town where you have so many restaurants to choose from, we've left evening meals up to you.
Day 2 - Calella de Palafrugell to Platja de Pals 24km/15mi or 33km/21mi
Your route today passes through the pine forests behind Calella before heading off to peach-coloured Pals, a lovely mediaeval town with Romanesque church affording stunning views. After lunch, head on through the pretty hamlets of Palau-Sator (where there has been a settlement since Roman times) and Fontanilles, before looping back towards the coast and a gentle downhill ride to Platja de Pals.
Day 3 - At Platja de Pals
We strongly recommend a visit to mediaeval Begur, a fashionable hilltop town with C11 castle and outstanding views over the coast. Alternatively, relax on the beach, follow the superb coastal walking path or simply chill out by the hotel's semi-Olympic pool.
Day 4 - Platja de Pals to La Bisbal 34km/21.5mi
You'll begin today cycling past rice fields before following the River Ter to Torroella de Montgri with wonderful views of the Illes Medes. Visit this lovely mediaeval town with its Roman defensive wall before heading inland along wonderfully quiet roads through the village of Gualta (picturesque C16 bridge) and pretty hamlets of Fonolleres, Matajudaica and Casavells to La Bisbal. Here you'll stay in a uniquely converted C14 Gothic castle - once reputed to have been on Dali's shopping list but now owned by Dutchman Albert Diks.
Day 5 - At La Bisbal
Laze by the pool (there's a fabulous sun terrace and bar area) or follow our suggested cycling circuit linking the pretty mediaeval villages of Corca, Monells (pretty square and lovely choices for lunch) and La Bisbal, a lively market town famous for antiques and pottery. Take time to explore the old quarter including the Carrer del Call, formerly a Jewish ghetto, whose intricate arches are still intact today.
Day 6 - La Bisbal to Calella de Palafrugell 32km/20mi or 34km/21.5mi
Today offers lovely gentle cycling, stopping first at the walled village of Ullastret. The vast archaeological site here contains the remains of one of the oldest Iberian villages in Spain. Continue your journey through beautifully preserved Peratallada to the bustling market town of Palafrugell. Then back to Calella de Palafrugell for a final swim in the pool.
Day 7 - Leave Calella de Palafrugell
Please note that cycling helmets are a legal requirement in Spain. As we cannot provide these, we strongly recommend you bring your own.

Please see our Planning your holiday page for full details.

For a longer tour, why not consider combining this with our Cycling around the River Ebro
Where you stay
During your holiday you stay at the following hotels. If you'd like to extend your time at any of these or, if you'd like to enhance your stay with an upgraded room, just let us know at the time of booking. You can call our sales team on 1-800-567-6286 to discuss accommodation options.
If you'd like to keep your bikes with you for any extra nights we can arrange this for you for just £25 per adult per day and £18 per child per day. Please contact us on 1-800-567-6286 for further details.
Hotel Garbi, Calella de Palafrugell (3 Star)
The Hotel Garbi is located on the hillside overlooking the fishing village of Calella de Palafrugell with its own extensive gardens, shaded by pines.

The Hotel is family-run and has a warm welcoming atmosphere where its friendly staff will do their utmost to ensure your stay is as comfortable as possible.

The hotel also has a car park-for anyone who would like to drive to this hotel.

Further details on the hotel website, and independent reviews on Trip Advisor.
Hotel Sa Punta, Platja de Pals (4 Star)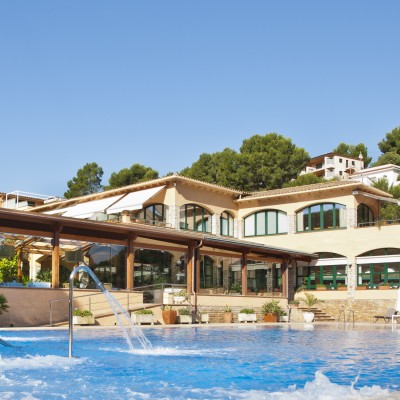 The Hotel Sa Punta, just a five minute walk to the beach is set in beautiful grounds with a lovely terrace area for afternoon drinks. There is also a semi-olympic size swimming pool with spa pool.

Rooms are spacious and modern with balcony or terrace.

Evening meals are taken either in the hotel restaurant or on the terrace.

Further details on the hotel website, and independent reviews on Trip Advisor.
Castell d'Emporda, La Bisbal (4 Star)
The Castell d'Emporda could not be in a better location, perched on a rocky outcrop with breath taking views from its sun terrace. The building is a superbly restored 700-year-old castle, that is now owned by Albert and Margo, who are both very friendly and speak excellent English.

Each of the hotel rooms has been individually decorated by furniture collected by the owners while they were on their travels around China, India and Morocco.

All of the rooms have spectacular hill-top views, featuring Air conditioning and heating, Fully equipped bathroom, Flat-screen TV, In-room CD/DVD player, Telephone and Mini bar.

Further details on the hotel website, and independent reviews on Trip Advisor.
Travel options
Transfers included from Flaca train station at 15:47, and back to Flaca train station at 13:15
Please call our sales team on 1-800-567-6286 or email info@breakaway-adventures.com to arrange connecting flights.
Customer reviews
Everyone who goes on a Headwater holiday will be emailed a link to our post-holiday questionnaire where they can give us an honest assessment of all aspects of their holiday - everything from how quickly we answer the phone to how clean the hotels were - plus, of course, an overall rating and comments about their holiday.
Any feedback collected is posted straight to our website - totally unedited. So, for the real tales, twists and turns of our holidays, look no further than the reviews from our previous travellers.
Reviewed by Ms Grybaite on 20/11/2016
Nothing compares to an active holiday, exploring local culture at your own pace!
Reviewed by Mrs Aries on 30/10/2016
I felt safe travelling totally alone and venturing out on my bicycle by myself, secure in the knowledge that assistance would be readily available if required. Happily this was not needed but it made a huge difference to my piece of mind. I hope that Headwater can extend its leisurely options to include other trips. The travel notes routinely described inclines as 'gentle'. Some of these gentle inclines were about as much as I could manage. I now wouldn't attempt any cycling trips in the catalogue beyond 'leisurely'. The hotels were delightful, El Castell d'Emporda being top of my list.
Reviewed by Mrs Rees on 11/10/2016
This was our first holiday with Headwater which did not disappoint. The scenery was beautiful, with the contrasting coastal and inland areas. We particularly enjoyed visiting all the medieval villages along the routes, especially Pals and Peratallada, although finding places to stop for refreshments in the smaller villages was sometimes rather hit and miss. The weather was lovely and warm, ideal for cycling, and the route notes were good for the most part. However, some of the forest tracks were a bit harder to cycle along. As regards accommodation, Hotel Sa Punta deserves special mention for its excellent service, superb facilities and the most delicious food of the holiday. Our reps Olivia and Brian gave us great service too. We have been on cycling holidays with other companies before and they provide a small front pannier on the bikes, so perhaps Headwater could consider doing this also.
Reviewed by Mr Hockin on 19/09/2016
Was exactly what it said on the can! - it fulfilled our expectations.
Reviewed by Mr Taylor on 25/07/2016
We had a fantastic week cycling in Catalunya, food, wine and people were great.
Reviewed by Mrs Leonard on 21/07/2016
We have two teenage sons and this was the perfect family holiday for everyone. Combining the activity of cycling and rest days at beautiful hotels and locations, taking in the wonderful medieval villages of Catalunya, farm lands, bays and beeches. It was the perfect way to explore more of the region.
Reviewed by Mrs Burke on 05/07/2016
Great fun , challenging, well organised , thoroughly enjoyable
Reviewed by Mrs Warnock on 30/05/2016
Our first cycling holiday and it will definitely not be our last!! Cycling through Catalunya was a real treat, beautiful peaceful countryside, wildflowers were so colourful, medieval villages to explore,lots of restaurants choice for coffee or lunch and then to end the day great hotels and delicious food. What's not to like?Highly recommended.
Reviewed by Mrs Kyle on 30/05/2016
Excellent holiday, cycling is the perfect way to explore. We enjoyed it all - some freedom, some things sorted out
Reviewed by Mr Langrish on 25/05/2016
Accurate description of contrasting scenery and cycling. Very quiet roads and plenty of flowers and birds to see.
Reviewed by Mr Straughan on 24/05/2016
A beautiful area with quiet lanes and roads. Lovely villages, small towns and views. Super coastal locations, fantastic varied scenery and marvellous bird life and wild flowers. A fantastic holiday!
Reviewed by Mrs Fernley on 20/05/2016
Cycling, location, accommodation and especially food were of a very high standard. Local reps were very attentive, and the postcard we received from them before the holiday with their phone number was a nice touch. We travelled from a 'non-standard' airport, and arranging this and transfers through Headwater was more difficult than we expected.
Reviewed by Mr Geh on 27/10/2015
We had an excellent time. Lovely scenery and weather and excellent food. I would definitely recommend doing this either early or late in the season as it was much cooler and less busy. Very few cars on the road and no traffic. Felt a great sense of achievement after each cycle day. Our 2 boys- age 11 and 13 enjoyed themselves and there was not a single moan of ''are we there yet?!'
Reviewed by Mr Jenkinson on 11/10/2015
An interesting coastal and inland holiday on quite roads and tracks. Visiting in October the coastal locations and hilltop towns and villages are quiet, but the weather was good and ideal for cycling. having enjoyed many Headwater cycling holidays in Spain, Portugal, France and Italy, we may well be interested in following-up an e-bike option in the future.
Reviewed by Mrs Read on 05/10/2015
Peaceful cycling along quiet country road, interesting villages and lovely scenery. This holiday certainly shows the contrasts that Catalonia has to offer.
Reviewed by Mrs Kill on 23/09/2015
A wonderful, unspoilt region. We had no idea that the Costa Brava was so wooded and had so many places of historical interest. Going just out of season, the beaches were quiet and devoid of sunbeds! The number of cycle tracks - albeit somewhat roughly surfaced in places - puts the UK to shame.
Reviewed by Mr Peckham on 22/09/2015
We had a wonderful holiday enjoying the contrasts of Catalunya, from the sea at the Costa Brava to the rice fields and woodlands inland. The reps Jim and Katie gave us a terrific service, from the introductory postcard sent to us prior to leaving, and the provision of satnav files to make navigation so easy. The hotels Hotel Sa Punta and the magnificent El Castell d'Emporda both exceeded our expectations, and to stay in the tower of an ancient castle was the highlight of our holiday. We have had three Headwater holidays now and will definitely be back for more.
Reviewed by Mrs Cox on 19/08/2015
Overall we had a great time. A few hiccups - BA losing a suitcase! not Headwaters fault (found it eventually) and on the return journey arriving at Barcelona airport to be told they only had two seats - we are a family of four! Eventually found us two more seats but made for a very stressful journey. We did not check in late and online checkin was not an option for us. It was VERY hot 35 degrees. A bit too hot to be honest and we probably would not do this holiday again in August! Go when it is a bit cooler. The area is fabulous and we would go back. The hotels are generally very good. We did have an issue at Garbi. Our first night the aircon was not working properly in our room but we got on with it. On our last night the aircon in the boys' room was not working at all and it was 29 degrees! The suggested remedies as the hotel was full was to a) live with it then b) sleep with the window open and they would provide insect repellent! We rejected both these options and in the end moved the two boys in with us for the night. The staff provided camp beds. We managed but not overly happy having paid for two double rooms. We did mention it to the reps in the morning but as it was our last night there was nothing to be done.
Reviewed by Ms Turner on 10/08/2015
Contrasts of Catalunya is a great route which takes in coast and countryside. We were two non-cyclists and found the routes achievable and well-planned, with thought given to where you could stop and explore different villages. Cycling was partly on quiet roads and partly on tracks - the routes through the rice fields and alongside apple orchards were particularly enjoyable, while some of the sandy tracks through pine forests were a bit harder going. The bikes were well-maintained and comfortable. Highlights on the route were medieval Pals and Begur, while the Sa Punta Hotel stood out for its fantastic service, excellent swimming pool and the best food we had all week. Service from the reps was also great, and they provided helpful map files and instructions on how to use these on a smartphone as well as practical tips. Highly recommendable!
Reviewed by Mrs Thompson on 04/08/2015
Our reps were superb. Jim took particular care to ensure the bikes were fitted to each individual and this meant each of our party was comfortable throughout the holiday. He had specially removed the bottle holder from the ladies bikes so they would not catch their legs when getting on and off. This attention to detail was much appreciated. He had gone to great lengths to produce a gps version of all the trails and this was invaluable and worked without any problems. I had brought a smart phone holder and battery charger so had a days full battery life. While this would have been sufficient without the notes, the two worked in tandem well and should become a standard on all your cycling holidays. The bikes would benefit from a small front pannier particularly for the ladies to keep a small water bottle in and a handbag. Our reps kept in email contact to check our progress and made very helpful recommendations on places to eat and visit on the trip. They put their knowledge to good use so we had an excellent holiday.
Reviewed by Mrs Mayor on 22/06/2015
Excellent equipment, good hotels and lovely route
Reviewed by Mr Dilnot Smith on 27/10/2014
Excellent apart from Hotel Meson Castilla is in the middle of the University area and can be very noisy until early hours of the morning
Reviewed by Mrs Ramsell on 29/09/2014
A lovely blend of activity and relaxation, plenty to see and do in the Catalonian region, congenial fellow travellers and good back up system for emergencies.
Reviewed by Mr Lipscomb on 17/08/2014
Brilliant family adventure: Cycling through beautiful scenery from beaches, through paddy fields, rolling countryside and little medieval villages and complemented by a range of hotels-2 with gastronomic cuisine and the third giving the opportunity to enjoy eating out in the small seaside town of Calella.
Reviewed by Mrs Brewster on 30/10/2013
We had a great holiday. The children thoroughly enjoyed the cycling, the scenery was beautiful, plenty of medieval villages to stop end explore and the hotels en route were great. We were extremely lucky with the weather - hot and sunny every day, so that we could enjoy the hotel pools at the end of each day. A brilliant family holiday.
Reviewed by Mr Adamson on 08/10/2013
Well planned cycling routes with excellent instructions. 2 out of the 3 hotels were excellent. Alan & Linda were extremely helpful throughout the holiday & largely responsible for it running so smoothly.
Reviewed by Dr Young on 30/09/2013
The local rep provided the MOST EXCELLENT route notes we have ever experienced. The routes allowed us a great taste of both inland and coastal scenery. There are some built up areas on this holiday and we had no difficulty getting through. He also led us most interesting routes through the little towns so we felt we had seen a great deal. He had obviously ridden the rides himself recently as there was no confusion at all over road work issues etc which we have found before.The routes for the 'rest 'days were fantastic although more challenging than the other days! But well worth the effort. He also provided us with the best maintained bikes we have ever experienced - so thank you enormously for that. 2 of the 3 hotels were just wonderful- quite a treat-and of a luxurious nature.
Reviewed by Ms Jassey on 07/08/2013
Probably more challenging that you might expect, but in a very positive way, and well worth the effort. The views and experiences are unbeatable. Not sure if we could do a car-reliant holiday again!
Reviewed by Mr Moorhead on 18/07/2013
The holiday was enjoyable, the Castell d'Emporda was fantastic, and had the holiday been 30% cheaper we would have thought it good value for money. I've been on many cycling holidays (this was the first with my wife and son) and it's the first where there has not been support throughout the day. I know the reps were available by phone, but it would clearly have taken an hour or more to get help from them if a problem had arisen and at this price, that's not good enough. Next time I would simply book the hotels for myself, hire bikes and then organise a taxi to take the bags from place to place - you did not provide sufficient additional value to justify the cost. Cycling routes are also easy to find - with so many GPS users uploading data to the web I would have little problem in organising routes for myself. This was a premium price but what we got was a bike (in good condition to be fair), and a map, and then left alone for a week. My wife had a bad insect bike which became very inflamed and sore and required anti-biotics (it has still not fully subsided a week later) - we had to sort this out for ourselves in Barcelona - our guides expressed polite interest but offered no real suggestions about local medical help. This compares poorly with my experience on cycling holidays in France and the US where anyone with even a slight medical issue was promptly driven to the nearest clinic or pharmacy, helped with the language and sorted out very quickly.
Headwater response:
Thank you for your feedback Mr Moorhead, we were pleased to read that your holiday was enjoyable. However, we are sorry to see that some aspects did not appear to meet with your expectations. The type of holiday that you had booked is classed as a self-guided cycling holiday. Therefore, we do not provide support vehicles. This type of holiday is geared towards the more independent customers who like to travel at their own pace, starting and finishing at various times throughout the day. Therefore, it would not be practical to have a support vehicle on the route. We do however provide a 24/7 rep service which is available if needed in case of emergency or should you have any questions or queries along the way as well as a brief at the start and de brief at the end of the holiday. We were sorry to read that Mrs Moorhead was bitten and required medical treatment, as you comment our reps was aware of the bite, but not necessarily the severity. Had they been made aware of this they would have offered assistance as required. Despite these issues I am glad that you had an enjoyable holiday. Thank you once again for your feedback. Yours sincerely, Lisa
Reviewed by Mrs Ball on 16/07/2013
I am a Headwater Holidays fan! This is about the 16th cycling holiday I have been on with your company and it is my second trip to Catalunya. Last time, about 5 years age, I took the cycling hol in Catalunya and the guide was Robin! say no more he was useless. Alan is a real gem. Look after him. As I am getting older now and so are my two cycling friends we look for the flat cycling routes and each time you bring out a new one we seem to book it. So do keep adding new routes. I am sorry that you no longer go to Majorca. Many years ago we did the cycling around the centre of the island and was going to book the one centre hotel this year but you have removed it. I guess it was not popular. I think its so important to keep the standard of the hotels and food at a high level. Its such a big part of the holiday for us. After a day cycling the destination is always exciting and good accommodation is a must. I am a single person and mostly travel with my married friends so always have to pay a single supplement which does increase the cost rather.( This trip I went with my daughter and we shared a room so no supplement, a real bonus) If I get a double room for the cost this is fine but on occasions I am in the attic in a single room; not so good. Keep up the good standard and as long as I am able to cycle I will be booking!
Reviewed by Mr Worthing on 19/06/2013
The route guidence was too detailed and involved too many off road tracks. It would have been better if the route had stuck to metaled roads even at the expence of more traffic and greater mileage. Having to stop every few yards to read the notes was tedious and spoilt pleasure of the ride.
Reviewed by Mrs Bolton on 18/06/2013
A very enjoyable holiday staying in excellent hotels.
Reviewed by Mr Cameron on 23/05/2013
We had a wonderful holiday. We last traveled with Headwater in 1994 and 1997, and there is no doubt that the standards of the hotels, route notes, and bikes have improved immensely. Alan was a hugely experienced rep who provided route notes of a superb standard. 2 out of the 3 hotels were truly excellent, and while the other was one of the weirder I've ever stayed in, it was perfectly serviceable, and the fact that it was B&B only was a good decision.
Reviewed by Ms Smith on 17/10/2012
We had never been on a cycling holiday before but would certainly repeat the experience using Headwater based on the quality of the beauty and variety of the cycle routes and the quality of the accommodation.
Reviewed by Mrs Warburton on 10/10/2012
A very well organised holiday with an excptional and knowledgable rep.
Reviewed by Dr Mair on 10/10/2012
We had a really excellent holiday with Headwater. The reps were knowledgable and available and we had enough autonomy to allow us to enjoy it, but enough support that we felt safe at all times. The hotel Sa Punta deserves special mention for the outstanding service and food.
Reviewed by Mr Gillies on 06/10/2012
Very good experience all round. Well organised by people who know what they are doing. A couple of the routes stretched us a bit more than we expected for first timers. Unusual/excellent, well-chosen hotels helped make the trip better value for money. The weather could make a major difference to your enjoyment of these trips however.
Reviewed by Mr Makin on 01/10/2012
Probably the best cycling holiday we have had. The weather was good and the accommodation was generally very good - although the hotel in Palamos was trying too hard to be something it wasn't.
Reviewed by Mr Flynn on 24/09/2012
A fantastic hoilday that we would really recommend! Our guides, Alan and Linda were exceptionally helpful, and we hope to do another headwater hoilday in the very near future.
Reviewed by Mrs Cox on 13/08/2012
Overall I think this holiday would be best done at a slightly cooler time of the year. Whilst the distances do not seem particularly long they are when done in the high twenties/thirties and especially when you have children. Some of the towns we passed through were beautiful and it would have been nice to spend longer exploring them. As it was we were not getting to the hotel until 6/7 pm on moving on days. We would love to go back the area again perhaps not on bikes so that we could see more of the medieval villages. The two hotels Castell D'Emporda and Sa Punta were excellent and the food lovely. The children loved them too particularly the pool at Sa Punta. Worth the effort up the hills to get to them. Callela is a charming seaside town. Not at all what we expected on the Costa Brava. Alan was very helpful with tips on where to eat. The Barcelona extension was well worth it but longer needed as there is so much to do. Another great holiday!
Reviewed by Mrs Evans on 28/07/2012
This is a beautiful part of Spain, with lots of interesting little villages to visit. All in all a very enjoyable holiday.
Reviewed by Mrs Sidders on 11/07/2012
A good enjoyable holiday in a beautiful and varied area of Spain.
Reviewed by Ms Radford on 16/06/2012
Had a wonderful holiday with my husband!
Reviewed by Dr Williams on 05/05/2012
We have thought carefully about the responses and have no hesitation of the designation of "excellent" in nearly all cases. This was an excellent holiday, great routes and hotels, with strong back-up and local support by Alan.
Reviewed by Mr Christer on 28/04/2012
An excellent holiday which surpassed our already high expectations. Two excellent hotels in the Sa Punta and Castell D'empordia and a lovely area to cycle in.
Departure dates & prices
| | | |
| --- | --- | --- |
| April 2017 departures | Tour only | |
| Apr 9 | $1595 | |
| Apr 11 | $1595 | |
| Apr 13 | $1595 | |
| Apr 15 | $1595 | |
| Apr 17 | $1595 | |
| Apr 19 | $1595 | |
| Apr 21 | $1595 | |
| Apr 23 | $1595 | |
| Apr 25 | $1595 | |
| Apr 27 | $1595 | |
| Apr 29 | $1595 | |
| Child (any date, see notes) | $1423 | |
| | | |
| --- | --- | --- |
| May 2017 departures | Tour only | |
| May 1 | $1720 | |
| May 3 | $1720 | |
| May 5 | $1720 | |
| May 7 | $1720 | |
| May 9 | $1720 | |
| May 11 | $1720 | |
| May 13 | $1720 | |
| May 15 | $1720 | |
| May 17 | $1720 | |
| May 19 | $1720 | |
| May 21 | $1720 | |
| May 23 | $1720 | |
| May 25 | $1720 | |
| May 27 | $1720 | |
| May 29 | $1720 | |
| May 31 | $1720 | |
| Child (any date, see notes) | $1423 | |
| | | |
| --- | --- | --- |
| June 2017 departures | Tour only | |
| Jun 2 | $1965 | |
| Jun 4 | $1965 | |
| Jun 6 | $1965 | |
| Jun 8 | $1965 | |
| Jun 10 | $1965 | |
| Jun 12 | $1965 | |
| Jun 14 | $1965 | |
| Jun 16 | $1965 | |
| Jun 18 | $1965 | |
| Jun 20 | $1965 | |
| Jun 22 | $1965 | |
| Jun 24 | $1965 | |
| Jun 26 | $1965 | |
| Jun 28 | $1965 | |
| Jun 30 | $1965 | |
| Child (any date, see notes) | $1423 | |
| | | |
| --- | --- | --- |
| July 2017 departures | Tour only | |
| Jul 2 | $2000 | |
| Jul 4 | $2000 | |
| Jul 6 | $2000 | |
| Jul 8 | $2000 | |
| Jul 10 | $2000 | |
| Jul 12 | $2000 | |
| Jul 14 | $2000 | |
| Jul 16 | $2000 | |
| Jul 18 | $2000 | |
| Jul 20 | $2000 | |
| Jul 22 | $2000 | |
| Jul 24 | $2000 | |
| Jul 26 | $2000 | |
| Jul 28 | $2000 | |
| Jul 30 | $2000 | |
| Child (any date, see notes) | $1423 | |
| | | |
| --- | --- | --- |
| August 2017 departures | Tour only | |
| Aug 1 | $2000 | |
| Aug 3 | $2000 | |
| Aug 25 | $2000 | |
| Aug 27 | $2000 | |
| Aug 29 | $2000 | |
| Aug 31 | $2000 | |
| Child (any date, see notes) | $1423 | |
| | | |
| --- | --- | --- |
| September 2017 departures | Tour only | |
| Sep 2 | $2000 | |
| Sep 4 | $2000 | |
| Sep 6 | $2000 | |
| Sep 8 | $2000 | |
| Sep 10 | $2000 | |
| Sep 12 | $1965 | |
| Sep 14 | $1965 | |
| Sep 16 | $1965 | |
| Sep 18 | $1965 | |
| Sep 20 | $1965 | |
| Sep 22 | $1720 | |
| Sep 24 | $1720 | |
| Sep 26 | $1720 | |
| Sep 28 | $1720 | |
| Sep 30 | $1720 | |
| Child (any date, see notes) | $1423 | |
| | | |
| --- | --- | --- |
| October 2017 departures | Tour only | |
| Oct 2 | $1595 | |
| Oct 4 | $1595 | |
| Oct 6 | $1595 | |
| Oct 8 | $1595 | |
| Oct 10 | $1595 | |
| Oct 12 | $1595 | |
| Oct 14 | $1595 | |
| Oct 16 | $1595 | |
| Child (any date, see notes) | $1423 | |
Holiday details
Holiday type
Self-guided cycling, hotel-to-hotel. Managed locally by Headwater employed rep.
Departures
Every two days from 9 Apr '17 to 16 Oct '17, for 7 days (6 nights). This holiday departs every 2 days, however non-standard arrivals and altered itineraries may be possible - please call for prices.
Meals
All continental breakfasts and 4 evening meals included.
Other details
Please see our Planning your holiday and What's included in the price? pages for additional information. Please call us for single room supplements, room upgrade options and child prices.
Starting your tour
Transfers included from Flaca train station at 15:47, and back to Flaca train station at 13:15
Enquire about this holiday
Simply complete the form below and a member of our sales team will contact you (when it's most convenient for you) to provide availability information, travel options and additional information.

Not quite what you're looking for - then why not take a look at some of our similar holidays?