In the first of a series of blog posts, we are taking you on a magical mystery tour of the best day trip destinations easily doable during your Headwater holiday. With us it's not just full days of walking or cycling, but thoughtful itineraries that include days off – so you can choose what you'd like to do. To inspire you, this time we're off to Tuscany for the perfect Headwater day trip: the city of Siena.
Sun-baked Siena is the beating heart of medieval Tuscan life. Or maybe one of two hearts: Siena has long been rivals with the 'other' city in Tuscany, Florence. Sitting proudly atop a long hill crest in central Tuscany – all the better to watch for her enemies in the five or so centuries the Sienese and Florentines were at war.
Siena is just a short bus or taxi ride away from our Tuscan holiday routes, with the local Headwater Reps or Hoteliers able to give you all the info about how to get to Siena and back in a day.
And once inside the old town, atmospheric Siena will fascinate you. Its maze of characterful streets all seem to lead to Piazza del Campo, Siena's central square actually shaped like a shell. It's incredibly impressive, crowned with the huge Torre del Mangia bell tower, 102m tall and over 600 years old!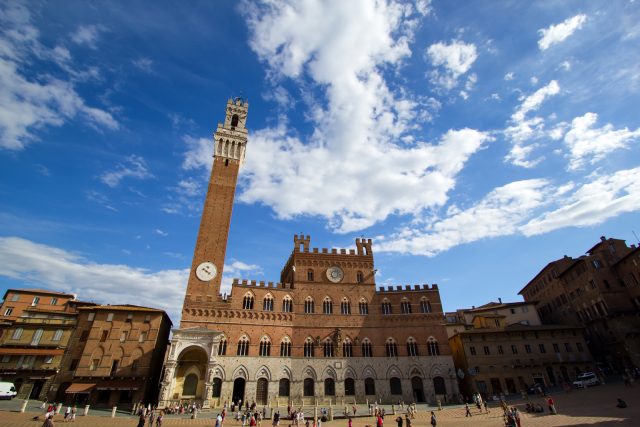 There's plenty to do for a day-tripper. Climb the Torre del Mangia itself for panoramic views of the city and the Tuscan countryside beyond. Or sit out in the Piazza at one of the many café-bars with an Aperol spritz, and a big serving of holiday chill.
Just a short walk away from the tower is the Siena cathedral, another must-see for a day trip to Siena. Built in the 13th century, the Gothic cathedral is striped in black and white marble, the colours reflecting Siena's coat of arms. Inside, the floor is illustrated by inlaid marble of Biblical and symbolic scenes, and hours could be spent exploring every inch.
Whilst on a daytrip to Siena, it's also possible to catch one of the most famous and dramatic sporting events in Europe: Siena's Palio.
Held twice a year in July and August, the Palio is a horse race of epic emotional proportions. Ten local horses and riders sprint twice around the Piazza del Campo at breakneck speed, to the roar of the home crowd thousands-strong. Visitors can see (and feel) this incredible event too: it's free to stand in the piazza and watch both the race and the traditional procession beforehand.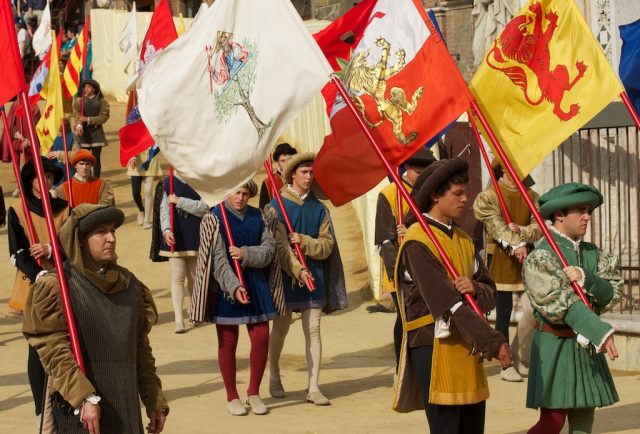 Whatever time you visit, if you want to get a taste of real Siena, of course try the food. The cuisine is, like all of Tuscany, delicious. Wild boar is sourced from the woods that surround Siena and added to the local pici pasta to make a rich and filling dish. Or why not seek out one of the city's bakeries and try the ricciarelli, an almondy Senese sweet speciality, or the panforte, a traditional dessert containing candied fruits and nuts and symbol of the Senese gastronomy.
Soon enough it's back to your hotel for an evening meal, having ticked a box on the European bucket-list.
Cyclists can visit Siena on our Secrets of San Gimignano Cycling and our Classic Chianti Cycling. Walkers on our Volterra to San Gimignano Walk and Classic Chianti Walk also have the opportunity to visit this fascinating destination too.
As well as a day trip to Siena, we have more ideas on the perfect one-off trips on your Headwater holiday. Whether you're looking for activity, relaxation, exploration or a mix of all three: our adventurous and versatile holiday itineraries could be just what you're looking for.