With a mixture of ages and workplace roles, a group of the Headwater team went off to experience the Delights of the Dalmatian Coast in Croatia on a guided group tour walking trip; this was a first time visit to Croatia for the whole group. Each had reasons for wanting to experience the trip from a personal and work perspective. Never did they guess it would be one of the most memorable experiences they'd ever encountered and voluntarily the group were delighted to blog their travels to share with Headwater customers and the team when they returned.
Stepping off the Plane in Dubrovnik we were greeted by Vanja, our very quirky and infectiously happy tour guide who was waiting to greet us, we automatically felt at ease and in safe hands. We were also introduced to Danny our personal driver for the week who would take us to and from the walks, and transfer us between hotels. The tour starts in Dubrovnik and ends in Split so we really did get to experience some fantastic places of interest along the way.
On the way to Jasenice we stopped first at ancient Epidaurum in Cavtat for a gentle stroll along one of the peninsulas, the photos speak for themselves with stunning blue waters and matching skies… we had found our first little paradise, and there would be more to follow.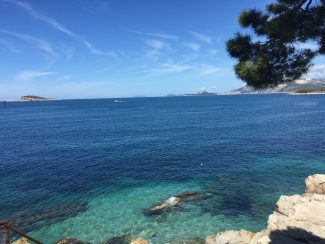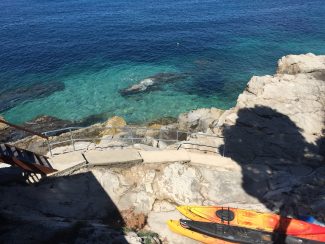 Next we took to the hills at Jasenice, where a cobbled path lined with rosemary winds across an open valley dotted with oak trees, with Mount Snijeznica to our right and Mount Straziste straight ahead. Dubrovnik's mountainous coastline frames the horizon as we descended through meadows. A traditional peka (charcoal oven) lunch at the end of the walk is welcome and the locals love the family run eatery, that's plain to see.
Dubrovnik was a highlight, visiting the medieval ramparts, Renaissance churches and Doge's Palace. We walked the full walls and even spotted a few famous Game of Thrones TV scenes, not to mention a quick perch on the GOT throne too as there are three of these in Croatia. We had our own personal tour guide in Dubrovnik. Antea has wonderful knowledge and is very proud of her city and its history and also had a few funny stories that are not available in any guide book. This is all part of the Headwater itinerary (well apart from the GOT element).
Every day offered something different and although we initially thought this trip may be more of a sightseeing than a walking holiday our step count told us differently at the end of each day, we were walking without really realising the distances covered because we were having such a fantastic time with so much to see. Food was plentiful and every meal was included within the tour, even a packed lunch were necessary. We dined at a range of eateries, from typical Croatian authentic restaurants to a contrasting campsite, with an authentic way of cooking on an outside grill and optional grappa. Every day the food offered something unique, our tummies were full and our waistlines slightly bulging.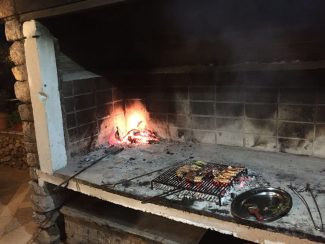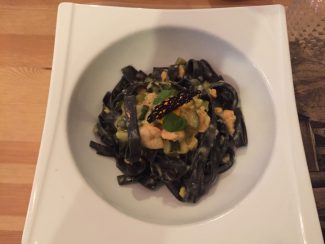 On our transfer day we stopped on route at a little town called Ston which is well known for its preserved town walls, its salt works and its mussels. It broke up our transfer allowing us to do a quite short but strenuous walk around the walls. We continued to Makarska for lunch, followed by a stroll on the peninsula of St Peter before boarding the ferry (50 mins) to Brac Island. After the ferry it's a 40-minute drive to Bol. We arrived just in time for dinner and a beautiful sunset. Bol is also home to the famous 'horn' beach which is double sided and can change shape with the wind. Also known as the Zlatni Rat the beach is protected in Croatia as a unique geomorphological phenomenon. It pops up regularly in Croatian tourism brochures.
Another favourite day included a gentle stroll past olive groves and figs whilst walking from Skrip to Splitska, with stunning views the whole time. We took a ferry to Split which has fantastic architecture, and enjoyed a guided tour of the city where we visited the UNESCO-listed Diocletian's Palace, Romanesque cathedral and old city walls.
We headed to Trogir for our final night not quite appreciating what a hidden gem this was until we woke the following day. Gorgeous Trogir (called Tau by the Venetians) is set within medieval walls on a tiny island, linked by bridges to the mainland, and is just 17 miles west of the city of Split. Since 1997 the historic centre of Trogir has been included in the UNESCO list of World Heritage Sites for its Venetian architecture. We even had a wonderful taster menu at Hotel Tragos which was cooked by a Croatian MasterChef finalist – just exquisite!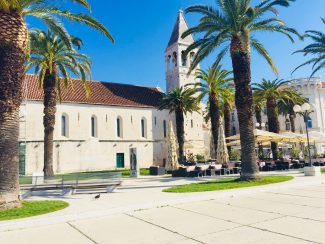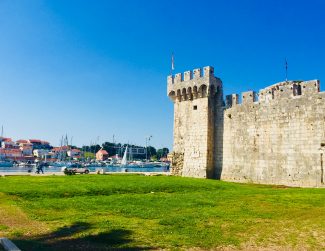 Headwater saved the best till last though with a visit to the Krka National Park to observe a myriad of lakes and waterfalls. First we walked along a stony path lined with Aleppo pines which gently descended to the Cikola river. The walk tested our fitness levels but was no chore, we walked with the most beautiful scenery in our peripheral the whole time.
To describe this trip in a nutshell: We had the best time ever!
Our love of Croatia has grown, our love of Headwater has grown and our love of walking holidays is off the scale. Fly and flop? No thanks! We are sticking to adventure, culture, activity and Headwater!
Find out more about Headwater's Delights of the Dalmatian Coast Walk