Alsace has a lot of diverse history. More recently, the combination of French and German history makes it a vibrant place to be, but their diversity goes further back, being host to Ancient-roman settlements and travel routes. All this results in some weird & wonderful festivals in Alsace that come from both its pagan and religious past.
Burning of the Three Pine Trees, Thann
The Burning of the Three Pine Trees sounds like it falls within the category of pagan events. Thann sits on the edge of Reserve du Massif du Ventron national park in Southern France, and despite seeming like a relatively small event, manages to attract up to 10,000 visitors every year. It seems that many people have a burning desire to see this…
I like to think that the name of this event is pretty self explanatory, but to make sure everything is clear, the town and all its visitors get together for half a day on 30th June every year and sets three pine trees ablaze. The spectacle beats most common bonfire events and, while it may not seem that grand, the numbers speak for themselves.
History of the Burning of the Three Pine Trees
Not much is known about the history surrounding this festival, but Tourism Alsace suggests that the founding festival of Thann originated when a servant of the Italian Bishop of Gubbio, Thiebaut, was travelling through the forest surrounding the then-non-existent Thann.
The servant used a walking stick to hide the relics of the Bishop, but got the stick stuck in the ground. At that point, three lights appeared above the forest pine trees. The Lord of Engelbourg Castle & Count of Ferrette built a chapel in the spot to commemorate the event. Popularity of the site has constantly grown in popularity since, and pilgrimages honouring St. Thiebaut resulted in the chapel being upgraded to a collegiate church.
Voix et Route Romane
The Voix et Route Romaine runs slightly earlier in the year and is on a much larger scale, running from May to September with lots of different events running through various weeks. The 'route romaine' refers to the ancient road through strasbourg that was used by pilgrims hundreds of years ago.
The history of these pilgrims is preserved every year with this festival, which has a very medieval twist to many of their events. Expect food, parties and traditional medieval music, which is more like hymns and melodic chants.
Last year's festival boasted a turnout of over 2600 people, so while it's not as popular as the tree burning festivities, it still brings a decent crowd across its 10 concerts held across the summer months. This year the theme for the festival will be 'Pathways', and while we've not seen the programme for 2014 yet, it already looks to be bigger than the last.
Read more about the Voix et Romane festival.
Jazz d'Or
Rituals and religion may not be your thing, so there's an alternative to both going on from January till May, and that alternative is obviously a jazz festival. Jazz festivals seem a lot more popular in mainland Europe than they do in the UK, and this one is no exception, offering 7 different events throughout Strasbourg.
Whether you're already into your jazz or you know nothing and just want to go along, here is this year's programme. April 4th's act wins it for me with their name.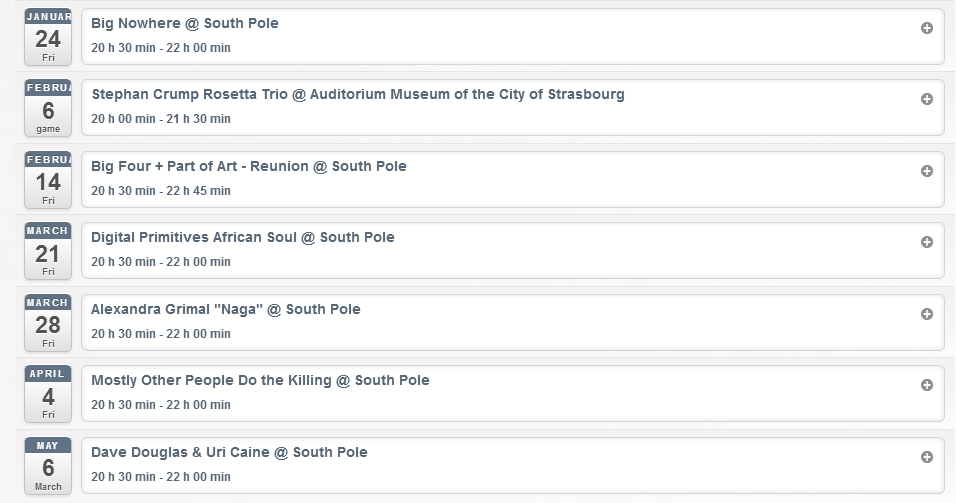 Visit www.jazzdor.com for more programme information.