On the 17th of March, many people will be wearing green, donning Shamrocks and joining parades, all in celebration of St. Patrick's Day, Ireland's patron saint. St. Patrick was a priest who helped spread Christianity to the Irish. So traditionally, this day was a holy day, but modern celebrations have seen pints of Guinness, festivals and feasting on Irish specialty dishes become a more common occurrence.
In St Patrick's home country, the Irish certainly know how to put on a jubilant celebration. But their warm hospitality, great pints in cosy countryside pubs and live local music are not just an attraction on this day. Alongside the lush green landscape, captivating history and enchanting castles, this vivacious Irish welcome draws visitors to the country throughout the year.
Here are seven enticing reasons to visit Ireland in 2022:
The magnificent serenity of Three Lakes of Killarney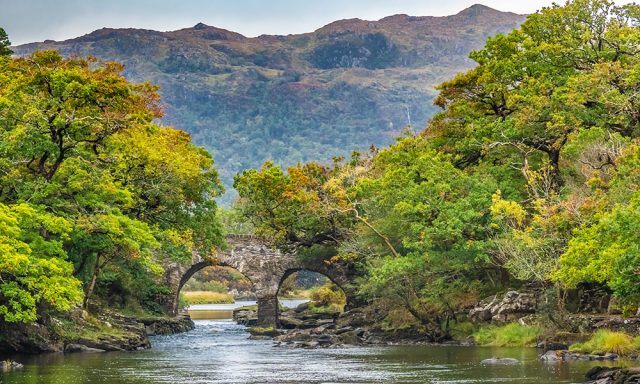 The Three Lakes of Killarney, Lough Leane (the Lower Lake), Muckross Lake (the Middle Lake) and the Upper Lake, are magnificently intertwined across the spectacular landscape of Killarney National Park. It's here that our Walking the Kerry Way and Killarney trip begins. Exploring the brooding green mountains, you'll find plenty of vantage points that offer stunning panoramic views across these emerald waters. And, as you wander, you'll discover the abundant wildlife, including schools of trout and salmon, wide varieties of birds and even shy red deer slinking within the woodland.
A traditional Gaelic experience at the Dingle Peninsula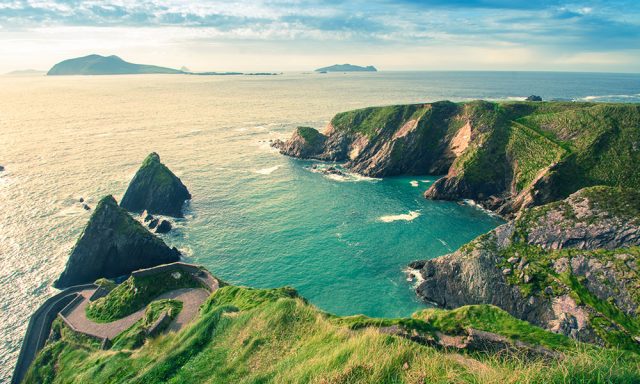 Visit the picturesque Dingle peninsula and immerse yourself in true Gaeltacht culture. The area retains a rich heritage, and you'll hear Gaelic spoken frequently, often during the traditional evening sing-alongs. Staying here for three nights on our Walking and Cycling the Wild Atlantic Way, luck may fall your way to catch a sighting of the once regular visitor, Fungi the Dolphin. There'll also be plenty of time to sample the 'water of life' – the name for whiskey given by monks in the Middle Ages thanks to its smooth drinking quality – at Dingle's Whiskey, Gin and Vodka Distillery.
The spellbinding legends surrounding the Giant's Causeway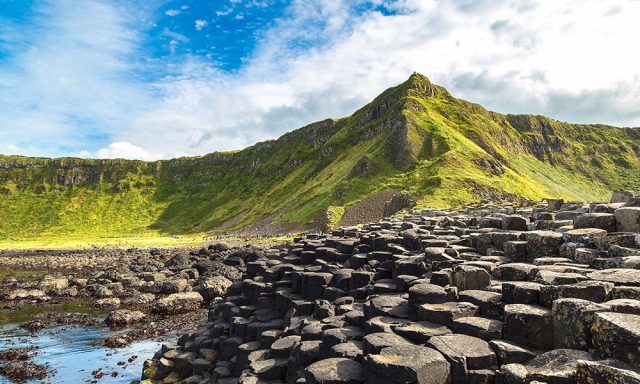 The Giant's Causeway consists of an epic 40,000 hexagonal and perfectly symmetrical, interlocking basalt rocks, formed around 6 million years ago by the flow of basaltic lava. This UNESCO world heritage site and Northern Ireland's most famous landmark is a highlight of our Walking the Antrim Way trip. Argued to be the eighth wonder of the world, it has elicited numerous fantastical legends. Stories tell of the mythical Irish giant, Finn MacCool, building this causeway to get to Scotland to battle with his rival. Meanwhile, the Giant's Boot rock is said to belong to Finn, lost as he fled from his enemy. Other mysterious rock formations include the Wishing Chair (made of basalt stone) and The Camel (a basaltic dyke formed from cooling lava).
The bewitching tales of Dunluce Castle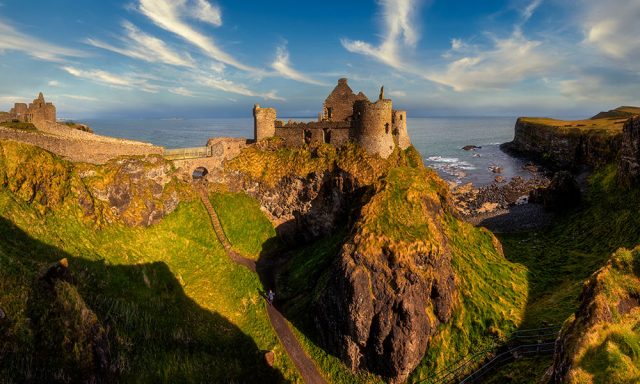 Our Antrim Coast and Glens Walking trip takes in the breathtaking coastline of Northern Ireland, where the wildlife is plentiful, and the history is enthralling. Dunluce Castle, perched precariously overlooking the Atlantic, is the keeper of many of these bygone tales. Romantic in its façade, within its walls, there were many feuds, violence and rebellion between the McQuillan and MacDonnell clans. While legend has it that one stormy night in 1639, the castle kitchens themselves fell into the sea.
The battles of Ballycarbery Castle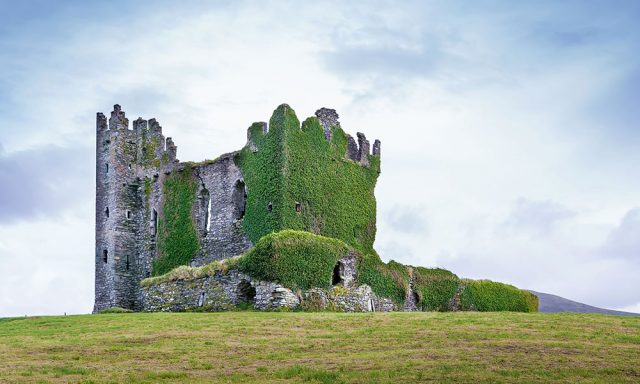 Cycling through the pleasing coastal landscape on our Unspoilt Ring of Kerry Cycling trip, the unmistakable silhouette of Ballycarbery Castle emerges. Dating back to the 16th century, it was once home to the McCarthy Mor Clan. Now, only its ruins stand, after its attack by cannons from Oliver Cromwell's troops in 1652 left it severely damaged. Nonetheless, its ivy-covered tower remains an impressive structure, adding to this region's dramatic history which dates back over 10,000 years.
The captivating nature-made beauty around the Gap of Dunloe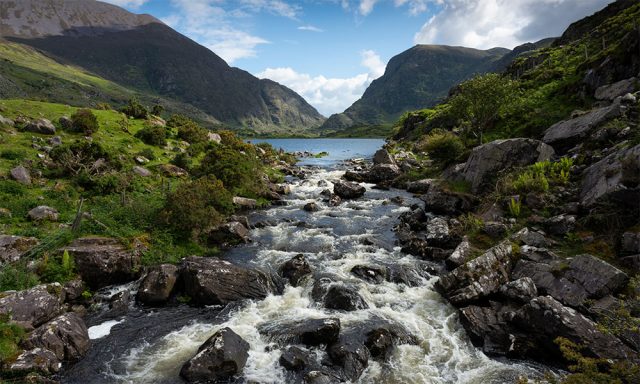 The Gap of Dunloe is one of Killarney's most popular attractions. Its stunning formation was created naturally during Ireland's last Ice Age when a massive glacier broke off to forge an immense glacial lake and towering, jagged rock faces. A bike is an excellent way to take in this visual treat. On our County Kerry Cycling trip, you can follow the route that also calls at the historic 15th century Ross Castle and the incredible mountainous views from Moll's Gap.
Merriment and festivities in Killarney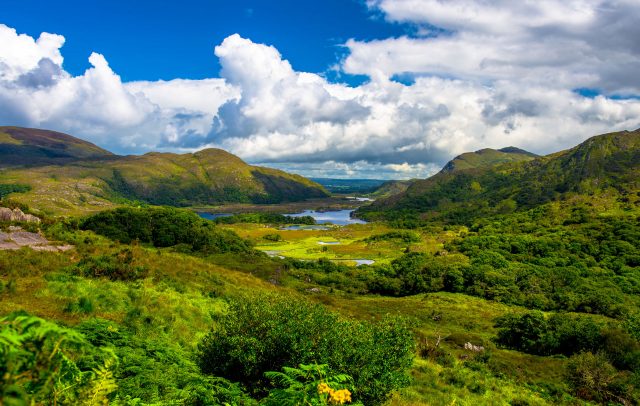 Killarney is the perfect place to soak up some jovial Irish culture. Try authentic Irish fare, such as Boxty or seafood chowder, served in local restaurants, such as Bricín Shop and Restaurant. Meanwhile, Irish whiskey and Guinness are the drinks of choice in the local pubs, where you can also enjoy evenings filled with traditional live music. Or book tickets at the INEC Killarney for headline acts or cultural festivals. Enjoy easy access to all the area's highlights, staying at the Abbey Lodge while on Our Walking the Kerry Way And Killarney N.P. – Short Break.
With its mesmerising natural beauty, fascinating history and warm-hearted hospitality, Ireland is an exceptional place to visit. So how about heading to the home of St. Patrick's Day this year and discovering it for yourself.
To find out more about our incredible trips to the Emerald Isle, click here.