Home to some of the world's finest wines, the gorgeous Burgundy countryside is a blanket of green, encasing sumptuous castles and peeping chateaux within its rolling hills.
With its breathtaking sights and gastronomic tradition, the region's towns are awash with a Romanesque architectural heritage that stems back to the Renaissance and the Middle Ages.
On a walking or cycling holiday in Burgundy, you'll be able to explore the traditional chateaux that sit in unspoilt medieval villages. Here's our pick of the best chateaux to visit in this region – including a couple of secluded ones you might not know about…
1. Chateau d' Ancy-le-Franc
Stepping foot in this chateau, you are immediately enveloped in history – the high, carved and decorated ceilings hold the largest collection of Renaissance murals in France from the 16th and 17th centuries. Designed by an Italian architect, there are Italian influences throughout the four wings of the palace, and don't be fooled by the imposing exterior, as the interiors are sumptuous. Having undergone restoration, the chateau, which stands in a large park on canal banks, boasts a private chapel, ornate galleries and sleeping chambers. A particularly special room is the Flower Room, where you'll find illustrated panels of 30 different species of flower.
2. Chateau de Fontainebleau
A visit to this UNESCO world heritage site will leave you breathless – situated in 130 acres of parkland and gardens, this impressive royal chateau is the only one to have been continuously inhabited for seven centuries. Once the home of French monarch Napoleon and the Kings of France, you can walk in the footsteps of these historical figures and go on a special journey to meet the many rulers who called Fontainebleau their own.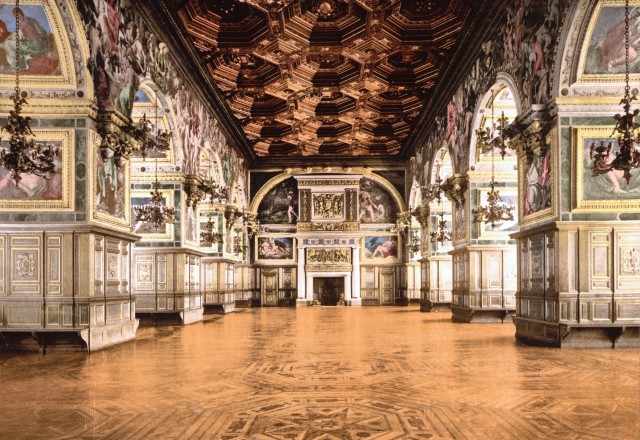 3. Château de Vosne-Romanée
Situated in a small village in the Cote-d'Or region, this secluded chateau rests behind the vineyards of Vosne-Romanee. The Liger-Belair family acquired the chateau in 1815, as well as various vineyards, which are ploughed by horse. A visit to this historic chateau, on Headwater's Gastronomic Burgundy Walking holiday, will see you learning about truffle hunting in the chateau grounds with Thierry, his son Yann and their specially-trained dog Elfe.
4. Chateau de Commarin
Less extravagant than many of the others, this elegant chateau has been in the same family for 600 years – and holds some historic and cherished furnishings. Notice the heraldic tapestries presenting the family coat of arms and the handcrafted chair covers that were made by the ladies of the house. With a working moat and grazing horses on the surrounding parkland, it's a memorable place to visit.
5. Chateau de Cormatin
This chateau really is splendid – built between 1605 and 1629, the colourful interior chronicles the history of the arts at this time in France. It was built to portray the owners' power and prestige – featuring a wide moat, turrets, gunports and drawbridge.
With a number of rooms – including one with decorative panels edged in gold – the chateau was lavished in money and lovingly restored over the years. Finishing off the image is a beautiful Renaissance garden, with flowerbeds, box maze, aviary, theatre and water features.
6. Chateau de Bussy-Rabutin
What stands out most about this chateau is its scandalous former owner Roger de Bussy-Rabutin. He was seen as a controversial character due to the fact he sang songs ridiculing the King's affairs and, after being sent into exile, wrote a series of tales about four famous ladies of the court. The walls of the chateau display bitchy remarks and cartoons about his ex-mistresses and celebrities of the time. Standing in 84 acres of parkland and gardens, this is where Roger was confined due to his bad behaviour amongst society.
And, last but not least, is perhaps the most interesting chateau of them all – still unfinished, this chateau brings back to life the bygone times of life in Burgundy centuries ago…
7. Chateau de Guedelon
Watch modern man step back in time as they build this chateau from scratch using only 13th century building techniques. The project began in 1997, and is set to be complete in 2023, but it is already a top tourist attraction, with people flocking here to watch history rebuild itself. Think horse-drawn carts clattering past with timber, workers in traditional dress and the chink of masons. Tucked away off the beaten track, you'll need 21st century technology to help you find it from the main road.
With more chateaux than any other region in France, why not visit Burgundy? We offer a number of cycling and walking holidays in the region – giving you the best experience of your destination.