One of the best ways to explore is on foot as you get to see and experience so much more, but it's important to prepare in advance as this will help you get the most from your holiday. Our 10 tips for preparing for self-guided walking holidays will help you on your journey.
1: Get Fit
Improve your fitness levels and build up leg and core strength by doing cardio exercises (cycling and swimming are great for this) and, of course, walking. Assess your current levels of fitness and train accordingly. Practice walking with equipment such as poles and backpack as well as hiking over varied terrain.
2: Eat Healthy
Healthy eating is an integral part of getting in shape for your walking holiday. If you need to change or improve your diet, do it well in advance of your trip so that your body has plenty of time to adjust. Eating smaller amounts at regular intervals will help your body digest the food during your walks.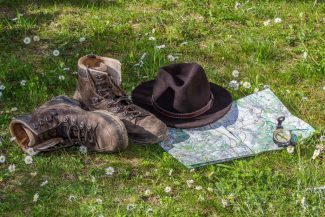 3: Invest in Quality Equipment
It can be tempting to opt for the less expensive equipment but if you choose a more challenging walking holiday, it's vital that you have suitable, quality footwear as well as clothing.
4: Test your Equipment
There's nothing worse than wearing walking boots for the first time and getting blisters so make sure you wear them in before your trip. Similarly, practice walking in the clothing that you are planning to take with you to ensure you feel comfortable wearing them for long periods. Also, it's a good idea to brush up on your compass skills during a local walking route close to home.
5: Check the Weather
It's a good idea to check the weather of wherever you're travelling to beforehand. This can also help you plan your day so that you're walking at the best times, and pack the most appropriate clothing. If the temperature is likely to be high, try to walk early in the morning or early evening when it's a bit cooler.
6: Prepare for the Weather
As we all know, the weather can be unpredictable so it's important to be prepared. Prior to your holiday, try to walk in extreme conditions and build up your resistance to different climates. This also gives you the opportunity to test out your clothing and make sure that your waterproofs are actually waterproof!
7: Research the Area
We'll provide your with essential information about your region 6 weeks before you depart, but it's always worthwhile to do your research about the area or country beforehand. Learning about the local wildlife, culture and topography can will help you have a more authentic experience.

8: Review your Route
Make sure you read through your comprehensive itineraries before you travel. We've comprehensively researched the best routes to help you experience the best of a destination, but you're in control. You walk at your own, relaxed pace. Stop for lunch a little longer, enjoy a coffee at a quaint local village. Review in advance to have an idea where these might be.
9: Plan for Emergencies
Although we don't want to be the voice of doom, you should always prepare for emergencies when embarking on self-guided walking holidays. We'll provide emergency contact details for our local representatives or agents should you need assistance. Also, ensure you have comprehensive travel insurance before you travel.
10: Remember your Mobile Phone
Fully charge your mobile phone before you set off on your journey and make sure you have data roaming available if travelling to a foreign country – but make sure you are aware of any potential costs of using your phone while abroad.