Cuba Uncovered
Nothing prepares you for the sheer vibrancy, colour and contrasts of Cuba! The combination of colonial palaces, tropical colours and back-street salsa beats alongside sparkling Cadillacs, bareback cowboys and wild west steam trains is utterly compelling. If this is Communism, it is definitely Caribbean style!

The tour starts with two nights in Havana, before exploring the sub tropical forests and limestone landscapes of the Sierra del Rosario in Soroa and on to Vinales, south west of the capital. Amazing bird life, hilltop panoramas, picnics in ruined coffee plantations and rock pool swimming make our three nights in the pretty village of Las Terrazas unforgettable. We then head east to spend three nights in the old sugar cane capital of Trinidad. From here we visit white sand beaches and shower under high waterfalls amid the jungle trails of the Topes de Collantes National Park. Evenings are spent exploring art galleries and enjoying the live music that make Trinidad one of the most atmospheric places in Cuba. Our expert guide accompanies you throughout and provides fascinating insights into the day-to-day lives of the Cuban people. Their zest for life and quick humour is as infectious as the music that saturates this addictive island! On most walking days we are also accompanied by local guides who have grown up in the area and who have fascinating stories to tell!

You'll stay in an eclectic mix of places too, from the Panorama Hotel in the Miramar district of Havana, the eco Hotel Moka and the luxury 5-star Grand Hotel in Trindad.

The walks on this holiday are on country paths and tracks. The Trinidad Mountain Walk is on jungle paths that are uneven, steep in places, and may be slippery when wet. Walking boots are essential; walking poles are recommended.
Read press reviews of this holiday in The Independent.
Typical day-by-day itinerary
Day 1 - Arrive in Havana
Arrive at your hotel in Havana where you'll spend the next two nights. Tonight we have dinner in the El Templete restaurant.
Day 2 - Havana City Tour
After admiring the exhibits (and bullet holes!) in the marble halls of the 'Museo de la Revolucion', we sidestep the tourist traps to explore the lively backstreets of Old Havana, packed with traditional shops, houses and markets. After lunch, we walk along the port to the old steam railway to browse Havana's answer to Camden Market, packed with vivid artwork. Relax back at the hotel before dinner overlooking the cathedral.
Day 3 - Havana to Las Terrazas Casa Campesino walk 6km/4mi/2hr
We leave Havana and head south west to the Sierra del Rosario in Soroa where our walk begins in the Biosphere Reserve. Emerald hummingbirds are among 115 species here! It's an easy 6km forest trail to picnic in a ruined coffee plantation, before a visit to Soroa's world famous orchid gardens, home to 20,000 flowers! This evening, enjoy the sunset on the lake in the waterside village of Las Terrazas before dinner in the hotel.
Day 4 - Che Guevara Walk 8km/5mi/3hr
A track through red ginger, mango and apple rose leads from the hotel to the Che Guevara memorial viewpoint, a high point in the reserve, where we'll picnic with panoramic views of the ocean. Look out for the tocororo, (Cuba's national bird), on the descent amid shady terraces of mastic and pine. We head for the San Juan River nearby for a swim in the rock pools before returning to Las Terrazas. Enjoy a stroll through the village before dinner.
Day 5 - Vinales Valley Walk 12km/7.5mi/4hr
A drive south west this morning leads to the limestone rock formations, pineapple plantations and vivid red soil of the Vinales Valley. We pass palm-thatched tobacco sheds filled with scented, drying leaves and after a country picnic at a farmhouse, we walk up through an echoing limestone cave, before heading down through arrowroot and papaya to colourful Vinales. Time for a cold drink on the pastel coloured main street before driving back to Las Terrazas.
Day 6 - Las Terrazas to Trinidad
We head east today past the Bay of Pigs and Zapata Peninsula to Cienfuegos, famed for its stunning UNESCO Spanish architecture. After exploring the town, lunch is taken in the 1920's Yacht Club on the marina. In the afternoon we stroll through the extensive Botanic Gardens filled with scarlet bottlebrush, ironwood, banyan and mahogany trees, before continuing on to Trinidad in time for dinner at our hotel.
Day 7 - At Trinidad
Explore Trinidad's maze of cobbled streets this morning, or head for the nearby white sand beach for a paddle in the azure waters of the Caribbean. We lunch at a local restaurant before touring the ancient centre this afternoon, admiring heirlooms of wealthy Spanish sugar plantation owners in the Romantic Museum, before enjoying some typical live music by the central church.
Day 8 - Trinidad Mountain walk 10km/6.5mi/4hr
High in the Escambray mountains behind Trinidad, forest trails lead through teak trees and coffee bushes. A steady descent into the Guayanara River Valley brings us to a series of natural pools and waterfalls - a perfect jungle shower! We drive back past thatched farms and cowboys in reed-woven Stetson hats. Perhaps try a cold guarapo juice, squeezed straight from the sugar cane, and relax in the square, or browse one of the many art galleries.
Day 9 - Trinidad to Havana
We visit the Valle de los Ingenios and an C18 sugarcane plantation before driving to Santa Clara, where the ruins of an armoured train destroyed in the 1959 revolution has been turned into a museum. The Che Guevara mausoleum and memorial are national monuments here, and after visiting, we drive back to Havana for dinner in one of Old Havana's grandest restaurants.
Day 10 - Leave Havana
Where you stay
During your holiday you stay at the following hotels. If you'd like to extend your time at any of these or, if you'd like to enhance your stay with an upgraded room, just let us know at the time of booking. You can call our sales team on 1-800-567-6286 to discuss accommodation options.
Hotel Moka, Las Terrazas (4 star)
Hotel Moka is an eco hotel in Las Terrazas, a picturesque lakeside village in the countryside around 2 hours south west of Havana. The entire village and surrounding terraced hillsides were part of a Soviet funded regeneration project undertaken in the late 1960s, when 1500km of terraces were carved from the local hillsides and seeded with local forest species. The hotel is set above the village - rooms feel very Spanish with tiled floors and white walls, each with a balcony. You can do several walks from the door, enjoy the shady pool, and pop into the local bar in the village in the evenings.
Room
Upgrade
Extra
Nights
Trip
Advisor
Hotel
Website
Room upgrades are not available at this hotel.
Extra nights are not available at this hotel.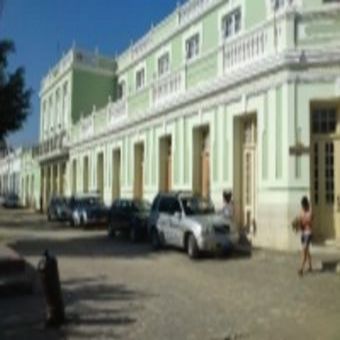 Iberostar Grand Hotel Trinidad, Trinidad (5 star)
The Iberostar is one of the most luxurious hotels in Cuba, located in the heart of Trinidad in a classic three storey Spanish mansion. The marbled lobby is set around a central fountain, and bedrooms are large and luxurious, with marble floors and beautifully appointed bathrooms. The food here is also extremely good, and the location is perfect for exploring this wonderfully atmospheric city.
Room
Upgrade
Extra
Nights
Trip
Advisor
Hotel
Website
Room upgrades are not available at this hotel.
Extra nights are not available at this hotel.
Travel options
Transfers included from Havana airport at 18:05 (Jan-Feb), 20:25 (Apr) departures, and back to Havana airport at 17:45 (Jan-Feb), 20:00 (Apr).
Please call our sales team on 1-800-567-6286 or email info@breakaway-adventures.com to arrange connecting flights.
Customer reviews
Everyone who goes on a Headwater holiday will be emailed a link to our post-holiday questionnaire where they can give us an honest assessment of all aspects of their holiday - everything from how quickly we answer the phone to how clean the hotels were - plus, of course, an overall rating and comments about their holiday.
Any feedback collected is posted straight to our website - totally unedited. So, for the real tales, twists and turns of our holidays, look no further than the reviews from our previous travellers.
Departure dates & prices
No on-line prices available
Unfortunately we do not have on-line prices available at this time. Please call our sales team on 1-800-567-6286 or email info@breakaway-adventures.com for further details.

Holiday details
Minimum group sizes
A minimum of 4 people (in total) are required for each departure.
Holiday type
Guided walking, hotel-to-hotel. Managed by Headwater appointed agent.
Departures
Please call for departure dates, for 10 days (9 nights).
Meals
All continental breakfasts, 8 lunches and 7 evening meals.
Other details
Please see our Planning your holiday and What's included in the price? pages for additional information. Please call us for single room supplements, room upgrade options and child prices.
Starting your tour
Transfers included from Havana airport at 18:05 (Jan-Feb), 20:25 (Apr) departures, and back to Havana airport at 17:45 (Jan-Feb), 20:00 (Apr).
Enquire about this holiday
Simply complete the form below and a member of our sales team will contact you (when it's most convenient for you) to provide availability information, travel options and additional information.

Not quite what you're looking for - then why not take a look at some of our similar holidays?