Cuba Uncovered
Nothing prepares you for the sheer vibrancy, colour and contrasts of Cuba! The combination of colonial palaces, tropical colours and back-street salsa beats alongside sparkling Cadillacs, bareback cowboys and wild west steam trains is utterly compelling. If this is Communism, it is definitely Caribbean style!

The tour starts with two nights in Havana, before exploring the sub tropical forests and limestone landscapes of the Sierra del Rosario in Soroa and on to Vinales, south west of the capital. Amazing bird life, hilltop panoramas, picnics in ruined coffee plantations and rock pool swimming make our three nights in the pretty village of Las Terrazas unforgettable. We then head east to spend three nights in the old sugar cane capital of Trinidad. From here we visit white sand beaches and shower under high waterfalls amid the jungle trails of the Topes de Collantes National Park. Evenings are spent exploring art galleries and enjoying the live music that make Trinidad one of the most atmospheric places in Cuba. Our expert guide accompanies you throughout and provides fascinating insights into the day-to-day lives of the Cuban people. Their zest for life and quick humour is as infectious as the music that saturates this addictive island! On most walking days we are also accompanied by local guides who have grown up in the area and who have fascinating stories to tell!

You'll stay in an eclectic mix of places too, from the Panorama Hotel in the Miramar district of Havana, the eco Hotel Moka and the luxury 5-star Grand Hotel in Trindad.

The walks on this holiday are on country paths and tracks. The Trinidad Mountain Walk is on jungle paths that are uneven, steep in places, and may be slippery when wet. Walking boots are essential; walking poles are recommended.
Read press reviews of this holiday in The Independent.
Typical day-by-day itinerary
Day 1 - Arrive in Havana
Arrive at your hotel in Havana where you'll spend the next two nights. Tonight we have dinner in the El Templete restaurant.
Day 2 - Havana City Tour
After admiring the exhibits (and bullet holes!) in the marble halls of the 'Museo de la Revolucion', we sidestep the tourist traps to explore the lively backstreets of Old Havana, packed with traditional shops, houses and markets. After lunch, we walk along the port to the old steam railway to browse Havana's answer to Camden Market, packed with vivid artwork. Relax back at the hotel before dinner overlooking the cathedral.
Day 3 - Havana to Las Terrazas Casa Campesino walk 6km/4mi/2hr
We leave Havana and head south west to the Sierra del Rosario in Soroa where our walk begins in the Biosphere Reserve. Emerald hummingbirds are among 115 species here! It's an easy 6km forest trail to picnic in a ruined coffee plantation, before a visit to Soroa's world famous orchid gardens, home to 20,000 flowers! This evening, enjoy the sunset on the lake in the waterside village of Las Terrazas before dinner in the hotel.
Day 4 - Che Guevara Walk 8km/5mi/3hr
A track through red ginger, mango and apple rose leads from the hotel to the Che Guevara memorial viewpoint, a high point in the reserve, where we'll picnic with panoramic views of the ocean. Look out for the tocororo, (Cuba's national bird), on the descent amid shady terraces of mastic and pine. We head for the San Juan River nearby for a swim in the rock pools before returning to Las Terrazas. Enjoy a stroll through the village before dinner.
Day 5 - Vinales Valley Walk 12km/7.5mi/4hr
A drive south west this morning leads to the limestone rock formations, pineapple plantations and vivid red soil of the Vinales Valley. We pass palm-thatched tobacco sheds filled with scented, drying leaves and after a country picnic at a farmhouse, we walk up through an echoing limestone cave, before heading down through arrowroot and papaya to colourful Vinales. Time for a cold drink on the pastel coloured main street before driving back to Las Terrazas.
Day 6 - Las Terrazas to Trinidad
We head east today past the Bay of Pigs and Zapata Peninsula to Cienfuegos, famed for its stunning UNESCO Spanish architecture. After exploring the town, lunch is taken in the 1920's Yacht Club on the marina. In the afternoon we stroll through the extensive Botanic Gardens filled with scarlet bottlebrush, ironwood, banyan and mahogany trees, before continuing on to Trinidad in time for dinner at our hotel.
Day 7 - At Trinidad
Explore Trinidad's maze of cobbled streets this morning, or head for the nearby white sand beach for a paddle in the azure waters of the Caribbean. We lunch at a local restaurant before touring the ancient centre this afternoon, admiring heirlooms of wealthy Spanish sugar plantation owners in the Romantic Museum, before enjoying some typical live music by the central church.
Day 8 - Trinidad Mountain walk 10km/6.5mi/4hr
High in the Escambray mountains behind Trinidad, forest trails lead through teak trees and coffee bushes. A steady descent into the Guayanara River Valley brings us to a series of natural pools and waterfalls - a perfect jungle shower! We drive back past thatched farms and cowboys in reed-woven Stetson hats. Perhaps try a cold guarapo juice, squeezed straight from the sugar cane, and relax in the square, or browse one of the many art galleries.
Day 9 - Trinidad to Havana
We visit the Valle de los Ingenios and an C18 sugarcane plantation before driving to Santa Clara, where the ruins of an armoured train destroyed in the 1959 revolution has been turned into a museum. The Che Guevara mausoleum and memorial are national monuments here, and after visiting, we drive back to Havana for dinner in one of Old Havana's grandest restaurants.
Day 10 - Leave Havana
Where you stay
During your holiday you stay at the following hotels. If you'd like to extend your time at any of these or, if you'd like to enhance your stay with an upgraded room, just let us know at the time of booking. You can call our sales team on 1-800-567-6286 to discuss accommodation options.
Hotel Moka, Las Terrazas (4 star)
Hotel Moka is an eco hotel in Las Terrazas, a picturesque lakeside village in the countryside around 2 hours south west of Havana. The entire village and surrounding terraced hillsides were part of a Soviet funded regeneration project undertaken in the late 1960s, when 1500km of terraces were carved from the local hillsides and seeded with local forest species. The hotel is set above the village - rooms feel very Spanish with tiled floors and white walls, each with a balcony. You can do several walks from the door, enjoy the shady pool, and pop into the local bar in the village in the evenings.

Further details on the hotel website, and independent reviews on Trip Advisor.
Iberostar Grand Hotel Trinidad, Trinidad (5 star)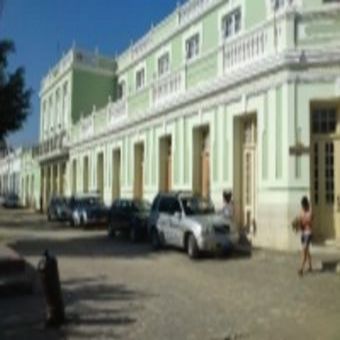 The Iberostar is one of the most luxurious hotels in Cuba, located in the heart of Trinidad in a classic three storey Spanish mansion. The marbled lobby is set around a central fountain, and bedrooms are large and luxurious, with marble floors and beautifully appointed bathrooms. The food here is also extremely good, and the location is perfect for exploring this wonderfully atmospheric city.

Further details on the hotel website, and independent reviews on Trip Advisor.
Travel options
Transfers included from Havana airport at 18:05 (Jan-Feb), 20:25 (Apr) departures, and back to Havana airport at 17:45 (Jan-Feb), 20:00 (Apr).
Please call our sales team on 1-800-567-6286 or email info@breakaway-adventures.com to arrange connecting flights.
Customer reviews
Everyone who goes on a Headwater holiday will be emailed a link to our post-holiday questionnaire where they can give us an honest assessment of all aspects of their holiday - everything from how quickly we answer the phone to how clean the hotels were - plus, of course, an overall rating and comments about their holiday.
Any feedback collected is posted straight to our website - totally unedited. So, for the real tales, twists and turns of our holidays, look no further than the reviews from our previous travellers.
Reviewed by Mr Barrowcliffe on 29/04/2016
This is a fascinating insight into a country and culture that has a great deal to offer, with so much packed into 10 days. Idiosyncrasies abound, but this is not just another Caribbean island. It's also changing rapidly, so it should be sampled before some of its charm is lost as the rest of the world begins to make its mark. The arrival of the American tourist is already driving this transformation, especially in Havana, and the only weakness of our holiday, as compared with earlier versions, was not being able to stay in central Havana at the Saratoga. Being able to wander around the city independently is a pleasure and this is much easier to do if you are staying close to the old city.
Reviewed by Mrs Everett on 28/04/2016
The holiday was a variety of sight-seeing and walking and I felt that the mix was just right for exploring aspects of Cuban life. I found the history of the island very interesting, and we were able to find out much about how Cubans live today in our travels and by talking to local guides. The walking was varied through forests, farms, botanical gardens and along the beach, but in all cases it was easy. Our guide was excellent and helped us make the most of our time in Cuba. He answered all our questions and arranged extra activities for us such as a driving tour of Havana in an old American car! This holiday is one of the most interesting and enjoyable holidays I've had for many years.
Reviewed by Mrs Eynon on 25/04/2016
Very interesting and enjoyable. Wide-ranging
Reviewed by Mr Hill on 25/04/2016
A unique culture and experience
Reviewed by Ms Brackx on 13/04/2016
Classifying this as a walking holiday gives the wrong idea to sporty people (there was far more being driving around and taking in the sights than walking). But once I had come to terms with the fact that this was more of a sightseeing tour, I enjoyed it very much. The wonderful Cuban landscape, culture and atmosphere plus our lovely guide Jorje contributed enormously to us all have a great time. Thank you.
Reviewed by Mr Harrison on 12/04/2016
Great holiday, which gave us an excellent insight and understanding of Cuba.
Reviewed by Mr Heyes on 08/03/2016
Rather a long time in coaches travelling, perhaps unavoidable. Las Terrrazas had two free afternoons to walk round, one is enough! Some suggestions for the last day in Havana would have been helpful. A great group that we went with. 10 seemed to be just right.
Reviewed by Mrs Holland-Webb on 21/02/2016
Cuba is a fascinating, colourful and vibrant country. A place to relax, enjoy the music and the rum and definitely, forget it is the 21st century.
Reviewed by Ms Tomkins on 18/12/2015
The holiday gave a real opportunity to experience life in Cuban cities and the stunning countryside.
Reviewed by Mis Chappell on 13/11/2015
An excellent holiday with a good insight into the Cuban life & culture. Our guide & driver were excellent, looking after the group well. Compared to other Headwater Holidays, I would describe this as a sightseeing holiday rather than a walking holiday as only a few short walks, however humidity made walking difficult sometimes. A highlight for me was the walk around the village of Vinales & enjoying mojitos at a homestead with a spectacular view! Swimming in the Caribbean at Trinidad was very special!
Reviewed by Mrs Mowat on 13/11/2015
The walking part lacked purpose. The walking is very limited and although the local guide in Trinidad was very informative and made it worthwhile, the first local guide we had for 2 days in La Moya did not explain very much about the plants, animals, birds and terrain. He marched on ahead with our guide and left us behind. His English was poor and in all the walks there should have been a local guide in front and our guide at the back to ensure safety. Our own guide was excellent and imparted knowledge of the history of Cuba which made it a very good holiday
Reviewed by Mrs Fort on 24/04/2015
Cuba is worth going to but you must be prepared to be hassled, expected to pay tips for everything, prices for most things over the top(especially hotels) Interesting 3rd world country wanting to overcharge for every ting it can get away with Cuba needs to send senior people who will listen to learn from other experienced travel countries
Reviewed by Mr Loken on 11/03/2015
The variety of places and activities were excellent! The 4 walking days were varied and interesting, and the city visits very informative. Our guide (and local guides) gave us a lot of historical information about the revolutions and Cuban history, which gave us a better understanding of the people and the places we visited. Although Cuban food is generally bland and uninteresting, our guide used his initiative to find several varied and more interesting restaurants. Altogether, a wonderful holiday.
Reviewed by Mr Howell on 31/01/2015
Cuba is interesting and because of the state of tourism (30% of GDP) they are trying hard. Basically it is a developing country and should be judged as such. Our tour guide (Giovanni) had a mantra which he mentioned to us ' Remember T I C' meaning 'this is Cuba'. In other words make allowances for a country that has for the last 55 years been shunned by its neighbour the USA , and development has been delayed. We found it intriguing and hope that if the Americans do start to come that they will not swamp the place like happened 55 years ago during the american puppet regime that then existed. Let's hope that any change will be gradual-but they do need investment. Sermon over! A most enjoyable trip- walking was not in our opinion at all arduous, the food on the whole leaves a lot to be desired but we were warned so no real complaint on that score. In the hotels the Buffet Breakfast was very good especially in Havana and Trinidad.
Reviewed by Mr Attwood on 31/01/2015
Fascinating country at an interesting time. Excellent knowledgable guide.
Reviewed by Mrs Davoll on 24/11/2014
A superb holiday to a beautiful country with a fascinating history. We saw how local people live, and meeting them and visits to their homes were highlights.
Reviewed by Mr Haslam on 03/07/2014
We really enjoyed our holiday in Cuba, it gave us a good insight into the country's diverse history; social history; natural history; and we were delighted to see areas that were not on the usual tourist routes. One of our best Headwater holidays yet.
Reviewed by Ms Rogers on 30/04/2014
I really enjoyed the experience of discovering Cuba. Fascinating country and we saw and learnt so much. Trinidad is specially lovely, another couple of days there would be fantastic! We had 3 extra days in Havana at the end of the holiday and this was well worth it to have more time there otherwise we wouldn't have really seen it much. Our guide was great and hugely helpful and thoughtful specially surprising me with a cake and bubbles for my birthday! Our driver was excellent and worked very hard to give an extra special service, including taking us to the beach!
Reviewed by Mrs Turner on 31/03/2014
It did what it said on the tin - and more. Fabulous holiday where I learnt about all aspects of Cuba in good company. Good combination of activity and sightseeing.
Reviewed by Mrs RobertsonSmith on 13/03/2014
All was as good or better than I expected, knowing that Cuba is still a Third World Country
Reviewed by Mrs Raimondo on 12/03/2014
We thoroughly enjoyed our trip to Cuba and would recommend it as a holiday destination. Every day was different, partly because our guide was very enthusiastic and this added to the overall experience. We had a good mix of people in our group and we all got on extremely well. The food was not always to our satisfaction but we were expecting this when we booked our holiday.
Reviewed by Mr Wilson on 10/03/2014
Found having to travel to Paris and change planes to Cuba was a chore - involving further irksome security checks. Despite this flights to and from Cuba were good. The walking with the local guides and the visits to the botanical gardens were excellent. The mixture of walking and sight seeing was first class, especially the transport in an old Russian Army truck was out of this world and will long be remembered. We would recommend Cuba as destination for anyone wanting a complete change from Western style countries.
Reviewed by Mrs Carlile on 06/12/2013
We had a very good holiday. You need to be prepared for problems and a relatively poor infrastructure to support solutions. However we saw a fascinating country, enjoyed the countryside and the walking ( which was very easy)
Reviewed by Mr Hall on 24/04/2013
Really enjoyed the holiday. As a group we 'gelled' and all got on together. I felt the holiday really did 'Uncover Cuba' and our tour guide was very knowledgeable and gave us insight into the lives of ordinary Cubans and how Cuban Society operated. The locals were all friendly and I felt safe at all times and enjoyed the variety of activities and locations as well as the music and the architecture.The local guides we had on walks were also very knowledgeable about the terrain,local customs ,plants and birds . Well Done!!
Reviewed by Mrs Davies on 30/03/2013
This was an excellent overview of Cuba, taking us to Havana and Trinidad, and covering good walks in the mountains, and visiting places of interest such as Santa Clara. Our guide, Ernesto, was excellent, and his observations and briefings definitely added to our appreciation and enjoyment of the holiday and his country. We travelled out to Havana two days earlier than the standard Headwater holiday, and we are gald that we did, as it gave us a chance to really 'do' Havana. I think we would have felt that it had been a missed opportunity, if we had not done so The hotels in Havana and Trinidad were both excellent. The Moka Hotel was poor, as we were without hot water for most of the stay, and the hotel seemed unconcerned. We appreciate that the location is excellent, but this was most unsatisfactory on a walking holiday My expecation on the food front was low, so I was pleasantly surprised by the quality - as long as you don't expect it to meet European standards. All in all, this was an excellent holiday, which will be long remembered. One could argue that there was not enough walking - but that would have meant seeing fewer of the places of interest
Headwater response:
We have been in contact with the management of the Hotel Moka. The manager Haydee Diaz Cala has apologised unreservedly for the failure of the hot water system and for the time it took them to source the parts to repair it. Everything is now working normally again and we have been assured it will never happen again. The customer service in relation to this problem was also below standard and we have made the hotel management aware that we expect higher standards in the future.
Reviewed by Dr Hodgson on 30/03/2013
We went to Cuba with an unknown expectation and we were constantly surprised.We enjoyed the range of activities that we were offered. Walking, sight seeing, art and culture, politics, social aspects of rural and urban living, history...our guide Ernesto was informative and helpful in all areas. It was a fascinating, rewarding and thought- provoking holiday. Our one big disappointment was in La Moka where we had no hot water for three days and the hotel was dismissive and then very tardy in trying to rectify the problem. Hot water is an essential - and should be part of a 4star hotel's standard!!!!!
Headwater response:
We have been in contact with the management of the Hotel Moka. The manager Haydee Diaz Cala has apologised unreservedly for the failure of the hot water system and for the time it took them to source the parts to repair it. Everything is now working normally again and we have been assured it will never happen again. The customer service in relation to this problem was also below standard and we have made the hotel management aware that we expect higher standards in the future.
Reviewed by Mr Brown on 30/03/2013
Started badly Paris airport shut due to snow flight cancelled. Long wait at Air France desk only option fly to Amsterdam, stay overnight,then fly to Panama! On to Cuba making it an epic journey. Finally arrived at hotel midnight about 30 hours late. So we missed out on 1 nights stay and 2 included dinners and did not get to enjoy this hotel at all. Missed city tour of Havana, although we did get this on our last day, we then did not have our free day for further exploration. Hotel Moka not great no hot water for 2 days had to insist on moving room, musty smell in rooms damp wall in 2nd room food nothing special. Food out in restaurants better. Still an ejoyable experience despite above, good walks excellent guide facinating country well worth a visit.
Headwater response:
We have been in contact with the management of the Hotel Moka. The manager Haydee Diaz Cala has apologised unreservedly for the failure of the hot water system and for the time it took them to source the parts to repair it. Everything is now working normally again and we have been assured it will never happen again. The customer service in relation to this problem was also below standard and we have made the hotel management aware that we expect higher standards in the future.
Reviewed by Mrs Penn on 02/03/2013
Excellent way in which to discover Cuba without the beach resorts. Osmin was a very knowledgeable, competent, friendly guide. Very comfortable hotels. Well-designed, very interesting itinerary (including the day in Havana). Good walking and birdwatching. Comfortable minibus and very experienced, safe driver (Santiago). The restaurant in Cienfuegos was rather disappointing: wonderful building, but very ordinary lunch and service. The local guide at the Topes de Collantes was excellent in every way.
Reviewed by Mr Hayes on 02/03/2013
An excellent introduction into life in Cuba. Good variety in the itinerary. Could have done with an additional day in both Havana and Trinidad to relax a little. In both cities we were pretty rushed.
Reviewed by Mr Collman on 26/02/2013
This is not a 'leisurely' holiday, but it does 'uncover' Cuba. Local guides for walks in the forests and at Vinales were very knowledgable. Cuba ticks all the boxes for a perfect hoiday; exercise for the body and stimulation for the brain.
Reviewed by Mrs Costain on 16/06/2012
Overall good, but at times when we diverged from the itinerary it was not always clear what was happening.
Reviewed by Mr Goodfellow on 09/05/2012
Very enjoyable, but hidden costs much more than Headwater suggests, ie.£200-300 cash to be converted for extras in Cuba.
Reviewed by Mrs Newall on 17/04/2012
Generally very positive and better than I had anticipated.
Reviewed by Mrs Thompson on 17/04/2012
Enjoyed Cuba., the atmosphere, people and humour. found it politically and culturally very interesting.
Reviewed by Mrs Manser on 05/04/2012
Whole of the Cuban experience was excellent but the flights caused a good deal of stress at times especially on the return flight & I think Headwater needs to think seriously about changing this - a direct flight i.e. with Virgin would be much better than including a connecting flight. Time between landing at CDG Paris & taking off to Cuba was too short thus worries if there were any delays at Heathrow we might miss the flight. On the flight back,the checking clerk was unable to issue us with boarding passes for Paris as computer had frozen. Planned time at Paris between flights should have been enough but flight from Cuba was delayed by about 1.5 hours, thus worried during all of flights as had to get boarding cards & change terminals. Also although at airport about 3 hours before planned take off at Havanna unable to get seat with partner & seat provided meant too far away to read subtitles on film provided.. not a happy flight! Luckily didn't have to change terminals at Paris (changed) but queue at desk to get boarding pass was long & didn't move & staff very unhelpful (when we said our flight was due to take off in less than half hour were told just to wait in queue - didn't point out we could use self check in kiosk!) By this time we were both very stressed - not helped by having no sleep during the flight! Finally in despair tried self check in, which worked & had passes. Now only 15 mins to take off & had to get through security - long queues again. Had to run all the way to the gate for Heathrow flight (in a panic.) Thankfully for our well being the flight was delayed for an hour or more (brake problems.) Not a good ending to our holiday! Very mixed feelings about Air France - cabin staff very pleasant but too much unhelpfulness from ground staff & disorganisation at airports. Don't think we would consider a Headwater holiday with connecting flights using Air France again!
Reviewed by Mr Read on 08/03/2012
An excellent overview of many aspects of life in Cuba
Reviewed by Mrs Thompson on 08/03/2012
Had a wonderful time. Fabulous country, so much to experience.
Departure dates & prices
No on-line prices available
Unfortunately we do not have on-line prices available at this time. Please call our sales team on 1-800-567-6286 or email info@breakaway-adventures.com for further details.

Holiday details
Minimum group sizes
A minimum of 4 people (in total) are required for each departure.
Holiday type
Guided walking, hotel-to-hotel. Managed by Headwater appointed agent.
Departures
Please call for departure dates, for 10 days (9 nights).
Meals
All continental breakfasts, 8 lunches and 7 evening meals.
Other details
Please see our Planning your holiday and What's included in the price? pages for additional information. Please call us for single room supplements, room upgrade options and child prices.
Starting your tour
Transfers included from Havana airport at 18:05 (Jan-Feb), 20:25 (Apr) departures, and back to Havana airport at 17:45 (Jan-Feb), 20:00 (Apr).
Enquire about this holiday
Simply complete the form below and a member of our sales team will contact you (when it's most convenient for you) to provide availability information, travel options and additional information.

Not quite what you're looking for - then why not take a look at some of our similar holidays?