The last time I was met by The Rep on holiday, an 18-year-old with a bun and a blazer force-fed me sangria hopeful that the volume consumed would be proportionate to the number of excursions I succumbed to. Happily, this time I'm not on the Costas and I'm with Headwater – clearly an ethos with bags more integrity – and I am therefore more than relieved to meet James at the Hostellerie du Château in Chaumont-sur-Loire.
Within three minutes of our meeting, James has reassured us that we haven't missed the boat on Chaumont's Festival des Jardins (I can come back to this Chelsea Flower Show à la française when we return to base in a few days' time), ensures that we are aware of some practicalities (luggage transfers, provincial restaurant lunch opening times) and offers up a hot local knowledge tip for a secret romantic vantage spot at the end of our day's walking. I'm not planning to woo either of my two holiday companions but I'm nonetheless sold on the idea of a little sequestered spot that Joe Publique is unaware of.
The 'we' of this particular trip is three schooldays friends who, not for the first time, are on a well-deserved brief getaway together. City breaks – tick, coastal cottages – tick, we've even done a potter's course together but we now realise we are ripe for a jolly involving prolonged athletic output. Unanimously opting for something more moderate than extreme and given that we need to offload a number of everyday 'midult' pressures – small dependents, big jobs, poorly olds – we need an activity that allows us to expend energy and talk incessantly at the same time. Walking it is then.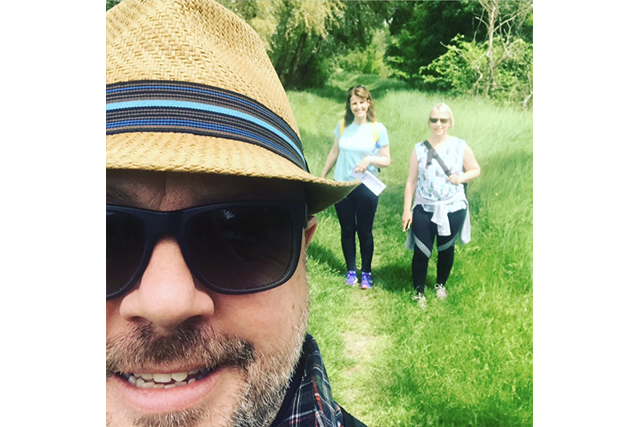 Walking because you want to
I've become a big fan of walking (that's the walking because you want to variety as opposed to the functional A-to-B my car's in the garage sort) and this is something that my child self would have struggled to predict, just as I'd have sworn blind I would never ever indulge in Radio 4 plays, pungent cheese and gardening. What was once so booorrr-ing is now a source of infinite joy: uplifting landscapes, [marginally] more satisfactory thigh-tone, neuro stimulation (this goes some way to explaining why I always feel so positive and inventive after a walk) and just the general accessibility of it all: contrary to popular belief, you don't necessarily need a doggy, pole or other accessory to enjoy this most fundamental of human activities.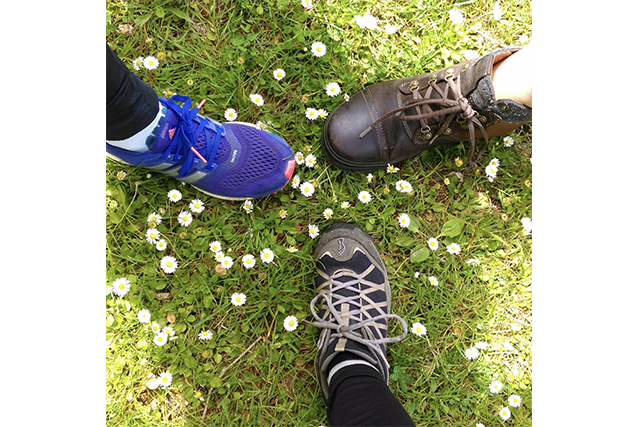 A French feast tastes so much better after a walk
Hopelessly time-deficient, we have opted for a Headwater walking break in the Loire, chiefly so that all the research is done for us and two of us don't have to feel forever indebted to the third who has spent six weeks in an online hair-pulling frenzy of timings, costings, comparisons and routes. It's a six-day adventure – three days of self-guided walking, hotel-to-hotel, three rest days in-between – with an appealing choice of hotels (from the traditional to the boutique) and the prospect of much guilt-free feasting. In my experience, when you've worked off the calories, it tastes even better n'est-ce pas?
And so here we are, ready to roll, boosted by last night's fabulous French feast plus decent, rosé-induced slumber: the locally produced Vermeil Domaine des Roy is très bon. Our first day's walking is a flat, riverside, 15km wander from Chaumont-sur-Loire to Chenonceaux, which should limber us up nicely for more walking later in the week (from Veretz-Montlouis to Amboise on Day 4 and from Amboise back to Chaumont on Day 6).
Not great at reading a map?
Studying the map, I am reminded that I am generally low on navigational intelligibility so I relax somewhat when handed James' reassuringly detailed route notes. They are, I understand, constantly verified by The Rep. I surmise that this may be (a) because you never know when a sadistic Frenchman will add a stile and watch from a distant window – très Jean de Florette. (b) because permanently tweaked notes may be a whole lot more reliable than the Tourist Office's Google-translated Grande Randonnée leaflet. Chatting away, James transfers us over to the village of Bourré to begin our walk.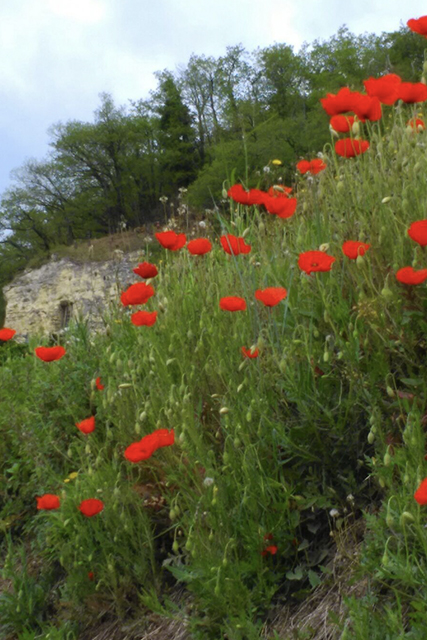 Now Bourré proves to be the first of the day's surprises: not in a classic picture postcard sense but in the way that this provincial backdrop is almost certainly la France profonde, a phrase often bandied about by those seeking authenticity. (In actual fact, one should use this expression with caution – those living in the so-say France profonde are often sensitive about its connotations of peasantry. Ooch.) It's eerily quiet here today but then this is France after all, where the day of rest is more traditionally observed than in the UK, where it is but a distant memory. Or perhaps, the French are all indoors, glued to news reports on the momentous day when Monsieur Macron takes the Elysée baton.
Underground towns, cave dwellings and wine-tasting
We pass the first of the walk's curiosités: the Cave des Roches underground mushroom farm and then we spot the inhabited troglodyte caves on the near hillside (balconies and chimney smoke to prove it). Our notes now prompt us to make our way down to the banks of the river Cher, tributary of the Loire.
If tributary makes you think smaller, narrower, think again – it's a big beast of a river and every bit a majestic image. Twinkling water enhances the reverie and I wonder if the Impressionists came down here. (If they didn't, I say they missed a trick.) We continue to hug the river, passing the Ecluse de Vallagon weir and, appearing to keep up with the current (but probably not), we reach Montrichard before we know it.
Five hundred or so metres off-piste but filling the gap nicely before lunch we take in a visite rapide at the sparkling wine producers Caves de Monmousseau; the fruity bubbles of the Cuvée JM proving to be the perfect impromptu apéritif. You can't fail to be impressed by the way the French respect and nurture the fruits of their beloved terrain (though it's OK to inwardly confess that you're more interested in the dégustation than anything else).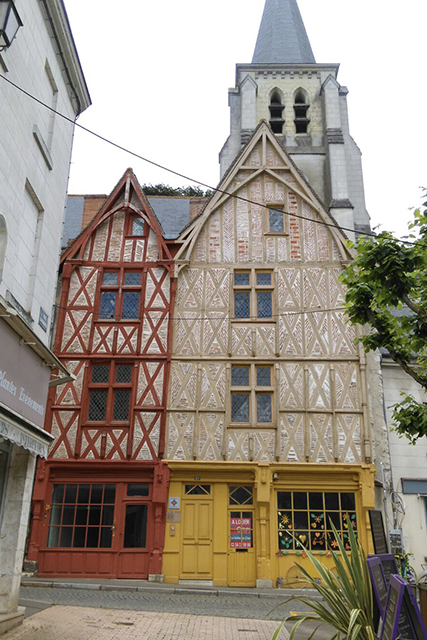 We hot foot it to Place Barthélemy Gilbert, Montrichard's most convivial meeting place, where café tables jostle both for space and punters. Opting for Brasserie Les Tuffeaux as much for the maple tree shaded terrace as the good range of formules and French favourites, we have unwittingly chosen a table opposite what are surely the two most handsome houses in Montrichard, in the shadow of the imposing Château de Montrichard above.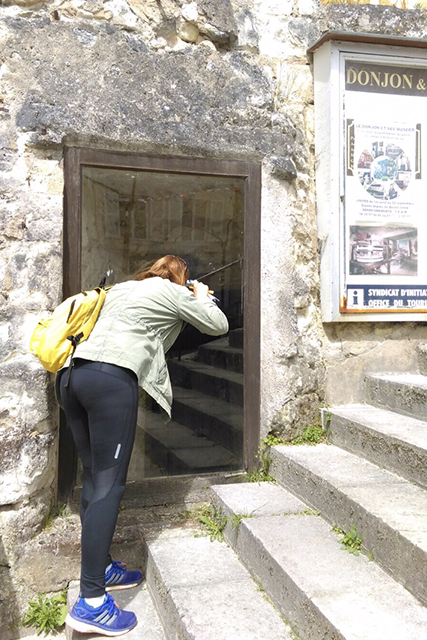 Self-guided exploring with friends
Pressing on after lunch, we stop momentarily to toss a coin into the fountain, peek into the donjon – where Richard the Lionheart was reputedly imprisoned – and then reunite with the river. With conversation as full in flow as the Cher itself, I am reminded why old friends are the best. Not only is it rare to have enough time to discuss the big, the small and everything from the deep to the nonsensical, we have a Famous Five like spirit of fun in the air and attribute each other character names and roles.
Serge – particularly charming when anglicised to Surge – feeds Instagram with the visual delights of the day and gives us regular Fitbit updates. Pénélope (that's Pay-nay-lopp) is our nature expert, pointing out cuckoo call and catkins cottonwool we would normally be too blasé to notice. (It's true; you do see more at a slow pace.) This leaves moi, Monique (my go-to name since Tricolore textbook days) in charge of reading the Headwater route notes and translating any random signs it might be prudent to pay attention to. Adding to the general sense of über-contentment, this particular stretch (tunnels of overhanging trees, sweeping meadows of waving grassland as far as the eye can see) is especially scenic so we really are all campeurs contents.
A red-rimmed commune sign heralds our arrival at a spot we have asterisked for a pause: Chissay-en-Touraine, and so we duly stop to take in some liquids in the shade of the pretty churchyard. Refreshed by an unconventional picnic of cheesy twists and Percy Pigs and, bid a bonne continuation by a likeable local (quite the novelty as we haven't seen a soul for nigh on 10kms), we are all set for our last 5km stretch.
From darting swallows and open pastures on the bucolic right, we look left to seek out the Moulin Fort mentioned on our notes – a mill on an island in the middle of the river – and then we amble on to Chisseaux, penultimate village of the day. Clearly the Macron curfew is now over as France's finest either stroll in the spring sun with their too-small Parisian pooches, or, as we enter the village of Chenonceaux (intentional 'x' at the end – curiously it's a different spelling to the château), indulge in the most favourite of French pastimes, la pétanque. A gallic glare tells me this is not a tourist attraction – no photos please.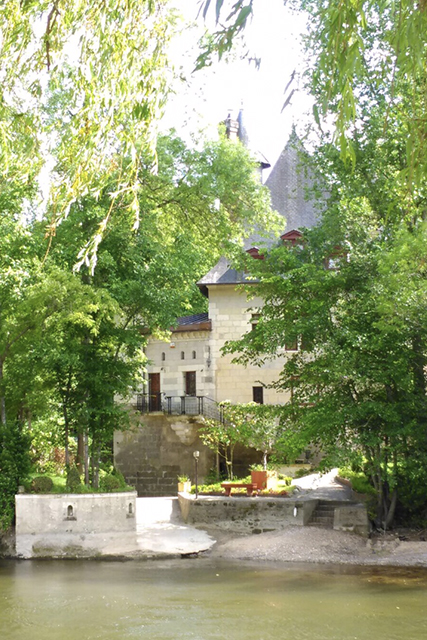 And terminus! Hotel la Roseraie is our welcoming destination, home for the next two nights and every bit as pretty as its name suggests. After deserved rest and sustenance (pink, naturally) on the terrace, we freshen up and decide to take a last stroll of the day to the recommended secret spot.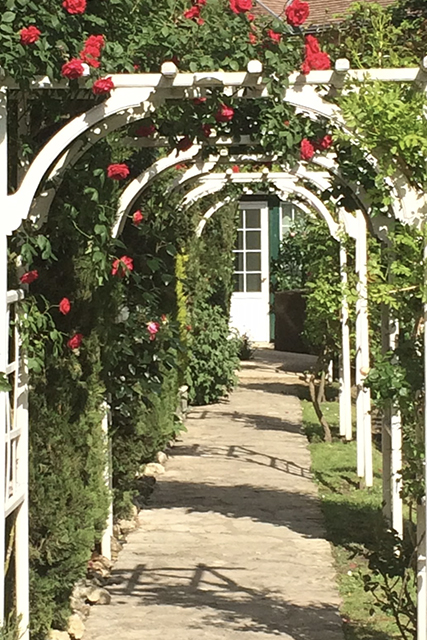 We are agreed that emerging from the wooded pathway to one of France's most iconic vistas is something that may well be with us for some time and we are all the more eager to visit the Château de Chenonceau tomorrow, when our feet make friends with our legs again. Heading back to La Roseraie, we take one last glance at the Fitbit and rub our hungry tums in anticipation.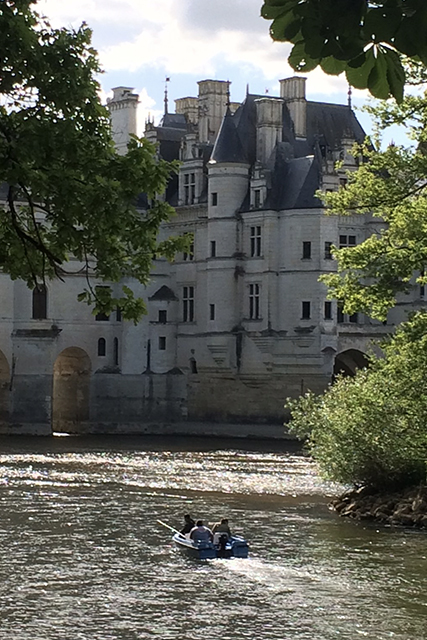 "Et Madame, pour vous?"
"4,090 calories s'il vous plaît."