What first comes to mind when you think of Tenerife? If beaches, sun, bars and resorts spring to mind then you're definitely not alone. Tenerife is a sun-drenched escape par excellence, with affordable flights from the UK and accommodation in sunny coastal resorts all year round.
What fewer people know about Tenerife is that it's also a wild and rugged mountain island, the result of extreme volcanic activity over millennia. If you can break away from the bright coastal noise of Playa de las Americas and Los Cristianos you'll find an interior that is mountainous, beautiful and offers some amazing hiking.
I was lucky enough to visit Tenerife for a late December break with my partner. As a keen walker, I wanted to see and experience Teide for myself. Mount Teide is Tenerife's literal and metaphorical pinnacle for hikers. Standing at 3,718 metres (12,000 feet), it is Spain's highest peak and makes Tenerife the loftiest of all the Atlantic islands.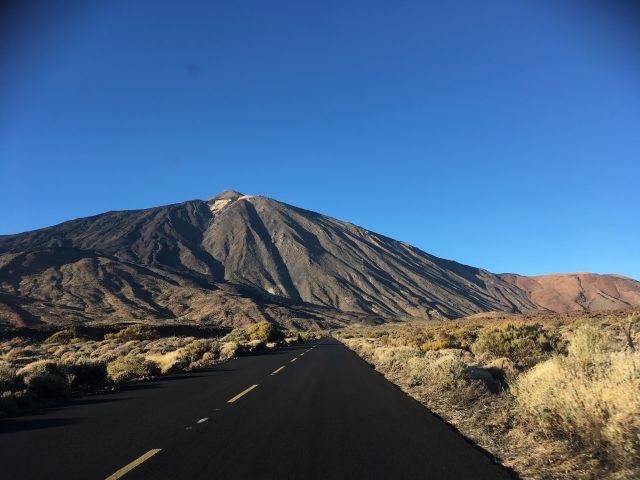 Driving up the smooth tarmacked TF-38 road after a hearty breakfast of cold meats, fresh bread and coffee in Garachico, what struck me first was the sheer vertical scale of the island. Teide National Park (Parque Nacional) is so high up that the rest of Tenerife can be shrouded in cloud, but you break out above it and enter the park in brilliant sunshine. The Guanches – the native inhabitants of Tenerife – believed that Mt Teide propped up the sky.
Teide National Park begins about 2,000m above the Atlantic. At this altitude the air is very dry and so the landscape is a stark, rocky desert – NASA tested its Mars rover here a few years ago. The immense caldera Circo de las Cañadas is dotted with the skeletal outlines of native flora such as the Teide white broom, which flowers in spring.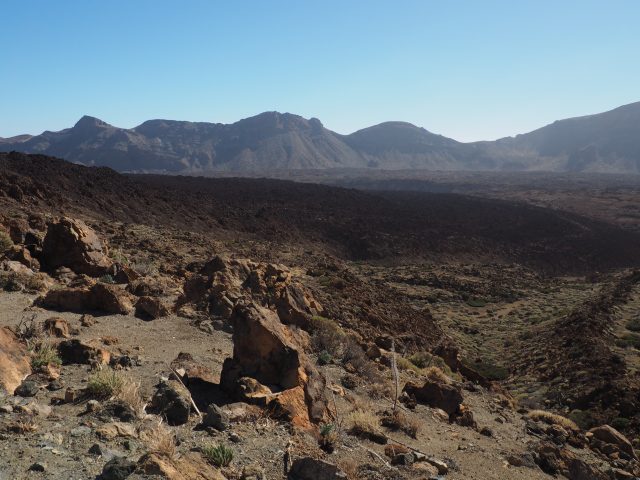 We parked up at the Roques de García, a meandering line of towering rock formations popular with visitors to the national park. Giant eroded spires like the 150 metre high La Catedral (the Cathedral) erupt from the rocky terrain and tower over the hikers below. The nearby Roque Cinchado is one of the icons of Tenerife; a curved tower of banded rock, it looks strangely top-heavy and unbalanced. Mount Teide itself dominates the skyline, its flanks stained by dark lava flows. The last eruption was in 1909.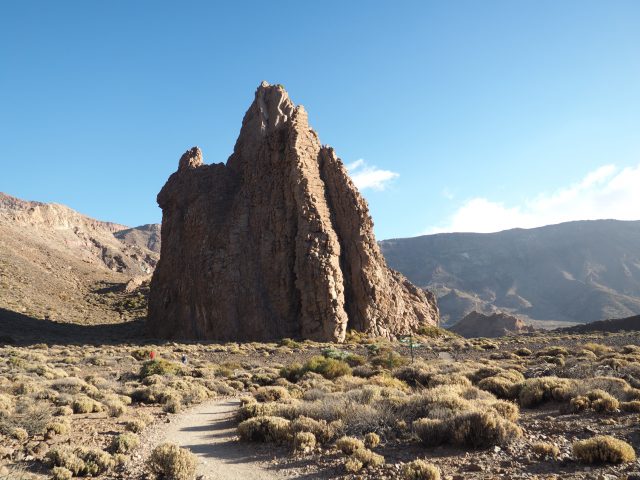 The National Park has two well-organised visitor centres, and information is mostly free and easy to get hold of. A total of 41 trails cross-cross the Martian landscape around Teide, ranging from short strolls to full days out. Most people take the Teide Cable Car to more manageably scale the giant slopes of the volcano itself. The airy gondolas deposit you at a station 150 vertical metres short of the summit. To reach the summit proper you need a pass, which needs to be applied for about two weeks in advance.
We hadn't booked a peak permit because we already had a pretty busy itinerary, so instead we took a pleasant four hour walk up and down the Los Regatones Negros trail towards Pico Viejo, a smaller peak on the shoulder of Teide. Twisting up loose slopes and across cracked dry lava beds, this trail was well marked with numbered signs. Having a local hiking guide along with you is a good idea nonetheless, because at 2700m the altitude can make walking quite challenging. It's important to come prepared with suitable clothing, footwear, food, water and a map.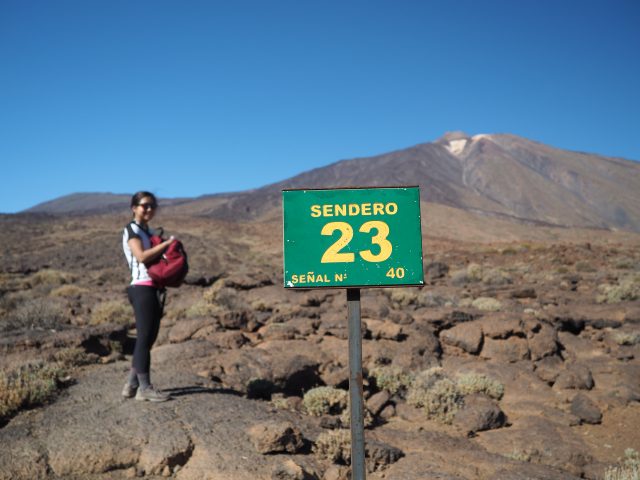 As dusk drew in and the air chilled sharply, we made it back to the car park at Roques de García. It had been a rewarding half-day walk, but the summit of Mount Teide itself would have to be ours another time. Looking back, Teide National Park was undoubtedly the highlight of my trip to Tenerife, thanks to its beautiful and otherworldly landscape. It's the eighth most visited national park in the world, and for good reason.
Discover Mount Teide on Day 3 of Headwater's Secrets of Tenerife walking holiday.