By Lin Toye, Headwater Gastro Burgundy Rep
A flash of colour, the whir of wheels, the shouts and cheers of on-lookers. This is the Tour de France in full swing, or rather, in full cycle. This year saw 'The Tour' speed through our Gastro Burgundy region bringing with it all the excitement that this national pastime deserves.
With roads closed and traffic diversions in place, villages strewn with bunting and lined with locals and visitors alike, spectators watched on the 7th July, as nearly 200 professional cyclists streamed down the hill into Gevrey Chambertin and out through the famous wine villages of the area, sprinting for home and finishing in a blaze of glory in Nuits Saint Georges.
Summer in Burgundy also brings forth a wealth of activity in the villages and vineyards. The warm, sunny days encourage phenomenal growth within the vines, and the vignerons are kept busy with trimming and tying up, watching the grapes form and grow into lush, juicy bunches ready for picking in September, hoping for a bumper crop.
Communities look forward to the annual Vide Greniers (boot sales) held at the weekend by each village where a carnival atmosphere sees neighbours chatting and laughing at the buffet and bouvette, whilst attempting to sell their goods. Between drinking the local brew, eating lunch and talking to their friends, not much selling actually goes on, but a good day is had by all.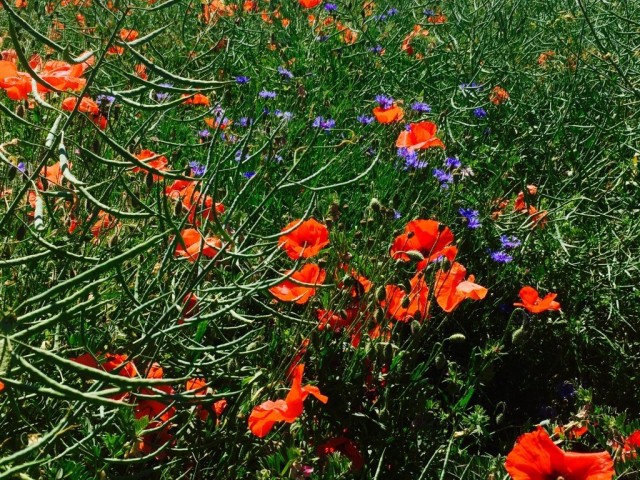 The Autumn vendage brings new action into the fields. Once the grapes are ready for picking the race is on and it's all hands to the secateurs! Swarms of workers join in the rush to gather all the grapes ready for pressing. White vans zip along the vine paths between domains, collecting huge crates of fruit from the pickers and transporting them to be processed and transformed into some of the best wine in the world – Burgundy Cote de Beaune and Cote de Nuits, Pinot Noir. Rain or shine, the picking continues until the last grape is harvested, and the vine leaves now start to change colour, from the vivid green of high summer, ending in glorious pinks and reds, announcing the end of the season.
Who knows what this years vintage will bring, but the annual Beaune Wine Auction in November sees worldwide investors bidding on rare and unique wines. Perhaps 2017 will one day be included in this prestigious event. But now looking out over the acres of vines, the russet vine leaves shining in the late summer sun, this truly is the Cote D'Or – The Golden Hill.
Take a look at Headwater's trips exploring the charms of Burgundy either on foot or by bike.