At Headwater, we pride ourselves on hand-picking the finest and friendliest hotels and characterful accommodations in the most beautiful settings. We've been meticulously researching and sourcing unique places to stay since 1985, looking in particular for small, family owned hotels with interesting histories that serve authentic regional cuisine, and owners who take a genuine interest in their guests.
Now that the world is beginning to reopen, we are looking forward to welcoming our guests back to these wonderfully characterful places. When you're thinking about booking your next Walking or Cycling Holiday, why not choose somewhere, where you stay in a place that's truly unique? To help you on your search, we've collected a couple of our favourite unique places that may inspire your next adventure.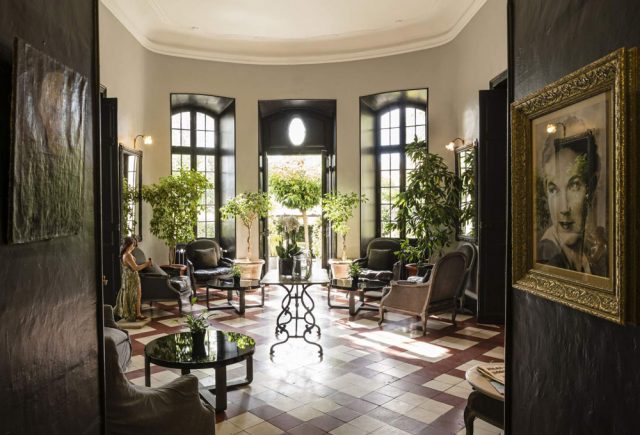 1. Chateau de Mazan, France
The striking Chateau de Mazan is a beautiful 18th century castle which is famously known as the former residence of French nobleman, writer and revolutionary politician, the Marquis de Sade. Situated in the very heart of Provence, at the foot of the legendary Mount Ventoux, the rooms in this Chateau are the height of elegance, comfort and sophistication. Their beautiful landscaped garden doesn't disappoint either, with its incomparable scents of fragrant mulberry trees and hundred-year-old olive trees.
If you can tear yourself away from lounging in the sun-kissed gardens of Chateau de Mazan, you'll find there's a wealth of beauty and historical relics to explore just beyond its grounds, from the UNESCO Roman Theatre of Orange to the picturesque medieval village of Mazan with its church wall that's made up of more than 60 Roman sarcophagi.
Enjoy an evening in the Chateau de Mazan for yourself on our gentle 6-night self-guided Cotes Du Ventoux Cycling trip. Taking in the best quiet countryside lanes, medieval towns, vineyards and eclectic local markets along the way, you can also soak up the breath-taking views of Mt Ventoux as your backdrop for the week. You'll soon find that this region is a mecca for avid cyclists who come to challenge themselves in emulation of their Tour de France heroes.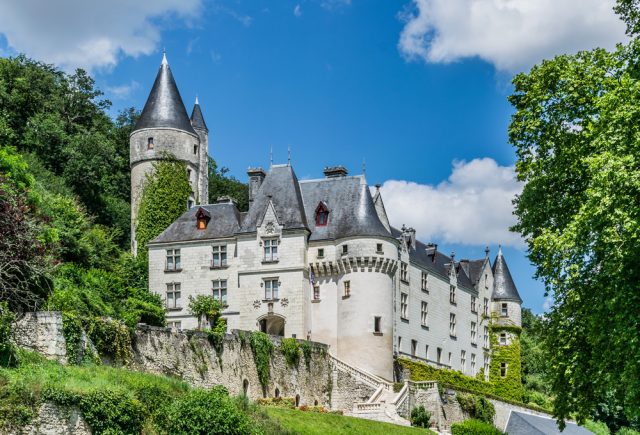 2. Chateau de Chissay, France
The breath-taking Chateau de Chissay, is a 16th Century castle and former royal residence of Charles VII, that was lovingly restored as a hotel in 1986. Located in Chissay-en-Touraine, just 6km from Chateau de Chenonceau, the Chateau de Chissay is the perfect place to stay for an unforgettable Loire Valley experience.
The Loire Valley was once a region of immense strategic importance, where kings, queens, dukes and nobles resided. Excellently persevered over the centuries, most of these opulent aristocratic estates are still open for public viewing, with some being converted into enchanting and characterful accommodations. Boasting fortified towers, soaring spires and spectacular banquet halls, the region's châteaux, quaint villages and vineyards that surround them, attest to over a thousand years of striking architectural and artistic creativity, that is known the world over.
Why not explore this fascinating region by bike and spend an enchanting two nights at the Chateau de Chissay on our Loire Gastronomic Cycling trip. This unhurried, 6-night gastronomic cycling holiday follows a gentle triangular route through the heart of the great Loire Valley. Along the way, you can stop to admire the majestic chateaux of Amboise and Chambord and the rich Renaissance splendour of Chenonceau. In the evening, while at the Chateau de Chissay, you will dine on a specially prepared gastronomic meal including sandre en croute d'escargots, selle d'agneau a l'ail nouveau and le moelleux au chocolat Valrhona.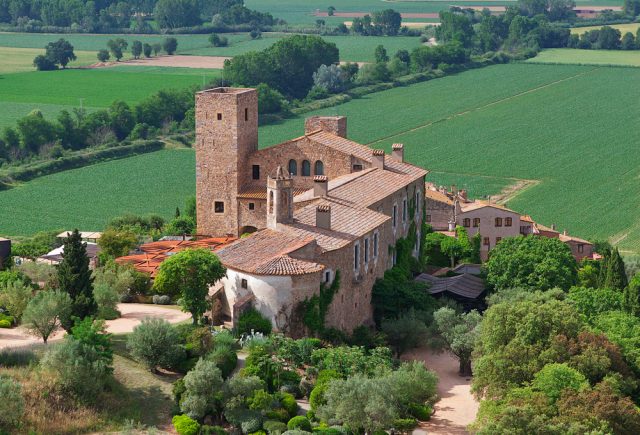 3. Castell d'Empordà, Spain
Lovingly coined by the locals as "the guardian of Spanish cultural heritage" in the region, the Castell d'Empordà is an enchanting 700 year old castle with a colourful history. Perched on top of a hill near the small, quaint city of La Bisbal, southeast of Girona, this beautiful castle was built in 1301 and has been owned for centuries by the Margarit family, who acquired the castle through a marriage union. In 1973, Salvador Dali even expressed interest to purchase the castell as a present for his wife, but the owner, Pedro Arpa, refused to accept his offer of payment in Dali artworks. Salvador Dali later went on to purchase the Castle of Púbol instead, less than a 15-minute drive away, in the comarca of Baix Empordà.
After you've wandered around its enchanting grounds of ancient olive trees, there is another fascinating piece of history to uncover while exploring Castell d'Empordà – Europe's biggest scale model of the Battle of Waterloo. Found in the heart of the castle, this intricate 18 square metre representation includes over 500 horses and 2000 toy soldiers, all of which have unique characteristics and are hand-painted by the Dutch Hotel owner, Albert Diks.
It turns out, the idea for this fantastic large-scale Battle of Waterloo model stems from his interesting family history. The model stands as a testament to his great-great-grandfather who was a veteran of Napoleon's Grande Armée that chronicled his adventures with the emperor, in a diary. You can also see another model of Castell d'Empordà being besieged in the 11th century, built by Albert which is located on the first floor right above the hotel reception.
On our Catalan Classic Walk, we enjoy a blissful two-night stay at Castell d'Emporda, where history meets luxury, before heading to breath-taking medieval villages of Corca, making a pit stop in the enchanting Old Quarter of La Bisbal. While you're here, be sure to wander through the Carrer de Call, that was formerly a Jewish ghetto, you will see that their historical arches are still intact to this day.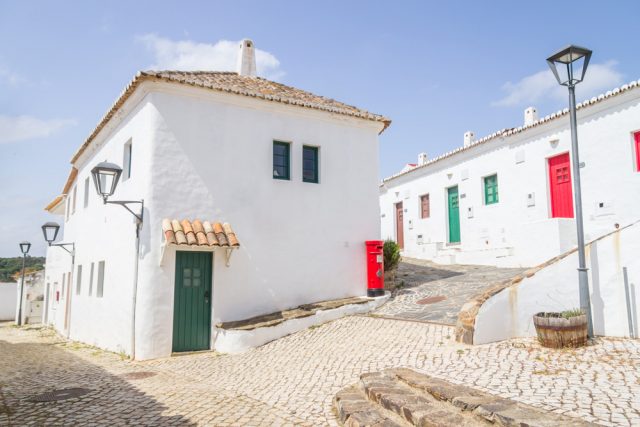 4. Aldeia da Pedralva, Portugal
The Village of Pedralva, a rural village to the north of Vila do Bispo was left abandoned, in a devastating state of disrepair until the owner of Aldeia da Pedralva, Antonio Ferreira, intervened and bought all the houses from their previous owners, over a period of several years. Working with the council and municipality of Vila do Bispo, Antonio lovingly restored the area to reflect the region's rich heritage and fascinating history. Today, after the urban recovery and rustic renovation, the breath-taking white stone Village of Pedralva and its 1 to 3 bedroom houses are open to the public. The restored village also comes compete with a Gourmet Grocery and two restaurants, a pizzeria and a traditional restaurant that prepares typical Portuguese cuisine with local produce from the area.
Enjoy a two night stay at this wonderful retreat on our Self-guided cycling in the Real Algarve trip, where you'll pedal past large reservoirs, alpine-like meadows and holm oak forests on your way to the historic maritime towns of Sagres and Lagos. Or why not enjoy this spectacular region on foot and stay at the Aldeia de Pedralva during our 8-night Walking Portugal's Land End adventure, where you can explore the unspoilt Sagres Peninsula, following a mix of forest, valley and coastal trails to golden beaches and idyllic countryside that are firmly off the tourist track.
If you've been inspired by our characterful accommodations, why not visit one of these beautiful regions for yourself on one of our Headwater Walking and Cycling Holidays.