Spanning centuries and architectural styles, Romania's eclectic mix of castles have protected the lands, housed royalty and inspired myths and legends.
Poenari Castle, Wallachia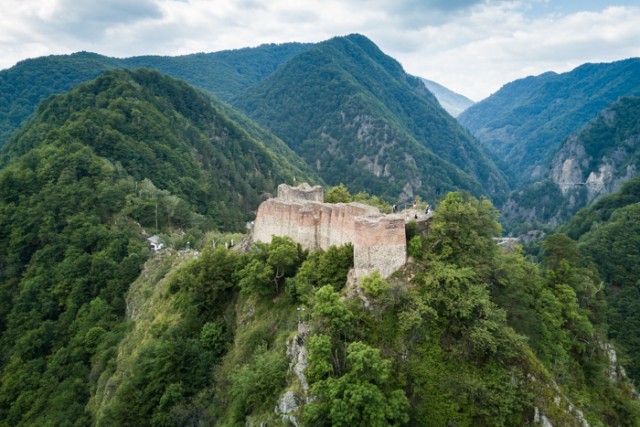 Poenari might be a ruin but it earns an inclusion in this list for its spectacular setting, stunning views and a link to Vlad Tepes aka Vlad the Impaler aka Vlad Dracul (allegedly the inspiration for the character Count Dracula in Bram Stoker's novel).
Nestled in thick forest and with a vertiginous cliff side location, the views from the top are well worth climbing the 1480 steps.
The castle was thought to have been built in the C13 but it wasn't until the C15 when its most famous inhabitant moved in. Giving the ruins a much-needed makeover, Vlad made Poenari one of his main fortresses until his death in 1476.
Since then the castle has returned to ruin having been abandoned in the C16 and later destroyed by a landslide in 1888.
Corvin Castle, Transylvania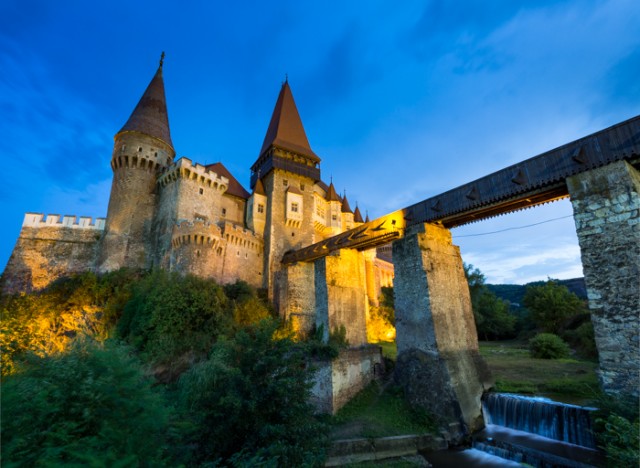 Set in an inconspicuous and unremarkable location in the industrial town of Hunedoara, Corvin Castle is perhaps Romania's finest. Its Gothic-style exterior, complete with terracotta-coloured pointed turrets, are a spectacular sight, especially when lit at night.
Dating back to 1446, this former fortress was developed by Ioan of Hunedoara and comes complete with a moat, drawbridge and central courtyard.
No spectacular castle would be complete without its very own ghosts. Much of the development of Corvin Castle was carried out by Turkish prisoners on the promise of freedom. Legend has it that on completion of the work they were instead killed, forever cursing the castle.
The Fortified Church of Biertan, Transylvania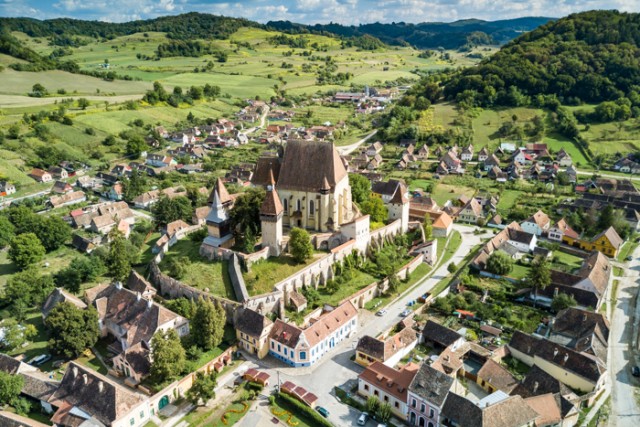 Situated between the historic Transylvanian towns of Sighisoara (30km) and Sibiu (80km) is the village of Biertan, home to the most impressive of the region's fortified Saxon churches.
Earliest records of this small and pretty village date back to 1238 while the UNESCO-listed evangelical church and its fortifications, which sit on a hill in the centre of Biertan, are dated between the 15th and 17th Century.
This mediaeval complex dominates the landscape and follows a typical Saxon fortified design with the church central to a series of towers and ringed by two complete concentric walls.
Bran Castle, Transylvania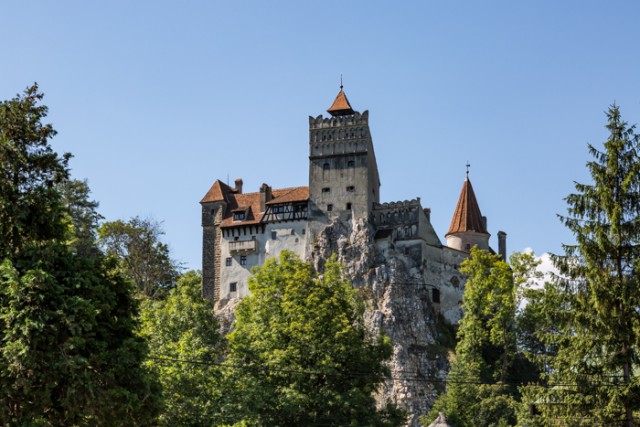 Just 30km from the charming city of Brasov is Bran Castle. Completed in 1388, this iconic castle is believed to be the inspiration for Count Dracula's home.
Despite author Bram Stoker having never visited the castle, Transylvania or even Romania, the description of Dracula's fictional castle bears an uncanny resemblance to Bran.
Stoker could well have been inspired by early images of the castle and it is easy to see why. Impressive turrets and towers are connected by narrow, winding stair cases that circle an inner courtyard. Together they form an imposing structure sitting high on the rocks, the perfect setting for the Count.
However, even without a tangible or conclusive connection to Vlad Tepes (on whom the character was believed to be based), the Dracula legend is very much part of this castle's folklore. Today, Bran is surrounded by stalls selling all manner of Dracula based souvenirs to visitors all too keen to believe the legend is real.
Peles Castle, Wallachia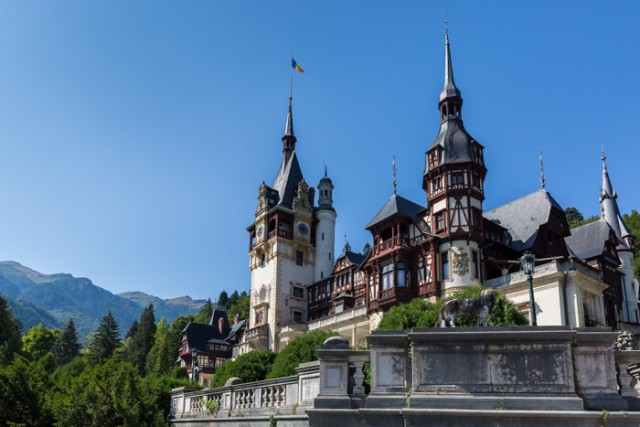 Based at the foot of the scenic Bucegi Mountains, Sinaia and its neighbouring towns offer skiing in winter and endless hiking trails in the warmer months. However, the real attraction of the town has to be Peles Castle.
The castle exterior brings to mind a romantic fairytale palace making it a fitting summer residence for the royal family until as recently as 1947. As a relative newbie, built between 1873 and 1883, it is a stunning example of German new-Renaissance architecture with immaculately preserved rooms, fine artwork and set in beautiful surroundings.
When you have finished exploring its many rooms, check out the smaller Peli?or Castle and Hunting Lodge on the same grounds, as well as the nearby Sinaia Monastery which dates back to 1695.
See some of these incredible castles for yourself on our Transylvania and the Carpathian Mountains guided walking tour.
All images copyright Matt Parry.