Art and architecture, fashion and food, if you love to spend your holidays exploring a country's culture, then France has so much to offer. Historically shaped by Celtic, Roman and Germanic influences, the French culture and customs are as rich as they are varied and intriguing. And with each region striving to retain its distinct character and history, you can discover something new each time you visit this remarkable country.
If you're looking for inspiration for your next trip, we've highlighted five fascinating cultural experiences in France for you to experience.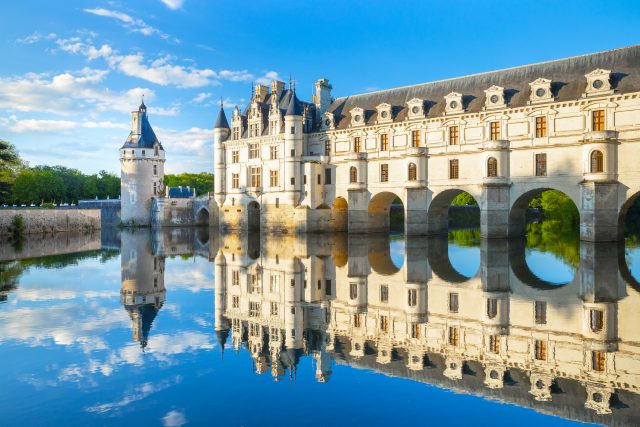 1. Explore UNESCO châteaux in the Loire
The Loire Valley is the land of the châteaux, containing 42 of these majestic buildings nestled in its verdant landscape. With the area from Sully-sur-Loire (Loiret) to Chalonnes-sur-Loire (Anjou) listed as a UNESCO world heritage site, it is not just the châteaux that create its rich cultural heritage. Cities and towns in the Loire Valley, including Orléans, Blois, Tours and Chinon, reveal more of the region's impressive art, architecture and history.
Visiting the area on our Cycling the Châteaux of the Loire trip, you can explore the splendour that this region offers. Discover the fairytale Château de Chenonceau, often regarded as the most beautiful landmark in the area. Described by Flaubert as floating 'on air and water', its arches serenely span the river, creating stunning reflections in the water. Your travels will also take you to the largest and perhaps most magnificent of the region's châteaux, Château de Chambord, distinctive in its French Renaissance architecture and abundant in royal history dating back to the 16th century.
As you cycle between the impressive sites of the Loire Valley, the traffic-free lanes and riverside paths take you through sunflower and poppy fields, rolling vineyards and peaceful villages, where you can stop to enjoy a coffee, sample the local wine and simply take in this region's picturesque landscape.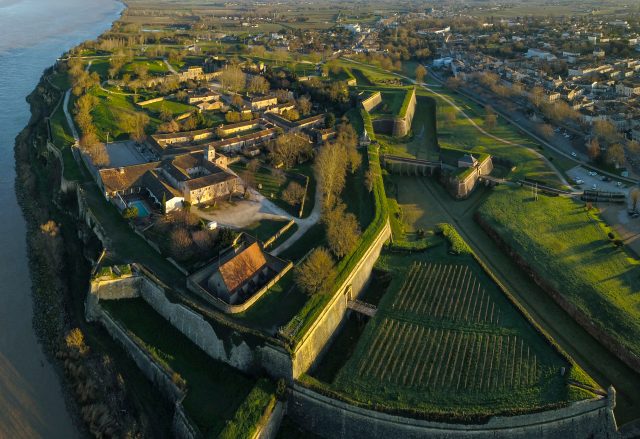 2. Discover contemporary wineries and citadels in Bordeaux
Visit Bordeaux, and you can explore the largest fine-wine vineyards in the world, listed as World Heritage by UNESCO. And it's not just the size of these spectacular vineyards that make them so unique; it's also the incredible variety. With Bordeaux's diverse terrain, soil and climate, it can produce almost every wine imaginable, from light and zingy dry whites to full-bodied reds, sweet dessert wines to sparkling Crémant. The region even has its own speciality brandy, Fine de Bordeaux.
Our Walking in The Vineyards of Bordeaux and Medoc trip provides plentiful opportunities to visit the region's famous wineries and sample their exquisite produce. Across the iconic Medoc vineyards, situated between the Gironde estuary and pine forests, ocean beaches and large lakes, you'll find some of the most famous and expensive wines in the world. Its 60 Grands Crus Classes include Châteaux Lafite-Rothschild, Latour, Margaux and Mouton-Rothschild, a wine connoisseur's heaven and a delightful discovery for those less familiar with the wine-making process.
While the wines of Bordeaux may provide an allure to this region of southwest France, there's much more to explore. Meandering the trails, you'll discover picturesque villages, hamlets and houses ensconced in the rolling hills. Crossing the Gironde estuary by boat, you'll reach the intriguing military citadel of Blaye and come across troglodyte dwellings, fishing huts dotting the banks and charming flower gardens of old sailors' houses. Conclude in the city of Bordeaux itself, and enjoy a final chance to learn more about this area's prestigious vineyards, unrivalled gastronomy and captivating culture.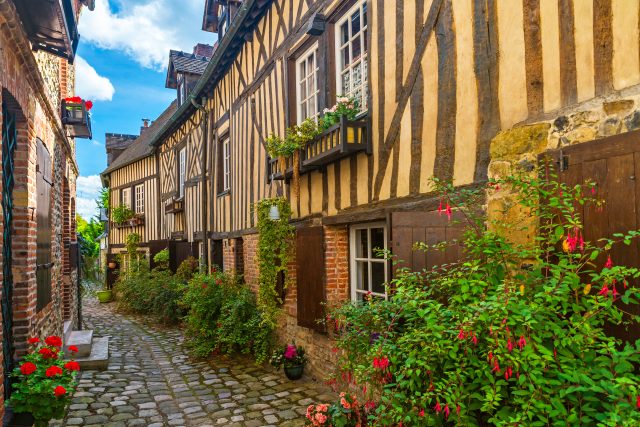 3. Admire the streetscapes that inspired Impressionists in Honfleur
According to many art historians, it's the town that inspired Impressionist artists, such as Monet and Boudin, who were drawn to capturing these streetscapes outdoors, 'Plein-Air' painting. Today, Honfleur remains as enchanting as it did over a century ago, its attractive medieval harbour changing little, except for more upscale yachts now sailing in for a visit. As the narrow, cobbled streets lead you to the main square, you'll pass small boutiques, delicatessens and inviting cafes with tables and chairs set for you to sit back and take in the activity.
On our D-Day Beaches of Normandy Cycling trip, your holiday will conclude in this charismatic town of Honfleur. But there's plenty more to discover before you arrive. Starting in Bayeux, see the Bayeux Tapestry, recounting the Conquest of England by William, Duke of Normandy, and discover its city's impressive Norman cathedral. Cycle the Normandy coast, visiting the sites of the D-Day landings, where memorials stand as emotional yet fitting reminders of the Allied landings during the Second World War. Enjoy the cooling sea breeze as you cycle along Cote Fleurie (Flowery Coast), pausing to explore the attractive towns of Cabourg, Deauville and Trouville, or extend your route inland to explore quiet apple orchards and farmland with grazing cows and roaming horses.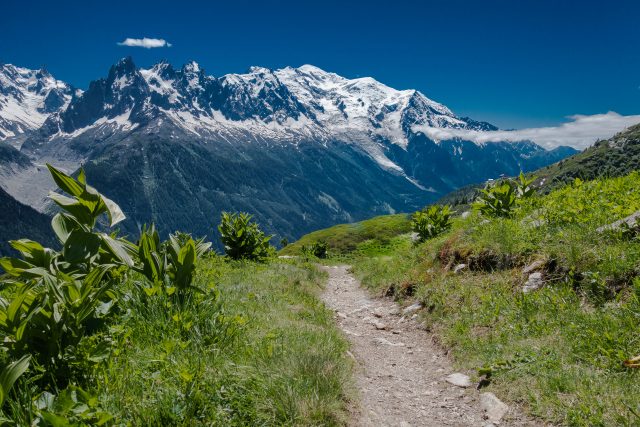 4. Experience Alpine culture underneath the peak of Mont Blanc
Staying in the Alpine resort town of Chamonix, you'll discover a whole other side to French culture. At 1,042m above sea level, it's home to a vibrant mountain lifestyle; skiing and snow sports in the winter and hiking, climbing and rafting in summer. Dominated by the Mont Blanc massif that stretches across France, Italy and Switzerland, with its 4,807m peak the highest in western Europe, the region offers breathtaking scenery of towering snow-capped mountains, ancient glaciers, mirrored lakes and tumbling waterfalls.
The area around Chamonix draws visitors from all over the world, its international ambience having a shared spirit of excitement and venture. Our Mont Blanc Walks trip gives you the opportunity to partake in some of this adventure, trekking parts of the notorious Tour du Mont Blanc trail. While the entirety of this route circulates Mont Blanc in 170km, you'll sample some of the most beautiful sections, from lower paths through forests and meadows of rhododendrons rising up to mountain crossings, such as Les Aiguilles Rouges, where you'll experience stunning panoramic views across this Alpine landscape. With cable cars, cog trains and mountain buses giving you access to more of this region's beauty and traditional Alpine hospitality to return to in the evenings, you can immerse yourself fully in this marvellous mountain culture.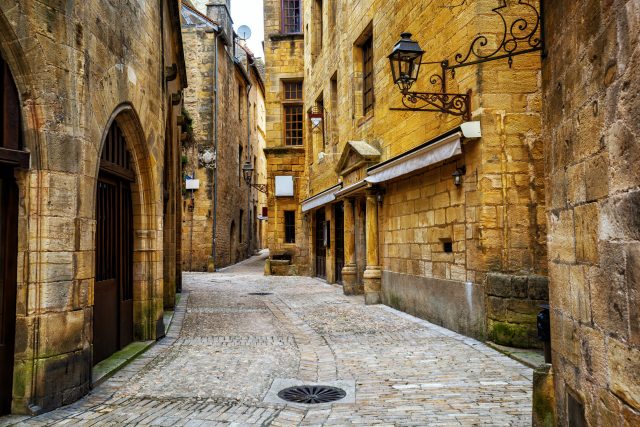 5. Wander the medieval streets of Sarlat in the Dordogne
In the region of Perigord Noir, you'll find the beautiful town of Sarlat. It is one of the most visited in France, loved for its wonderfully restored old town, just a few kilometres from the River Dordogne. Within the maze of narrow, winding streets, the ornate sandstone buildings reveal influences from both medieval and Renaissance times, while the cathedral showcases a mix of Roman and Gothic styles. In the evening, the town comes alive with the activity of bistros and bars, lit romantically to create a mesmerising ambience.
The markets are a cultural highlight of the week. Held on Wednesdays and Saturdays, you'll find produce such as breads, fruits, vegetables and spices, alongside treats, including truffles and foie gras (a speciality of the region). Be sure to also visit the Marqueyssac Gardens, perfectly designed and clipped swirls of box hedges, set high above the Dordogne River to offer gorgeous views of the region.
A visit to Sarlat is included in our Dordogne River Walk. On this 9-day trip, you'll see more of this charming area of France. Walking through woodland valleys and pretty medieval villages, along peaceful riverside paths and up to hilltop towns and fortified strongholds, it will be a trip packed full of delights.
To learn more about our walking and cycling trips that absorb the ambience in France, please check out our Activity Holidays in France page.