This year marks 150 years since the birth of Beatrix Potter, one of the world's best-loved children's authors. Beatrix Potter is celebrated for her charmingly illustrated children's books, bringing to life characters such as Peter Rabbit and Jemima Puddleduck, based on her detailed observations of the natural world. In the Lake District, however, it was as a landowner, conservationist and sheep breeder that she won respect, known for her work to save the native Herdwick sheep from dying out.
Headwater's Literary Walking in the Lake District holiday will take you to Hill Top Farm, the home of Beatrix Potter, which is now managed by the National Trust. Beatrix had fallen in love with the Lake District during the holidays with her parents as a young woman. After the success of her first book, The Tale of Peter Rabbit, she was able to buy the farm of Hill Top at Sawrey and visited as often as she could from London.
Hill Top is the house that she made her own, filling it with paintings, furniture and ornaments to her own taste and collecting plants for the garden. While in the Lake District she continued to make illustrations for her books based on scenes in her house and garden as well as places nearby.
When you visit Hill Top you'll find copies of her books in each room, open at the illustrations that were made in the house. Tabitha Twitchit is shown at the front door of Hill Top taking off her bonnet while Tom Kitten is at the kitchen range, jumping up the chimney. Of course, the wheelbarrow and watering can in Mr McGregor's kitchen garden look just as they did when naughty Peter Rabbit ventured in to steal the vegetables.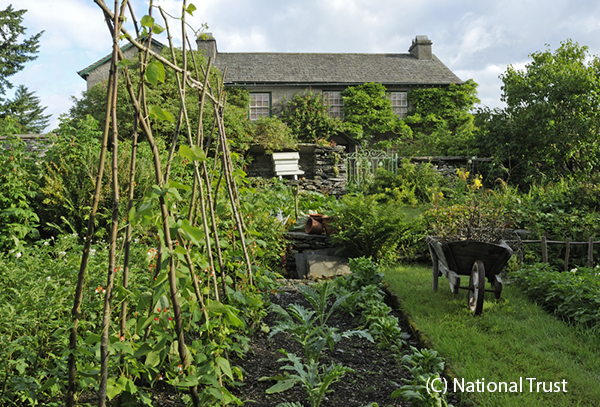 After Beatrix married a local solicitor, and became Mrs William Heelis, she moved to another home at Castle Cottage, which you can see across the fields from Hill Top. She continued to use Hill Top to work and entertain guests, but preferred her married home to remain private. When she died in 1943, she left 15 farms in the Lake District to the National Trust, who still manages them today.
Because the house at Hill Top is small, entry is by timed tickets, which are only available on the day. It's best to visit early to buy your ticket and then enjoy a walk if you can't enter immediately. We also recommend a visit to Tower Bank Arms close to Hill Top, which serves excellent pub lunches and featured in the tales of Jemima Puddleduck.
At Hawkshead, in the 17th century house where her husband had his office, you'll now find a gallery run by the National Trust, with many of Beatrix Potter's original illustrations. The small town is charming with narrow streets, cobbled lanes and, of course, many shops selling Beatrix Potter-themed souvenirs.
The Wordsworth connection at Dove Cottage
Also in Hawkshead is the grammar school attended by William Wordsworth, before he went on to study at Cambridge University. He settled nearby at Dove Cottage, a traditional Lakeland stone cottage near Grasmere, with his unmarried sister Dorothy and later, his wife Mary.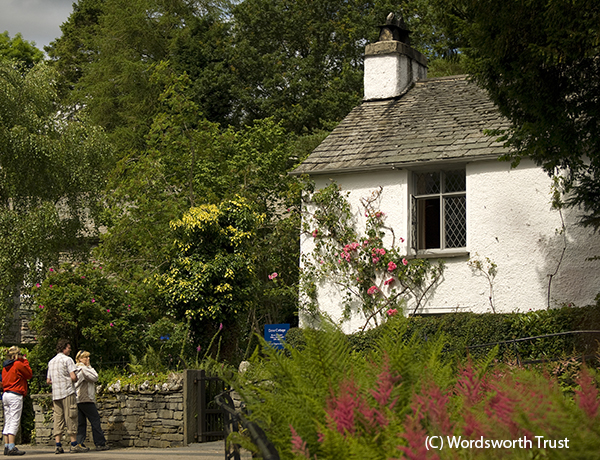 It's best to take a guided tour of the cottage, which gives fascinating insights into the life of the Wordsworth household, as they walked, visited friends, entertained and, of course, wrote poetry. Writers such as Coleridge, Walter Scott and Thomas De Quincey often visited them and William wrote some of his best poetry at the cottage.
Dorothy kept a journal, which is on display in the museum behind the house, noting down the weather, walks they had made and flowers in bloom, including the daffodils that inspired Wordsworth's famous poem. In words that seem very familiar, Dorothy wrote:
"I never saw daffodils so beautiful they grew among the mossy stones about & about them, some rested their heads upon these stones as on a pillow for weariness & the rest tossed & reeled & danced & seemed as if they verily laughed with the wind that blew upon them over the lake."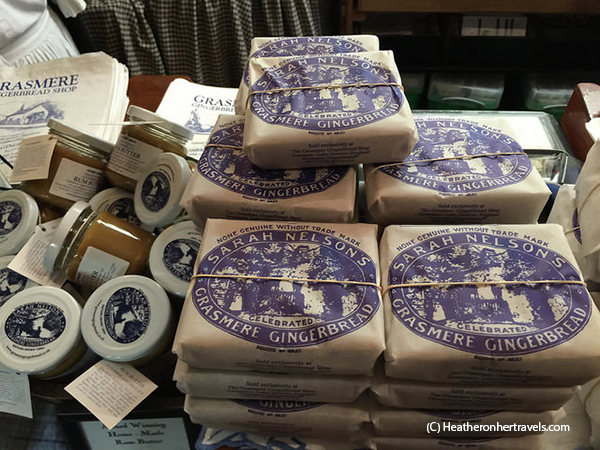 Nearby is Grasmere churchyard where Wordsworth is buried, along with the famous Grasmere Gingerbread Shop, housed in a quaint 17th century cottage. Be sure to buy a packet of the delicious gingerbread to enjoy on your walks around the lakes, or to take home as a souvenir.
Other places to visit on your literary walk in the Lake District
Blackwell Arts and Crafts House is a unique showcase for the decorative arts at the head of Lake Windermere. This beautiful arts and crafts house was built in the late 1890s as a holiday home for a wealthy Manchester industrialist and contains finely crafted, carved oak paneling and stylized floral motifs, with fabulous views over the lake.
Brantwood is the former home of Victorian writer, philosopher and artist John Ruskin, who spent the last 28 years of his life here. In a picturesque setting overlooking Coniston Water, Brantwood is filled with fine paintings, beautiful furniture and a collection of Ruskin's personal treasures.
Coniston Water was also the inspiration for Arthur Ransome's classic novel, Swallows and Amazons, which takes on a new lease of life in cinemas this summer. The adventure takes place in the 1930s, with four children setting sail to reach an uninhabited island in the middle of Coniston Water. It's a must-see for lovers of the original story.
Headwater offers a 6-night Literary Walking in the Lake District holiday, where you'll experience the incredible scenery, world-famous lakes and renowned literary connections of the stunning South Lakes.