Hands up all of you who have ever been to Spain? Wow, we might not be able to see you, but we reckon that's a pretty high show of hands given Spain has been the number one holiday destination for Brits since the first package "fly and flop" holidays back in the late 1960s! Figures today from the World Tourism Organisation show that Spain is the third-most visited country in the world, just behind the United States and France, and, in 2015, a record 68.2 million holidaymakers flocked there in search of sea-to-sand sunbeds and all-day breakfasts for less than a fiver!
But what can Spain offer the visitor whose idea of holiday from hell is a sun-drenched, sangria-sodden fortnight on the beach? Fluent Spanish speaker and former Headwater MD, Catherine Crone, looks back over the years she spent both working with, and living in, Spain and to come up with her personal A-Z Insider's Guide...
A – Aceitunas
Spanish aceitunas ("olives") are undoubtedly the best in the world, and everything to do with their harvesting is done painstakingly by hand (no modern machines here! – quite an achievement when you consider that Spain produces 45% of the world's total olive oil!
B – Begur
It's a bit of an uphill pull to the historic town of Begur in Catalunya but it's worth it for the fabulous 360° views over the entire Empordà Plain! There's also an C11 castle, several impressive villas and gorgeous cobbled streets packed with tempting places for lunch!
C – Cadaques
One of the prettiest towns in Spain is Cadaques, where renowned painter, Salvador Dali, spent much of his life – you can still visit his quirky house today. As you'd expect, there are many art galleries in the town (so the centre can be a bit touristy) but venture just a couple of minutes into the narrow white alleys behind the harbour and you'll find the heart of the local town unchanged over the years.
D – Dianthus Caryophyllus
The Dianthus Caryophyllus (or Red Carnation) is the national flower of Spain, and symbolises charity, hope, fidelity and admiration – so it's a real compliment if you're presented with one in a restaurant, for example!
E – Empordà Plain
Catalunya's Empordà Plain is a haven for bird, plant and wildlife (over a third of the area is now protected under a government scheme) with the Aiguamolls Nature Reserve one of Spain's best-managed refuges for wetland birds – over 300 species were recorded in a recent count.
F – Fiestas
Festivals, fiestas and ferias – there is no question that Spain is a country who knows how to party and celebrate! It's hard to beat the experience of arriving in some small Spanish village to discover the streets decked out with flags and buntings, a band playing in the plaza and the entire population out celebrating their local fiesta (which can last up to 5 days!). Usually festivals coincide with patron Saint's days, but don't bank on it – often any excuse will do!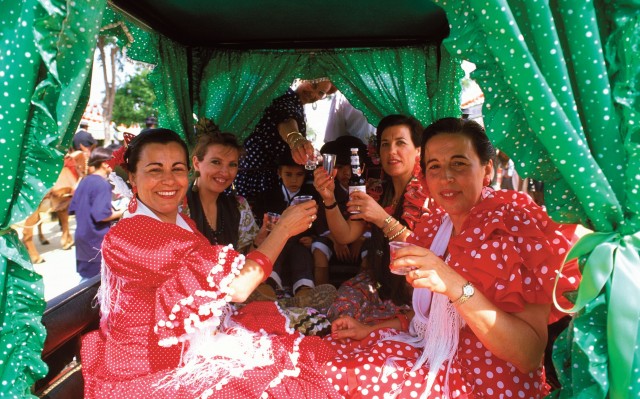 G – Garachico
The tiny cobbled streets of Garachico, on the edge of Tenerife's Teide National Park, are a world away from the tourist honeypots of the island's developed southern coast. I think the main Plaza de La Libertad is the most beautiful on the island, and it just oozes traditional Canarian character – locals of all ages congregate in the evenings simply to sit, chat or enjoy the odd copa ("glass or two").
H – Hoyos del Espino
The tiny village of Hoyos del Espino offers walkers access to arguably the finest hiking in the country: the mountain trails of the Sierra de Gredos. With stunning high mountain passes, lower valley trails, tiny wine villages and fabulous local cuisine, this really is an unknown gem just waiting to be discovered!
I – Iglesias
Iglesias ("churches") play an integral role in the communities of all Catholic countries, and Spain is no exception – every village has at least one, and normally a few shrines too! Some of my particular favourites include the Romanesque church in postcard-pretty Pals, and the C14 hilltop chapel of Virgen de la Sierra above Zuheros – at 1,216m, it is very worthy of its "Balcony of Andalucia" nickname!
J – Jamones
Spain has produced high quality dry-cured hams ("jamones") since antiquity. Quality varies considerably depending on: the type of pig; the way the pig has been fed; the part of pig being used, and the type of curing process. The four main cured hams are (from dearest to cheapest): jamon iberico de bellota (from free-range, acorn-fed Iberian pigs); jamon iberico de recebo (acorn, pasture and compound-fed Iberian pigs); jamon de pata negra (compound-fed black Iberian pigs); jamon serrano (compound-fed white pigs).
K
Now this is a difficult – actually an impossible – task as the letter "K" is one of two English letters that does not exist in the Spanish alphabet! I'll come on to the other later…!
L – Licor 43
Licor 43 is Spain's ultimate after-dinner drink. As the name suggests, it's a heady mix of 43 different ingredients, including citrus fruits, herbs, spices and vanilla which, blended, produces a sweet, golden liqueur with hints of chocolate and banana. As with most drinks in Spain, it is usually served chilled over ice.
M – Mahon
Capital of Menorca, Mahon, produces a fabulously pungent Queso ("cheese") de Mahon Reserva – a strong, almost parmesan-like, smoky cheese that needs to have aged for a minimum of one year. If you come across it, try it dipped in olive oil – if you're feeling brave, you can eat the oil-and-paprika-infused orange rind too!
N – Naranjas
Naranjas ("oranges") are grown throughout the Spanish south, with most people associating Seville's tree-lined streets with oranges. Although Seville exports huge quantities of oranges (typically large but bitter), the majority are grown in the perfumed groves around Valencia where oranges tend to be much sweeter and therefore highly sought. (By the way, if you want a freshly squeezed orange in a Spanish café-bar, be sure to specify "zumo de naranja" to avoid getting something out of a bottle!)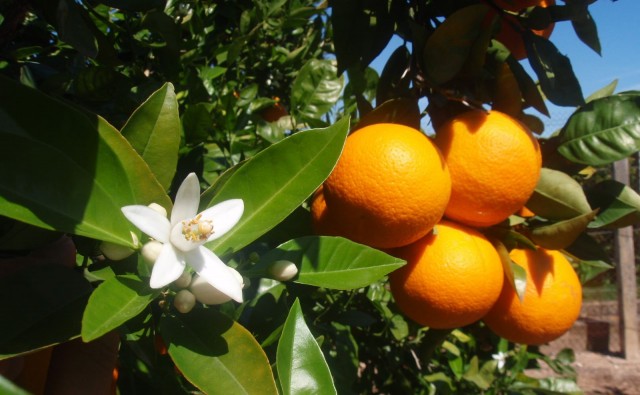 O – Onofre
The tiny white chapel of Sant Onofre clings vertiginously to the hillside above the village of Palau Saverdera. It is a gorgeous walk from the village up to the chapel (good paths) and, once there, you're rewarded with the most magnificent views over the Bay of Roses and surrounding coast.
P – Papas Arrugadas
Spicy papas arrugadas from the Canaries are my all-time favourite Spanish tapa! Small, new potatoes are first boiled in a very salty water, then drained and slightly roasted before being served with mojo salsa – a punchy sauce made from garlic, Spanish paprika, red pepper, cumin, olive oil, wine vinegar and thickened with fresh migas (bread crumbs). Muy bueno!
Q – Queimada
Dating back to ancient times, Queimada, is the regional "fire drink" of Galicia. Made with "orujo" a grappa-type of liqueur (not to be confused with "oruga" which is rocket salad!), much of the alcohol is burned off by flaming it before drinking.
R – Ronda
Love it, or hate it, bull-fighting has long been considered a national sport throughout Spain, and the country's oldest bullring can be found in the strikingly beautiful clifftop town of Ronda. Even if (like me) you don't like the idea of bullfighting, the town itself really is gorgeous – and has now, in fact, overtaken Cordoba to be the third most visited city in Andalucia (pipped at the post by Granada and Seville). Take a coffee on the leafy Plaza Duquesa de Parcent, which boasts a convent, two churches and the handsome arched ayuntamiento ("town hall") before a stroll down nearby calle Armiñan to the traditional workers' barrio, the San Francisco district, with its excellent bars and restaurants for lunch.
S – Santiago de Compostela
The beautiful Galician cathedral city of Santiago de Compostela marks the finishing post for the thousands of walkers (and cyclists) who follow the famous pilgrim's path ("Camino") each year, collecting stamps in their treasured "Pilgrim's Passport" as they complete each stage. A UNESCO World Heritage Site, Santiago itself, with its Romanesque, Gothic and Baroque architecture, is possibly the most beautiful city in Spain and is certainly not reserved just for those on the Camino.
T – Tejeda National Park
I first stumbled upon the Tejeda National Park in the late 1990s when visiting Sue & Gordon Kind at their gorgeous Finca El Cerillo hotel. And it was love at first sight! For me, this is the very essence of Spain: tiny white villages, highly perfumed citrus groves, immaculately farmed terraces and gently folded mountains that remind me of elephant's ears! People simply enjoy living here – and their love for life is infectious; you can't help but feel good too!
U – Ullastret
The Catalan walled village of Ullastret is an archaeologists' dream as its vast archaeological site contains the remains of one of the oldest Iberian villages in the country.
V – Vino
It would be hard to write about Spain without mentioning the vino ("wine"), so here are a few pointers: blanco ("white"); tinto ("red"); rosado ("rose"); vino de la casa ("house wine"); vino corriente ("plonk"!) Unless you're in a very smart bar or restaurant, ordering champagne by the glass is not normal practice, but a glass of cava (sparkling wine) is very usual (although you'll often be given a small bottle which will pour two medium sized glasses).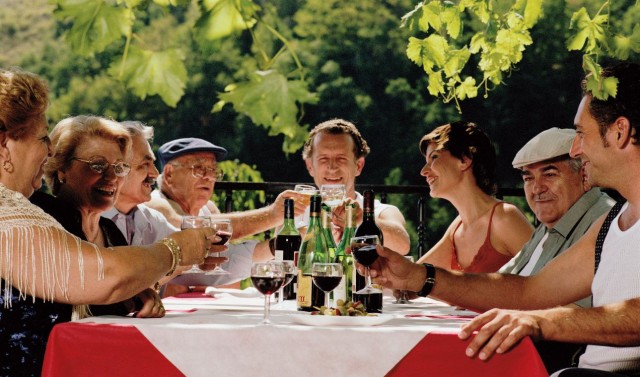 W
"W" is the other letter that doesn't exist in the Spanish alphabet – sorry!
X – (San) Xoriguer
San Xoriguer on Menorca's southern coast may be a tourist favourite in high season but, outside of the main summer months, it is surrounded by some of the best walking trails on the island. It also has lovely sandy beaches if you fancy a quick dip!
Y – Yerma
A trip to Granada is a trip into Spain's Moorish and Christian history – the famous Alhambra, the beautiful cathedral, the fascinating old quarter. For an insight into the more recent past pay a visit to the Huerta de San Vicente, the summer home of the influential poet and dramatist Federica Garcia Lorca. The house is still as it was when he visited to pen works such as Yerma and Mariana Pineda, before his execution in the Spanish Civil War.
Z – Zuheros
Not only does the tiny village of Zuheros give visitors an authentic "grass roots" insight into rural Spanish living, it's also one of the friendliest communities in the country. Walking possibilities from here are truly stunning, and the great art cities of Granada and Cordoba are possible day trips if you want to give the walking boots a holiday too!