UNESCO World Heritage Sites are defined as areas that have unique cultural, scientific, and historical significance. At Headwater, not only do we like to stay in characterful accommodations and visit beautiful areas, but we also love to delve into regions that are steeped in fascinating history and culture, which is why we take great pride in designing itineraries that encompass some of the world's best UNESCO World Heritage Sites. Read on to find out some of our top favourite sites you can explore while on our Walking and Cycling holidays, to inspire your next adventure.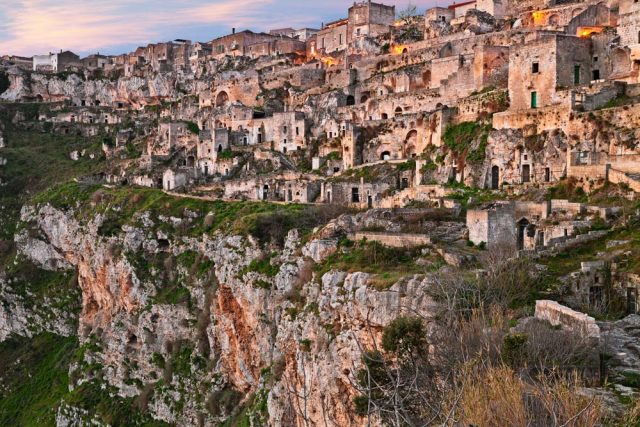 The UNESCO World Heritage Site cities of Matera and Alberobello
Discover Matera, Basilicata's crown jewel that's sandwiched between the heel and the toe of Italy's boot. Lying east of Naples in the southern region of Basilicata, Matera was recognised as a UNESCO World Heritage Site back in 1993 and was named the European Capital of Culture in 2019. But before the city gained international fame for its fascinating honeycomb-like Sassi (cave-dwelling) houses, the ancient caves told a tale of unimaginable poverty and struggle.
Dating back to the Palaeolithic Age, Matera was inhabited continuously for around 7000 years, making it the world's third oldest town in existence. After the 16th Century, the once prosperous Matera became quickly overpopulated and overrun with disease. It wasn't until the late 1950's that authorities took action to relocate it's 15,000 inhabitants. But in 1986, a dramatic rebirth came about as the Italian government encouraged a Sassi revival by subsidising restoration work. Artisans began moving in, setting up innovative workshops, while bars, restaurants, and boutique hotels quickly followed suit, bringing the fascinating history of Matera back to life and tourism to the area for the first time.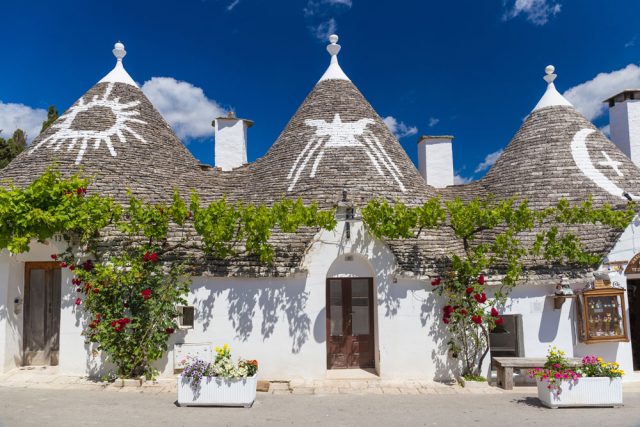 Another UNESCO World Heritage Site that's not to be overlooked while you're in the region, is the charming area of Alberobello. Situated in the Itria Valley in southeastern Italy, Alberobello was named after the primitive oak forest "Arboris Belli" (beautiful trees) that once covered this area. However, the town is now popular for its dense mass of 1,500 iconic beehive-looking, white-tipped houses, called trulli.
Some of these fairy tale conical-shaped houses date back to the 14th century. They are rumoured to have been constructed so that they may be dismantled in a hurry as a means of avoiding taxes on new settlements under the Kingdom of Naples. However, most historians believe they were built in this style due to the vast amount of local limestone in the region. Regardless of how they came into being, this spectacularly enchanting and peculiar urban sprawl is definitely worth visiting.
Discover these fascinating regions on our Self-Guided Walking in Puglia and Matera trip which takes in the unique 'trulli' style houses of Alberobello, the Sassi cave dwellings in Matera, and the beautiful White City of Ostuni on foot. Or explore this region of striking beauty on two wheels with our Cycling the Heel of Italy holiday, that takes in vibrant fishing villages along the rugged Puglia coastline, including visits to Otranto, Baroque Lecce, and Alberobello.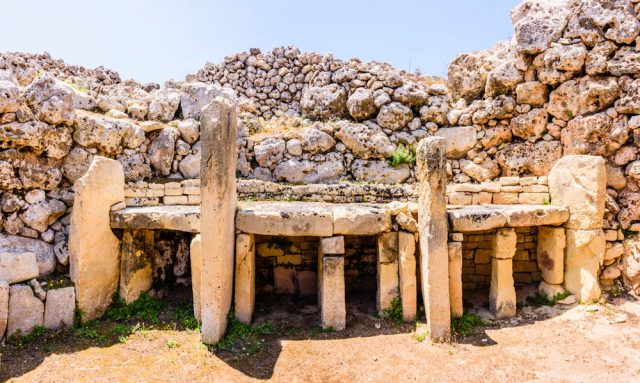 The Ggantija Temples in Xaghra, Gozo
The island of Gozo in Malta may be small in circumference, but it encompasses centuries of fascinating history to discover, like the Ggantija Temples. Dating back to 3500BC, the megalithic Ggantija Temples are the oldest, free-standing monuments in the world and are a testament to the island's inhabitation for at least 1,000 years before the Egyptian pyramids of Giza were even constructed. Consisting of two temples, built with rough, coralline limestone blocks, each Ggantija temple contains five apses that are connected by a central corridor leading to a beautiful trefoil section you can explore at your own pace.
The Ggantija temples and the recently restored Il-Kastell fortress towering above Gozo's bustling capital of Victoria are arguably some of Malta's greatest sights. Legend has it, that due to its colossal 6-meter-high monolith dimensions, these temples were the work of giants – its very name, "Ggantija", is Maltese for "giant".
On day 5 of our Walking on Gozo – Calypso's Isle trip, you can explore Xaghra, one of the earliest inhabited parts of Gozo that are surrounded by fertile valleys. After you've wandered around the freestanding Ggantija temple, you will then head to Calypso's Cave, which is alleged to be the same cave referred to by Homer in The Odyssey, before enjoying a beautiful lunch on Ramla Bay.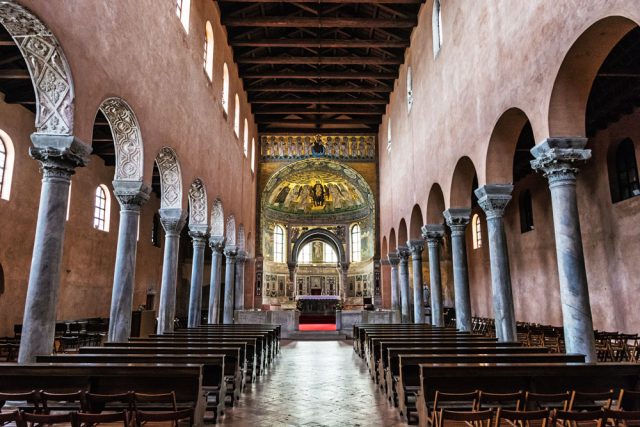 The Episcopal Complex of the Euphrasian Basilica in Porec
The fascinating 6th Century Episcopal Complex of the Euphrasian Basilica in the ancient Roman town of Porec has been on the UNESCO World Heritage List since 1997 thanks to its great level of preservation and sheer beauty. Located on the western coast of the Istrian peninsula, Croatia, this complex is one of the finest intact examples of Byzantine art in Europe, which includes a church, atrium, and baptistery. The glittering 6th-century mosaics in the apse of the church and the stunning views from the belfry, that can be accessed through the octagonal baptistery are among some of the main highlights of the complex.
While you're here, we'd also recommend that you make a pit stop at the adjacent Bishop's Palace. This palace contains a fantastic display of ancient stone sculptures, religious paintings, and 4th-century mosaics from the original oratory.
On our Pula to Porec Cycling trip, we discover the beautiful ancient Roman town of Porec for ourselves after exploring the impressive wooded valley of Lim Fjord. On day 7, we discover the striking golden frescoes and intricate mosaics of the Basilica of Euphrasius, before taking on the Porec circuit where you will pedal past a ruined Roman amphora factory and the limestone cave, Jama Baredine.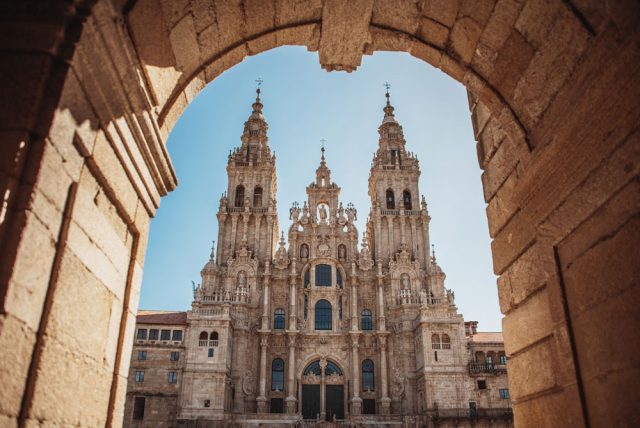 The Old Town of Santiago de Compostela
Located in the region of Galicia, in the northwest of Spain, the enchanting Old Town of Santiago de Compostela, alongside the outlying Santa Maria de Conxo Monastery, combines a remarkable ensemble of distinguished monuments. Here, you'll find Romanesque, Gothic, Renaissance, Baroque, and Neoclassical buildings scattered across its beautiful squares and quaint narrow streets.
In 1985, the city's Old Town was designated as a UNESCO World Heritage Site. Known to most as the final stop on the epic Camino de Santiago pilgrimage trail, Santiago de Compostela is one of the three most important pilgrimage cities of Christianity, including Rome and Jerusalem. Rebuilt in the 11th century, the city of Santiago de Compostela revolves around its spectacular Cathedral – the reputed resting place of Saint James the Great. The Basilica was finally consecrated in 1211 before the reign of Alfonso IX and has since become a place of great religious significance for many. One of its most eye-catching features is the Gloria Portico, which is the Cathedral's main entrance. Decorated with over 200 Romanesque style sculptures, the entrance beautifully represents the figure of Saint James and the angels of the passion of Christ as an apocalyptic vision.
Enjoy seeing this striking masterpiece for yourself on our Walking the Camino de Santiago trip. While on this spectacular walking route, discover poppy scented wheat fields, pine woodlands, soaring cathedrals, and quaint country lanes. Ever since the 9th century, the "French Way" has led millions of pilgrims on an epic journey across northern Spain, which starts at the Pyrenees across the wheat fields of old Castile, through Leon, before entering Galicia. Experience this route for yourself and enjoy a profound camaraderie with otherworldly walkers as you stamp your Pilgrim passport along the last 140km of this spectacular ancient route.
Or why not take on part of this iconic pilgrimage on two wheels on our Cycling the Camino de Santiago trip, that takes you on an exhilarating 225km cycling route along the pilgrimage trail over 8 nights. On this journey, you'll discover the traditional Spanish taverns and breath-taking plazas in Leon right up to the spectacular finale at Santiago de Compostela's majestic cathedral.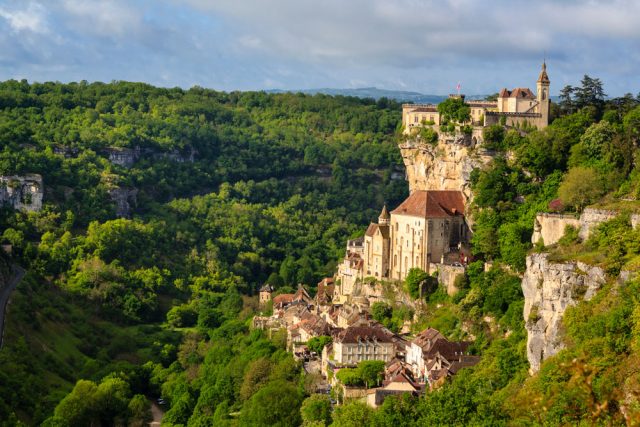 The sacred village of Rocamadour
Located just southwest of Padirac in the Causses du Quercy Regional Nature Park, is the sacred village of Rocamadour. At a first glance, this ancient pilgrimage site is bound to make an impression. From the iconic steeples and pale stone chapels that cling to the 150m vertical cliffside, to the beautiful ramparts of a 14th-century château that lie beneath, the mystical allure of Rocamadour is sure to impress.
Not only is this village one of the country's most important UNESCO World Heritage Sites, but it also is a crucial point of discovery for travelling pilgrims who are following the Way of Saint James. This village has been hugely influential to pilgrims throughout the ages and holds strong religious significance. It is believed that Henry Plantagenet, King of England, (1133–89) and Geoffrey Plantagent, Count of Anjou, were miraculously cured in Rocamadour, and on holy days as many as 30,000 people would gather to seek penance and favours from the miraculous wooden figure of the Madonna, reputed to have been carved by St Amadour in the Chapelle Notre Dame.
The 9th-century iron bell is also said to ring on its own when the Virgin performs a miracle, somewhere in the world. As an act of penance, pilgrims used to climb the 216-steps to the Sanctuary of Rocamadour on their knees. However, today, pilgrims and visitors make the challenging ascent on two feet.
Visit the spectacular sacred village of Rocamadour for yourself on our Dordogne Valleys & Villages Cycling trip, where you will also pedal towards the fascinating UNESCO Les Eyzies, a complex of caves near the village of Montignac. If you'd like to take a more relaxed pace while exploring the Dordogne region, our Dordogne River Walk holiday allows you to discover the region's best-hidden gems on foot. Taking you past dramatic limestone cliffs, fairy tale chateau's, and picturesque medieval villages, such as La Roque Gageac, we get to spend two days in Rocamadour. Enjoy exploring its medieval sanctuaries and intricate chapels before heading to Meyronne where you will stay in a beautifully converted 11th Century chateau, it's safe to say that this trip is simply enchanting.
On our Cycling and Walking Holidays, we love to uncover the remarkable history behind some of the world's best UNESCO World Heritage Sites. If this blog has inspired you to uncover the history behind our destinations, click here to find out more.