Our British summer may be coming to a close, and although none of us are ready to crank out Bing Crosby just yet, this doesn't mean that we aren't looking forward to planning winter wonderland escapes as a way of welcoming the colder months ahead.
At Headwater, cross-country skiing features prominently across most of our winter holiday experiences, and for good reason. There's nothing quite like breathing in the crisp winter air while gliding past snow-caked forests and finding your footing on the slopes. However, you'll soon find our trips go far beyond a skiing escape so you can truly delve into the heart of a destination's unique culture, whether you're looking to book a Gluhwein tasting in Austria's North Tyrolean Alps, go dogsledding with local huskies in Norway or head out snowshoeing through the Dolomites alpine forests in Italy. We've collected our top 5 favourite winter pastimes below to inspire your next getaway.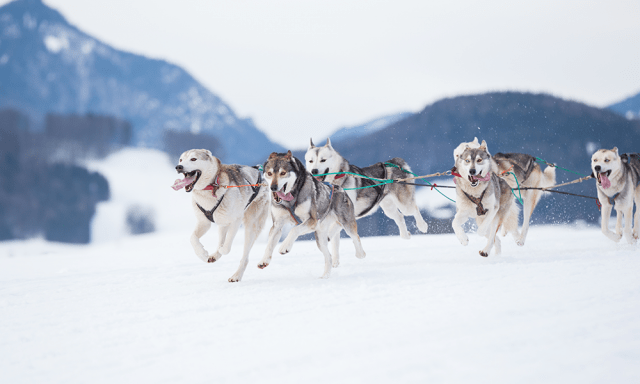 Go dog sledding with huskies in Norway
Deeply embedded in Norwegian culture for centuries, dogsledding was primarily used as a means of transport all year round and was also seen as a casual sport with the first formal dog sledding race taking place in 1850. Even legendary Norwegian polar explorer, Roald Amundsen, famously used sledge dogs on his journey to beat the British expedition so he could be the first to ever reach the South Pole back in 1911. Since, it's become a popular pastime among locals and travellers alike, as it offers a truly unique way to experience the Norwegian wilderness in winter.
On our Cross Country Skiing at Venabu you'll not only have the opportunity to hit the slopes on the edge of the Rondane National Park, but you can also try dog sledding for the afternoon. Book your experience through the Venabu Fjellhotel to join an experienced dog team leader and take off on a sleigh, where you can try driving your own team of local huskies through snowy tracks across the vast Venabygdsfjellet mountain plateau.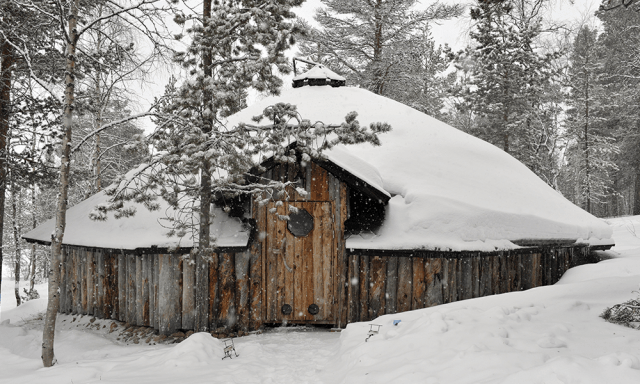 Spend the evening inside a traditional Finnish Kota in Lapland
If you're thinking about booking a winter wonderland experience in Finland, why not enjoy a delightful stay in the idyllic village of Äkäslompolo on our Cross Country Skiing in Lapland holiday? Surrounded by the snow-capped fells of Pallas-Yllastunturi National Park, the region has over 300km of designated tracks, the most in Finland, making the Yllashumina Hotel the perfect base for a week of cross-country skiing.
After you've explored the frozen lake of Akaslomopojarvi by snowshoe and taken a fat-biking excursion through the area's ancient forests, you'll find that the trails are peppered with traditional Finnish Kotas that offer a perfect respite after a day out exploring the rugged Finnish wilderness.
One of the most distinctively Finnish experiences you can do involves having a traditional kota dinner with friends and family inside a Lappish kota. Kotas are small domed huts that typically have large open fires in the middle for the ultimate cosy fireside dining experience.
You can choose to go in the afternoon where you may find energy booster Finnish snacks such as pulla (sweet sticky buns) or munkki (cardamom doughnuts) paired with cups of hot blueberry juice. There may even be plates of leipäjuusto (bread cheese, also known as "squeaky cheese", in English, thanks to the noise it makes when you bite into it). With a similar texture to halloumi, the cheese is made from Reindeer milk in Lapland. We'd recommend eating it the Finnish way with a dollop of cloudberry jam and a cup of fresh coffee.
Come evening, why not enjoy some hearty Lappish cuisine by the fire? The Finnish love their rustic game fowl, red meat and fish dishes, so typical things you can expect to see on the menu could include creamy salmon soup, snow grouse and sauteed reindeer with mashed potato pickled cucumber and cranberry sauce.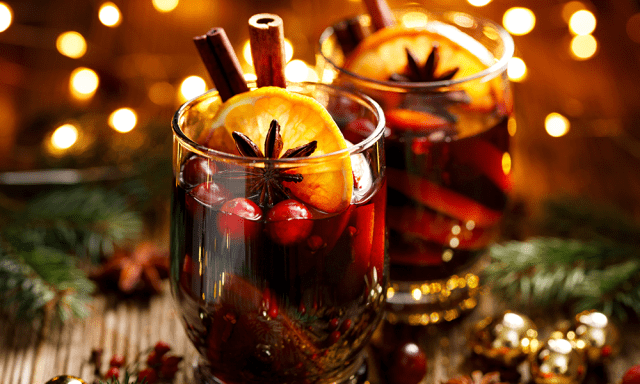 Enjoy Glühwein tastings in Austria's North Tyrolean Alps
As the temperatures continue to drop in the chilly winter months, one of the best (and tastiest) ways to stay warm is by drinking hot cups of spiced Glühwein by a crackling fire as you watch the snowfall outside. Even though many European countries have their own unique twist on Glühwein, like Nordic Glögg, one of the oldest documented appearances of Glühwein in history occurred as early as 1420, when German nobleman, Count John IV of Katzenelnbogen, created a special gold plated Glühwein tankard where he stored his spicy, sweet liquid. The popularity of this tasty tipple quickly spread to Austria, and the rest, you could say, is history.
So, this winter season, why not book an authentic Glühwein tasting at the Hotel Hubertushof in Austria's North Tyrolean Alps during our Self-Guided Cross Country Skiing at Leutasch trip? On this holiday, you'll get the chance to explore the archetype chocolate-box Alpine villages with their ornate domed churches, while indulging in the region's fantastic array of winter activities including, horse-drawn sleigh rides, ice-skating and tobogganing.
While staying at the 4-star, family-run Hotel Hubertushof, you can rest those tired ski-legs in their jacuzzi and sauna before heading to the hotel's panoramic terrace for an evening of Glühwein tasting while looking out towards the picturesque Wetterstein and Karwendel Mountains.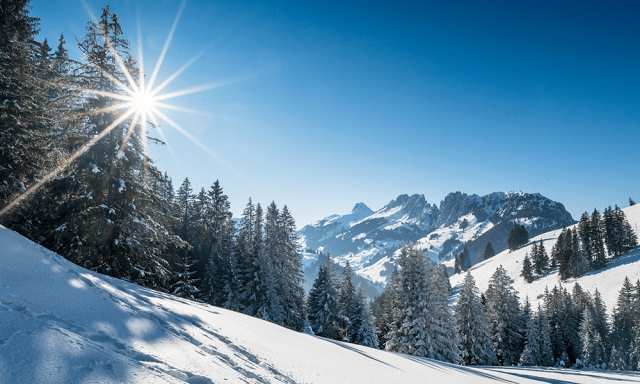 Celebrate the new year at the Belle Epoque festival in Kandersteg, Switzerland
Looking for a special winter experience to ring in 2022? The small Alpine resort town of Kandersteg in Switzerland may have just the thing. For one week in January, the town of Kandersteg is transported back in time to celebrate Belle Epoque in the snow. With most locals donning period costumes, everyone joins together to participate in winter sports from bygone eras, including open-air curling, vintage bob-sledge racing and wooden ski events.
Alongside the sports activities, there are also a number of traditional musical performances, balls with candlelit dinners and turn-of-the-century tea dances across the town for locals and visitors to enjoy. Their open-air Bar, Magique, is the perfect place to grab a mulled wine or cup of tea after participating in the festivities around the town.
If you're wanting a truly unforgettable start to 2022, combine this festival with our Cross-Country Skiing at Kandersteg trip. Staying in the heart of the Bernese Oberland, you can explore the beautifully marked ski trails that take you up towards the plateaux of Oeschinensee and Sunnbuel. You can also indulge in the local cuisine at the Hotel Alfa Soleil, and have a speciality themed 5-course gastronomical meal on one evening during your stay.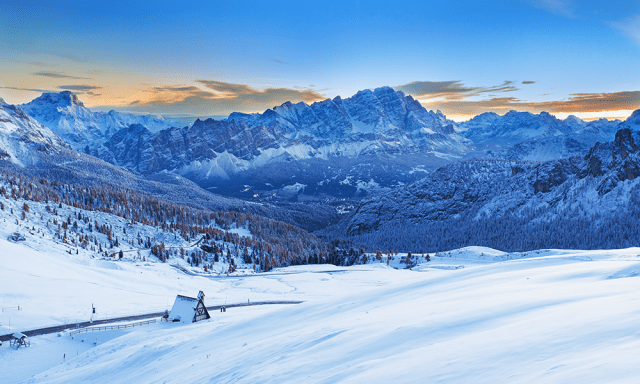 Venture out for an afternoon of snowshoeing in the Dolomites, Italy
Walking in the heat of the summer across the Dolomites is beautiful but getting the opportunity to snowshoe across these snowy landscapes when icy stalactites cling to the towering limestone peaks is nothing short of spectacular. On our Winter activities in the Dolomites trip, you'll be staying in the village of San Cassiano nestled in the heart of the Italian Dolomites' Alta Badia region. After you've thoroughly enjoyed the Dolomiti Superski area, one of the biggest connected ski areas in the world, with over 1,200km of slopes, it's time to explore this beautiful Alpine area off-the-beaten-track by snowshoeing.
Across San Cassiano, Corvara and Armentara you'll find over 80km of marked winter walking tracks and 13 different hikes that are perfect for snowshoeing. In the colder months, the snow-covered landscapes, deep blue skies and the peaceful silence of the Alpine forests transform this region into a winter wonderland.
We'd recommend that first-time hikers take a seasoned guide with them so they can make the most out of the experience. Along some of the routes, you'll walk through Alpine meadows towards viewpoints where you can enjoy 360-degree vistas of snow-capped peaks ranging from the Austrian Alps in the north and the Marmolada range to the south, to Fanes Natural Park in the east and the Sella Mountain range and Gardena Pass to the west. A truly remarkable view come winter.
If these wonderful winter pastimes have inspired you to book a unique winter escape to look forward to, take a look through our winter holidays collection here.