As we approach 14 February and St Valentine's, the pressure increases to woo our loved ones with the finest chocolates, the most exquisite flowers and the swankiest champagne we can least afford – because we know that, woe betide we get it wrong, the price will be far greater! But why should romance be restricted to just one day a year? Leading relaxed activity specialist, Headwater, have compiled their hand-picked selection of romantic retreats where guests can re-kindle the spark in their relationship all year round: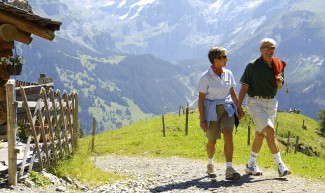 January
Famed for its stunning turquoise waters and sugary pink sand beaches, the archipelago of Bermuda is an unspoilt pocket-sized treasure trove packed with natural beauty – flowers, fish, birds – and fabulous year-round sunshine. Headwater offers a week's self guided walking here, staying in deluxe ocean view rooms at the exclusive 64-room Coco Reef Hotel – swimming pool, tennis, outstanding cuisine – on the edge of the best private beach on the island, and just 20 mins from the capital, Hamilton. Prices for January departures from £1568 per person, including 7-nights half board hotel accommodation.
February
The French Caribbean islands of Martinique and Guadeloupe both offer a unique blend of Creole joie de vivre and French chic. On Headwater's self-guided walking holiday, guests explore verdant volcanic hills and lush rain forest (2000+ floral species) and relax on palm-fringed, often deserted, beaches. The hotels on this trip are small and intimate, with superb pools, stylish rooms and fabulous restaurants. Prices for February departures are from £2187 per person including 11 nights half board hotel accommodation and hire car for the holiday duration.
March
Spring is arguably the best time to visit southern Spain, and Headwater's Hidden Valleys of Cordoba offers the most intimate insight into the 'real' country – staying in the tiniest of white villages nestled in the mountains and surrounded by dramatic hills and National Park. As well as stunning walks – gorges, peaks, valleys, views – you'll enjoy wonderful Spanish hospitality, and have the option to visit Cordoba and Granada too. Prices for March departures from £868 per person including 7 nights full board (inc wine with eve meals) hotel accommodation.
April
Firmly tucked away on the "heel of Italy's boot", Headwater's Cycling in Puglia holiday introduces guests to a sun-soaked region of deserted white sand beaches, unspoilt villages and gently rolling hills backing the clear emerald seas of the Adriatic. Highlights include UNESCO Alberobello – where you spend 2 romantic nights in a unique "trullo" house – and whitewashed Ostuni. Prices for April departures from £1127 per person, including 7 nights hotel accommodation, all breakfasts and 5 evening meals, bike hire, maps and route notes, and transfer of luggage between hotels. Add £75 per person if electric bikes are required.
May
Staying in a magnificently restored luxury 14th century castle cannot fail to impress! So, whether you're walking or cycling in Spain's Catalunya, you'll spend 2 nights in a uniquely converted four star  castle – reputed to have once been on Dali's shopping list! – in the hills above the Emporda plain. Prices (for walkers) in May from £917 per person (6 nights hotel accommodation, all breakfasts and 4 evening meals, luggage transfers, maps and route notes all included) and (for cyclists) from £1129 (as above but also including bike hire).
June
Cycling in the Heart of Venetia  is a perfect choice for cyclists wanting a genuine grass-roots Italian experience. Staying on a family-run farm (with private pool and vineyards), surrounded by romantic Venetian countryside, this holiday provides the chance to become enchanted with the idyllic "back-to-nature" lifestyle without compromising on comfort or style. Prices for June departures from £867 per person including 7 nights half board accommodation, bike hire, maps and route notes.
July
Hugely popular with gourmet-seeking francophiles, Headwater's Loire Gastronomic Cycling tour is the perfect blend of gentle cycling by day with top end creature comforts in the evening! And, with the route starting and ending in the fabulous Chateau de Chissay hotel, it's the perfect romantic escape too! July departures from £1339 per person including 6 nights half board (gastronomic menus throughout) hotel accommodation, bike hire, maps and route notes and transfer of luggage between hotels.
August
With just 24 spacious rooms – each with its own private terrace – the wonderfully peaceful, and hugely atmospheric, 4 star Convento de Belmonte Hotel, in the very heart of undiscovered central Portugal, is the base for our Portugal walking holidays. From its romantic, candle-lit dining room, to its converted private chapel and cloisters, this hotel exudes a feel of luxury and exclusivity. August prices from £1248 per person including 7 nights half board hotel accommodation, 5 lunches and a fully guided walking itinerary.
September
Headwater's Tuscany walking holiday explores the beautiful, romantic wooded hills of the untouched Alto Mugello, in Tuscany's most northern corner and overlooked by the majestic Apennine Mountains. September prices from £1028 per person include 7 nights full board accommodation at the 8-room Locanda Senio Hotel, all walking maps and route notes.
October
You almost feel you have the world to yourselves as you retrace the Footsteps of St Francis following a circular loop through the rich rolling countryside of the Assisi Valley. It's a sun-drenched region of deep, lush forests, majestic lakes, Natural Parks and stunning mediaeval villages unchanged over centuries. Hotel highlights range from a prestigious 4-star country retreat spanning 230 hectares, to a magnificent C17 mill, crammed with numerous works of art and a 900+ wine cellar! Prices in October from £1018 per person including 8 nights half board hotel accommodation, walking maps and route notes, and transport of luggage between hotels.
November
Just west of Madrid, Spain's unknown Sierra de Gredos offers some of the finest walking in Spain – from gentle strolls through flower-filled meadows to high level hikes amid mountaineous peaks, waterfalls and lagoons. Headwater's base for the week is the perfectly located rural retreat of El Milano Real, nestled in the tiny village of Hoyos del Espino on the edge of the National Park. Prices for November departures from £1029 per person including 7 nights full board hotel accommodation, walking maps and route notes, and a complimentary hire car for the duration of the stay.
December
On the edge of the Tejeda National Park, in southern Andalucia, is the wonderfuly restored Hotel Finca El Cerrilo, a 200-year old olive mill with pool, and an absolute gem of a place to stay! With just 12 individually styled rooms, hidden gardens and shaded courtyards, it is the perfect romantic retreat! December prices for Headwater's guided walking week here (taking you through timeless white villages, olive groves and lemon-studded hillsides) from £1107 per person including 7 nights full board accommodation (wine inc) ad fully guided walking itinerary.
For bookings and further information, please call Headwater 0845 322 4672 or email sales@headwater.com