Starting in Brest on the 26th June and ending in Paris on the 18th of July, this year's Tour de France sees contestants take on gruelling routes in the Alps, a double ascent of Mont Ventoux and plenty of Pyrenean climbing before flying past the finishing line. However, that sense of achievement when you've completed a cycling route isn't reserved for Tour de France contestants alone.
No matter what your pace, or ascent, cycling has the ability to reduce stress, improve your cardiovascular fitness and is seen as an environmentally friendly alternative to other modes of transport. When it comes to travelling, cycling can also be a great way to explore further, faster, which is why we've been meticulously researching the best routes for our collection of cycling holidays over the past 35 years.
Regardless of whether you're new to cycling or a cycling expert, the possibilities for discovering a region on two wheels with Headwater are endless. So, why not start planning to cycle your very own Tour de France, with these 4 spectacular cycling holidays? You'll notice that each trip passes through notable Tour de France hosting regions.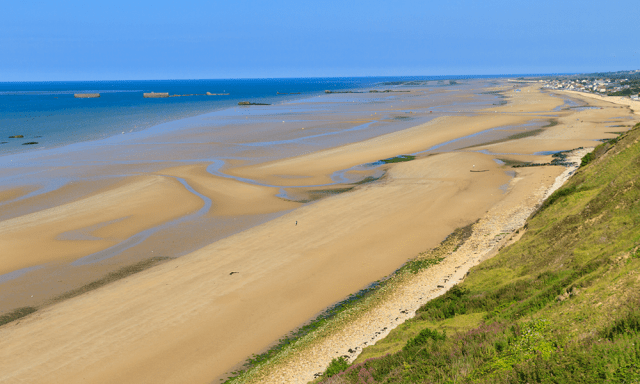 Ride past the historic D-Day Beaches in Normandy
Combine your love of history, delicious cuisine and cycling on our D-Day beaches of Normandy Cycling trip. Starting in the medieval city of Bayeux, you'll pass the 70-metre-long Tapestry recounting the Conquest of England by William, Duke of Normandy and the commonwealth war memorial before cycling to Omaha beach.
The terrain on this trip varies from enjoyable, flat coastal roads that run for miles hugging the shore, to elevated sections in the undulating green hinterland behind Omaha and Gold Beach, where it rises steeply from the seafront. After visiting Omaha and Gold Beach it's a gentle cycle towards Arromanches-les Bains, a seaside resort that's inextricably tied with the liberation of western Europe with the unfolding events of D-Day.
Your route then takes you across the famous Pegasus Bridge and past the scented apple orchards of the Pays d'Auge to Cabourg. Your cycling trip ends with a delightful ride past half-timbered houses to the colourful harbour of Honfleur, where you can sample their local cheese, such as Petit Pavé d'Auge, Pont-l'Eveque and Livarot. We'd recommend pairing this with a small glass of Calvados (produced almost exclusively in Normandy, Calvados is a cider brandy made from apples and pears).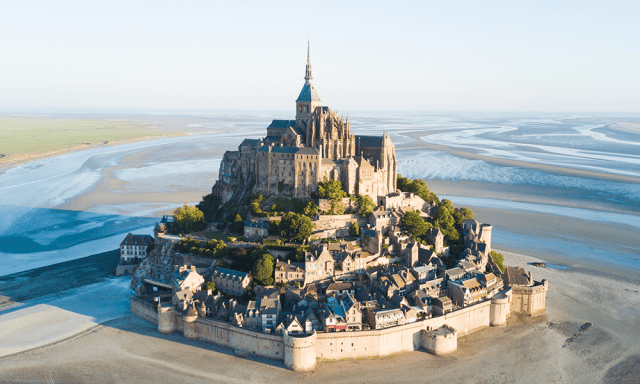 Pedal towards one of Europe's most unforgettable sights – Mont St Michel
On our St Malo to Mont St Michel Cycling trip, you'll get the opportunity to ride seaside tracts along Brittany's spectacular Emerald Coast, while also pedalling towards quiet riverside paths, ancient châteaux and charming fishing villages.
Beginning in the historic port town of St Malo, you'll follow the coastline peppered with pink granite cliffs and turquoise coves to the rocky finger of Pointe du Grouin. Next, cycle to the town of Cancale to try their famous oysters in the town's port, La Houle, where the production process has remained largely unchanged for centuries.
The following day, you'll come face to face with the spectacular Mont St Michel – one of France's most iconic images. Rising dramatically from the sea, this 13th-century abbey boasts sublime panoramas of the surrounding bay while standing on its well-fortified ramparts. Known for having Europe's highest tidal variations, why not take a moment to admire the mythic tides that are poetically described to rush in "with the speed of a galloping horse".
The tail-end of the trip involves cycling inland to visit the ancient walled town of Dinan, where you can cycle down the cobbled streets and explore the imposing 13th-century castle, complete with a ducal dungeon.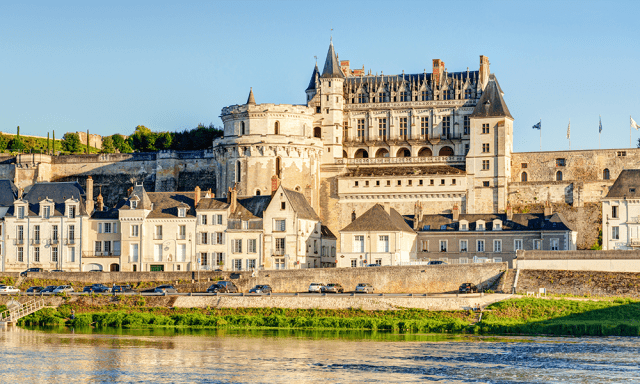 Follow our triangular cycling route through the heart of the Loire Valley
If you're looking for an enchanting, traffic-free cycle past majestic forests, sunflower fields and fairy-tale châteaux, our Cycling the Château of the Loire – Deluxe trip offers the perfect two-wheel journey. With its scenic paths, flat terrain and gentle rolling hills, it comes as no surprise that "The Garden of France" is a haven for cyclists.
Starting in the picturesque riverside town of Blois, you'll make your way to Chaumont-sur-Loire before continuing along the spectacular Loire a Velo cycle tracks towards Amboise. Childhood home of Charles VIII and final resting place of Leonardo da Vinci, the captivating Château d'Amboise is a must-see for art-aficionados. With gentle cycling through the vineyards of Montlouis sur Loire, peaceful rides along the riverbanks of the Cher and unforgettable cycles to Château de Chambord makes this cycling holiday in France an utter delight.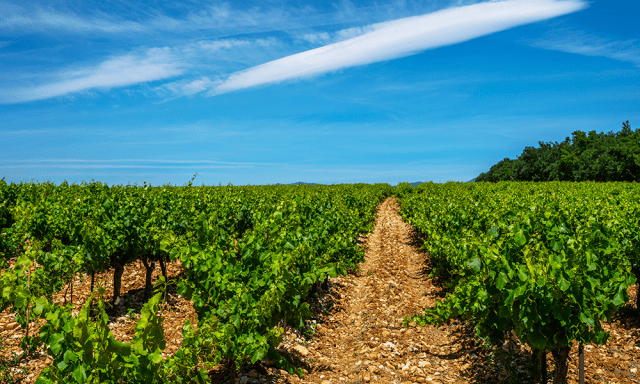 Cycle through the famous Cotes du Rhone vineyards
Enjoy easy pedalling along Provencal plains and gentle foothills towards fascinating Roman remains, world-renowned vineyards and lavender-scented fields on our Vineyards of Vaucluse Cycling trip. Discover one of France's premier wine regions on two wheels where you'll get the opportunity to stop, at your leisure, at Gigondas, Beaumes-de-Venise and Vacqueyras to try their award-winning local wines.
Aside from sampling the region's wine, gourmet dishes and local delicacies, you'll also ride towards key archaeological gems in the area, including the Roman amphitheatre and baths in Vaison-La-Romaine. If you'd like to have the option to see the intricate triumph arch and Roman theatre in Orange, our hotelier can help you organise a taxi to this fascinating ancient Roman settlement.
When you're not cycling towards vineyards and historical artefacts, you'll spend your downtime, pedalling around Pernes-Les-Fontaines, Saint-Didier and the medieval town of Carpentras, which holds a colourful weekly flea market you won't want to miss.
If this piece has inspired you to start planning your very own Tour de France, why not take a look at our cycling holidays in France.