We'd like to say a big thank you to the Masons' and the Davies' for pioneering our first Argentina Gauchos and Glaciers departure in December 2008.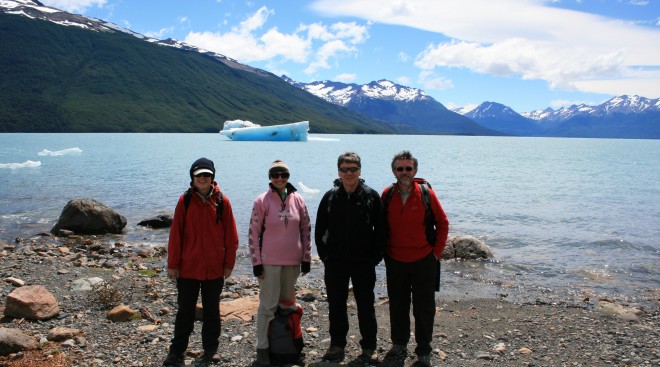 Now they are back in Blightey, they have been in contact to relate all their exciting tales from the far side of the world. Having been blessed with fantastic weather for the whole tour, (apart from Patagonia's 4 seasons in one morning treatment that is not unusual even in midsummer), they came back with some amazing memories that they were kind enough to share with us.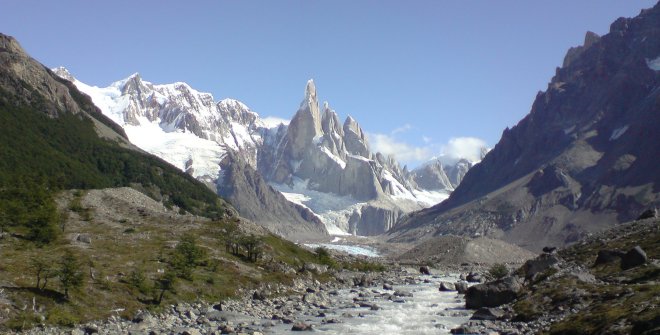 Cerro Torre
 Mrs Mason commented via email: "The order of places visited and time spent in each was ideal. Our guide in Buenos Aires was excellent, and Peninsula Valdez almost knocked me sideways – it was so different to anything I had ever seen or imagined, and by staying several days in the splendid isolation of Estancia Rincon Chico, we were able to absorb the subtle beauty of the Peninsula.
I loved Tierra del Fuego and the mountains were breathtaking; the trip to Tierra del Fuego National Park was another sheer delight, walking along the coast in a seemingly empty Park".
 Sian and Rowland Davies added:  " Our highlight was our stay in the Patagonian Andes.  The two estancias we stayed at were welcoming and unique in their individual styles. At El Chalten, our first of two walks ably guided by Christina, took us to the snowline of Mount Fitz Roy, which revealed itself to us in all its majesty from the clouds on both days.  Our second walk took us to the snowline of Cerro Torre, which was equally memorable and contrasted with the arid landscapes of Peninsula Valdes and the maritime flavour of Tierra del Fuego. Estancia Nibepo Aike at El Calafate deserves special mention. This welcoming working estancia is set in dreamy location combining both mountains and lakes within its boundaries.  We had real encounters with gauchos, allowing us the opportunity to watch the  as the stock was brought in for protection against marauding pumas overnight, and we had the opportunity to ride on the estancia".
Mrs Mason summed up the tour like this:  "The pattern of using local guides worked extremely well – they took care of everything and added hugely to our enjoyment of their country. Regarding the walking, as far as I'm concerned it had the perfect amount. This was a wonderful holiday, to an amazing part of the world, with some extremely good walks thrown in – altogether, an unforgettable experience".
Mrs Davies added, "We ended our holiday with an additional couple of days at the stunning Iguazu Falls, which is highly recommended!"
You can book your place on this incredible tour now by calling 01606 720033,  have a look at it on the website here, 
or to talk directly to Steve Murray who organised the tour, call 01606 720046.
Curious facts
The pod of orca native to Peninsula Valdez regularly take seals straight off the beach in breathtaking attacks like the one shown here.
 This is a high risk strategy for the orca though – their bones are not designed to take their weight out of the water, so they can easily suffer fractures or become stranded if they do not return to the water quickly.