On a selection of our Headwater walking and cycling holidays, our guests can enjoy using our innovative Headwater Navigation App. Its turn-by-turn instructions, with audio for cycling trips, make navigation a breeze. And, with the app recommending fascinating points of interest along the way, you'll never miss your destination's highlights. Unlike Google Maps, you don't need to worry about entering your starting point and end destination at the beginning of every day. Instead, our routes, carefully crafted and curated by our team of Headwater travel experts, will guide you from start to finish. Below, we've hand-picked 5 spectacular destinations at home and abroad that you can explore with our Headwater Navigation App.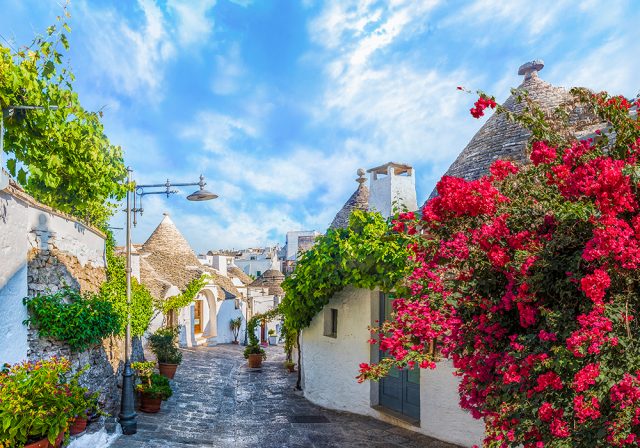 Cycle past Trulli houses perched on cliffs in Puglia
Why not discover the beautiful "heel of Italy's boot" this summer? You'll find that our Contrast of Puglia Cycling trip, is the perfect location to use our Headwater Navigation App. With your interest-packed self-guided route taking you from Trulli houses in Alberobello to the dazzling white village of Ostuni and on towards the coastal town of Monopoli, you'll enjoy a range of varied cycling through Puglia's rolling hills and coastal trails.
Along the way, you can take full advantage of our Headwater Navigation App that will show you fascinating points of interest that only a local would know how to find, including the colourful fishing village of Savelletri and the archaeological site of Egnazia. Our app will also purposefully guide you towards exhilarating descents that take you past olive groves, vineyards and almond orchards, to show you the very best of Puglia.
Walk the tranquil paths of Menorca
An elegantly converted 17th-century Spanish farmhouse provides the perfect base for this delightful single centre trip, Walking the Coastal Trails of Menorca. Our Headwater Navigation App will guide you each day as you decide which area of the island you'd like to discover. Wander the coastal paths, taking in the magnificent golden beaches and quiet rocky inlets, where stunning flora dots the landscape with colour. Along the way, you'll come across ancient castles, fortresses and watchtowers, each with their own captivating history.
Spend a day in the capital of Mahon, an impressive natural harbour that has seen many armies scramble to gain control. Today, this charming capital and its graceful Georgian English architecture provide a wonderful place to spend a few hours. Or perhaps you're intrigued by the rich history of the Spanish Palaces in Ciutadella and choose to take a day meandering amongst its cobbled alleys, plazas and fountains.
Ride around Lake Bled and Austrian alpine towns
On our Julian Alps to the Adriatic Cycling trip, you'll start your holiday on the beautiful shores of Lake Bled in Slovenia. After taking a refreshing dip in your 4-star hotel's swimming pool, you'll enjoy a circular ride around Lake Bled, passing sleepy Slovenian hamlets filled with fascinating Gothic and Renaissance architecture. Our Headwater Navigation App, suggests an optional route to make the ascent up to Bled Castle, Slovenia's oldest castle dating back to 1004. Here, you can visit their museum in the upper courtyard, which delves into the historical development of the castle and shows displays of fascinating period-specific artefacts.
Once you've explored the cycling trails around Lake Bled, your route on the Headwater Navigation App will take you towards Triglav National Park and on to the glittering twin glacial lakes of Fusine. If you'd like to test your stamina, why not make the exhilarating optional climb towards the Austrian alpine town of Arnoldstein? Your efforts will be rewarded with a chairlift experience and panoramic views overlooking where Austria, Italy and Slovenia meet.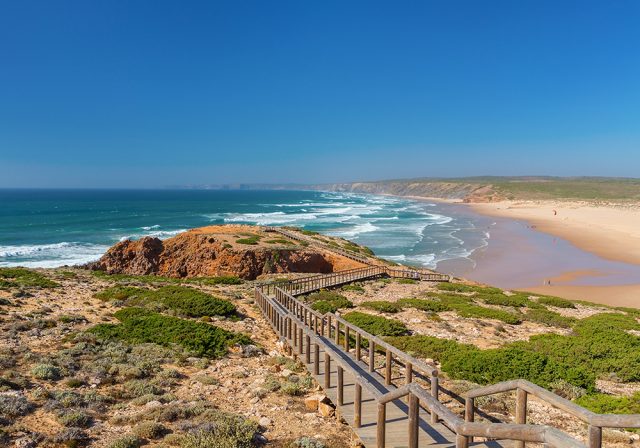 Explore the Sagres Peninsula in Portugal
The Algarve region is great to explore on foot. With the easy-to-follow trails on our Walking the Algarve's Wild West trip, our Headwater Navigation App directs you on blissful walks toward rich verdant valleys, white sand beaches, pine forests and rugged coastlines.
Covering peaceful sections of the Fishermen's Trail and the Rota Vicentina, your route takes you towards the unique rural village of Pedralva and the picturesque Cabo de Sao Vicente, which marks the most south-westerly point of Europe. If you're needing to rest your legs, our Headwater Navigation App guides you toward points of interest that are sure to have a great selection of local cafés, restaurants and pastelarias. We'd recommend trying local delicacies such as pasteis de nata (Portugueses custard tarts), oysters from the Ria Formosa or Doces finos do Algarve, ornate Algarve sweets made from marzipan and moulded into vegetables, fruits and small animals!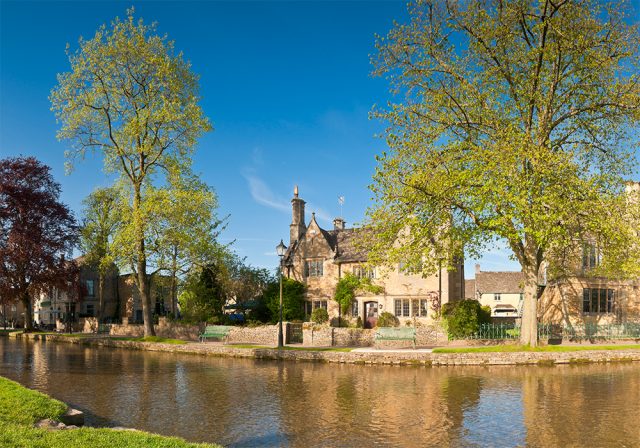 Wander towards charming castles and cosy pubs in the Cotswolds
If taking in the beautiful North Cotswolds villages sounds like your idea of an idyllic summer holiday, then our Best of the Cotswolds Cycling route may be the trip for you. Following our easy-to-use Headwater Navigation App, you will visit key historical gems, including Sudeley Castle, Broadway Tower and the National Trust property of Snowhill.
Along the way, our app will take you down quiet country lanes and suggest cosy English pubs and inviting tearooms for scones and clotted cream. The charming town of Bourton-on-Water will be your base for three nights during your holiday, so we recommend taking some time to explore the town centre on foot where low, historic bridges crisscross along the River Windrush, fringed by honey-coloured buildings. If you're feeling peckish after your walk, head to the Mousetrap Inn for delicious, locally sourced dishes and a great selection of cask ales from Cotswold breweries.
Take a look at our fantastic collections of Walking and Cycling Holidays, or find out more information about our Headwater Navigation App here.