At Headwater, we love to soak in the sights, sounds and smells of our surroundings. Over the last couple of decades, we've carefully handpicked and fine-tuned our characterful accommodations, local restaurants and historical places of interest in our itineraries that allow you to fully discover the very heart of a destination. When it comes to unravelling a region's unique culture, ancient traditions and places of natural beauty you get the opportunity to absorb the ambience. Whether it's wandering past other-worldly volcanic landscapes in Tenerife or cycling through Amsterdam's iconic 17th-century canal district, our trips are designed for you to soak in the atmosphere of some of the world's most fascinating places. Read on to see how you can do just that in our following 5 trips.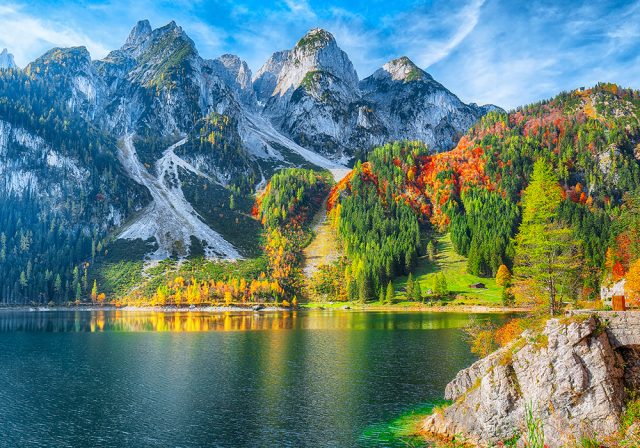 Soak in Austria's Alpine views
If you're looking to soak in views of rural farming hamlets, lush meadows and spectacular Alpine panoramas, the enchanting trails in central Austria are bound to impress. Situated on the banks of the picturesque Wolfgangsee Lake and surrounded by the towering Salzkammergut mountain range, the charming village of St Gilgen is a must-see on a walking holiday in Austria. With its patchwork of Germanic facades and vibrant flower-strewn cobbled squares, St Gilgen is famous for its association with Mozart, as his grandfather and mother were born here.
Another Austrian village worth visiting for its enchanting atmosphere is St Wolfgang, a stone's throw away from St Gilgen. Take a tranquil stroll along its forested lakeshore and past its old wooden boathouses towards its beautiful church. Known as a major pilgrimage site over the last couple of centuries, visitors still travel to see its church that holds art treasures including a late Gothic altarpiece by Michael Pacher. Enjoy a blissful afternoon exploring the boutique craft and chocolate shops before hopping on the antique rack railway as it makes its journey to the summit of Schafberg (1782m) where you can admire the spectacular Alpine views.
On our Austrian Lake Activities trip, you can soak in the ambience of the beautiful Salzkammergut mountain range panoramas and fresh Alpine air while also getting to enjoy a wide range of local pastimes including ice caves excursions, waters sports and boat rides for a brilliant fun-filled family holiday.
Staying in the picture-perfect Austrian village of Strobl, located on the eastern shore of Lake Wolfgang, you can cycle through nature reserves, quiet country lanes and past hidden lakes towards the charming towns of St Gilgen, St Wolfgang and Lake Schwarzen. You also have the option to visit Mozart's fairytale city of Salzburg, where you can enjoy an idyllic stroll past the Renaissance Mirabell Palace and gardens, take the funicular to see the towering Hohensalzburg Fortress or do what Austrians do best, while away the afternoon in one of their elegant Viennese coffee houses.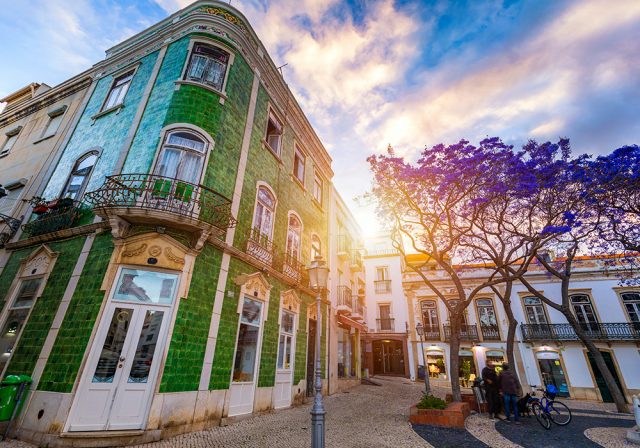 Get a taste for the Algarve coast
Rivalling the shimmering French Riviera and the sun-drenched Amalfi Coast, Portugal's alluring southern coastline boasts nearly 100 miles of powdery sands, copper-coloured cliffs and natural turquoise grottos to explore. Aside from being a brilliant place to spot rare endemic and migratory bird species that are passing through from Africa and Northern Europe, this region is also known for its mouth-watering seafood cuisine.
When you're visiting the cosmopolitan coastal town of Lagos, with its ornate 13th-century churches and labyrinth cobblestoned lanes why not take the opportunity to enjoy traditional marisco (seafood) dishes alongside small plates of local queijo cheese and cod ceviche, while soaking up the atmosphere in one of their traditional azulejo tiled Portuguese restaurants. From succulent fresh clams garnished with coriander to delicious grilled sardines, octopus and garlic butter prawns, rest assured you can wash down all of these meals with glasses of Marcha Légua, a refreshingly crisp white wine produced from Aragonês and Castelão grapes. After an exhilarating day exploring the rugged Algarve coastline, there's nothing like soaking up the ambience in local restaurants that are tucked away in the beautiful backstreets of Lagos.
On our Walk the Algarve's Wild West holiday you'll get to visit the charming coastal city of Lagos and taste their traditional Portuguese fare. Your route takes you towards the ancient fishermen's village of Carrapateira from Sagres, where you'll discover a mix of rugged coastal trails and orchid-rich pine forests along the way to Pedralva. From here, you'll follow the Rota Vicentina, a spectacular national trail that intertwines with the Fishermen's Trail which leads you to the city of Lagos and the quintessential Algarve village of Vila Dos Bispo. Hugging the windswept beaches and cliffs, you'll end your adventure in Cabo de Sao Vicente, the farthest-flung corner of Europe.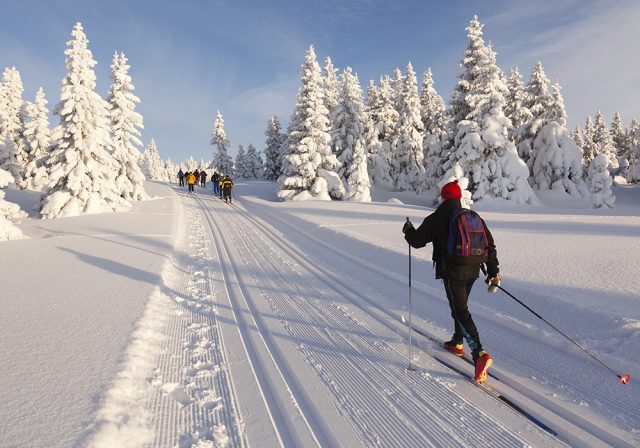 Embrace the Norwegian wilderness in Venabu
Located in central Norway, on the edge of the Rondane National Park and the Gudbrandsdalen Valley, just north of Lillehammer lies Venabu. With dramatic gorges, snow-capped peaks and pretty fells, Venabu is the perfect place for that winter wonderland experience. Sitting in the centre of the Venabygdsfjellet plateau, you can take the opportunity to explore the mountain crossing between Østerdalen and Gudbrandsdalen on foot or by cross-country skiing. If you're looking to unwind in a cosy cabin with a cup of hot chocolate beside a crackling open fire, before spending exhilarating days outside exploring the spectacular snowy landscapes, then a trip to Norway may be the perfect holiday to book this winter.
On our Cross Country Skiing at Venabu trip, you can enjoy a fantastic skiing holiday away from the crowds, where you can find excellent trails suitable for beginner, improver and intermediate skiers that take you around Gudbrandsdalen Valley. With a variety of Norwegian terrain to explore on skis, including plateaux, mountains and birch woodlands, you may get to encounter some of the local wildlife on your way, including, owls, hawks, mountain hairs and herds of wild reindeer.
On our trip, you can also organise to go dog sledding, snowshoeing or book to head out on a torch-lit, horse-drawn sleigh ride through the snow before sunset, so you can truly soak in the Norwegian wilderness. With hardly any light pollution, you're also in with a good chance of experiencing the celestial phenomenon of the Northern Lights, especially if you book to go in December and January.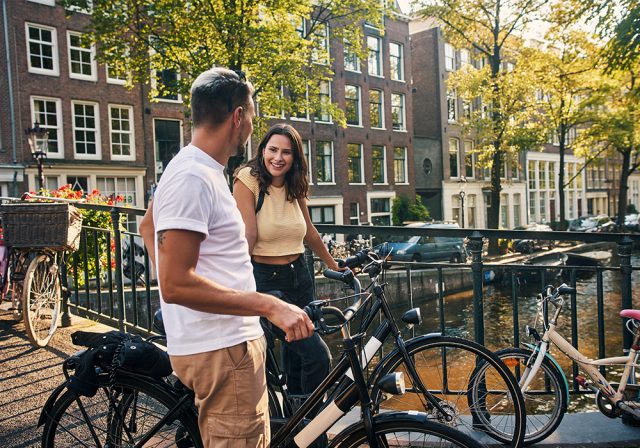 Ride alongside Amsterdam's iconic canals
One of the best ways to soak up the ambience of Amsterdam is to explore the fascinating 17th-century canal district on two wheels. Surrounded by flat, scenic landscapes, it comes as no surprise that cycling is one of life's great pleasures to the Dutch, so why not join the locals and get involved in one of their favourite past times?
While you're in the city take the opportunity to idly ride past photogenic buildings along the Canal Belt, passing notable places of interest including Anne Frank's House, Westerkerk and the Rijksmuseum. If you have the time, cycle over to the 19th Century neighbourhood of de Pijp, where you'll find the city's largest open-air street market, Albert Cuypmarkt. Selling traditional Dutch delicacies like stroopwafels, pickled herring, poffertjes (mini Dutch pancakes) and Kibbeling (deep-fried fish with tartar sauce), you'll be spoiled for choice when it comes to trying the local fare.
If you're wanting to embrace a different side of Amsterdam, why not ride towards the outlying districts such as Oost, Noord, Zuid and West, that all have completely different architectural styles and atmosphere to the more traditional city centre.
On our Cycling from Amsterdam to Brussels trip, you'll get to explore the major historical sites, parks and world-renowned art galleries in Amsterdam, while also discovering its atmospheric squares such as Rembrandtplein, Leidseplein and Dam. Your route then takes you through Holland's Green Heart, past the windmills in Kinderdijk and famous bridges of Papendrecht and on towards Biesbosch National Park. Visiting the fascinating cities of Antwerp and Leuven, your trip ends in the magical city of Brussels, where you can toast your efforts with local Belgian stouts and triple-fried frites.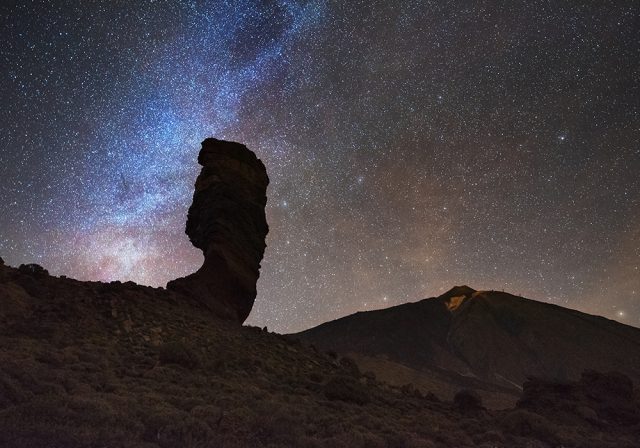 Stargaze in Tenerife
Known as the 3rd best place in the world to view stars, NASA describes Teide National Park, the largest and oldest National Park on the Canary Islands, as "a window to the universe". If you're a keen astronomer, or perhaps just enjoy spotting constellations in the night sky, the lookout points in Teide National Park will not disappoint. In fact, 83 of the 88 officially recognised constellations can be seen in Tenerife, at the top of Mt Teide.
Throughout the year you can soak in the ambience during Tenerife's phenomenal celestial shows in the form of meteor showers like the Quadrantids in January and the Perseids in August. If you're travelling to Tenerife during the summer months, it's very common to be able to spot the Milky Way and the Summer Triangle (a unique formation of three bright stars).
If you're looking to spot these spectacular constellations, our Contrasts of Tenerife Walk trip takes you on an exhilarating trek past prehistoric rock formations and other-worldly lava fields in Teide National Park. The hike begins climbing to the summit of Samara where you'll be met with outstanding panoramas overlooking Montana Reventada, the archaeological Guanche remains of Cuevas Negras and Pico Viejo, before spending the evening in the village of Vilaflor, the highest village in Tenerife.
With walks along the Camino Real de Chasna, you'll pass through a lush pine forest towards the breath-taking Los Escurriales (the Moon Landscape). You'll end this adventure by trekking to the summit of Mount Guarjara where you can see stunning panoramic views reaching out as far as Gran Canaria and La Palma.
If this blog has inspired you to absorb the ambience in bustling squares, mountain ranges or waterside towns in destinations across Europe, why not browse our full collection of trips here.