Add a real sense of adventure to your next Headwater trip and travel by train. Not only is travelling by train a more scenic and relaxing way to discover different parts of Europe, but it's also a great way to decrease your carbon footprint and help the environment.
At Headwater, we believe in the power of sustainable travel, and supporting innovative solutions for carbon reduction, which is why we've collected a few of our favourite Headwater trips that are easily accessible with Europe's high-speed rail systems for those that are looking to extend their trip and explore sustainably. With more than 240,000km of tracks connecting some of the best European cities, villages and countryside, our friendly Headwater team are at hand to help you plan your journey, including booking and arranging all trains and transfers where available with allocated time slots, should you wish to take the more scenic route. Here are our top 5 destinations where you can travel by train.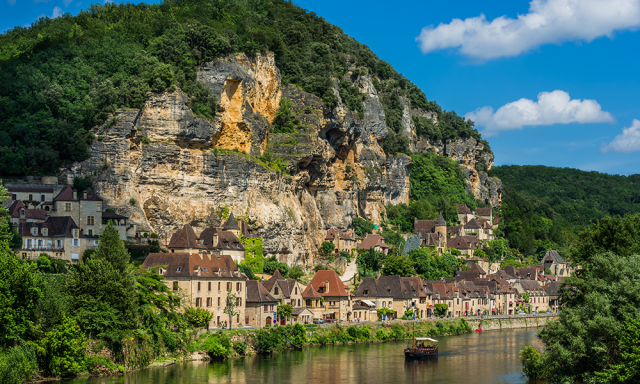 1. The Dordogne River, France
Discover one of France's most iconic waterways, the Dordogne, on an easily accessible train ride starting from St Pancras International, London. From here, take a (just under) four-hour train journey to Paris Gare du Nord and make the quick connection to Paris Austerlitz, which runs every six minutes. When you get there, take the high-speed SNCF train to Souillac-sur-Dordogne, a quaint, old abbey town in the heart of the Dordogne Valley, where you can acquaint yourself with the town's atmospheric squares, historic bell towers and local restaurants draped in wisteria. Afterwards, take a 25-minute taxi to the spectacular perched medieval village of Rocamadour, where your Dordogne River Walk trip begins.
This 8-night walking holiday allows you to explore the beautiful Dordogne River at your own leisure. Passing picturesque mediaeval villages, fairy tale chateaux and traditional Perigourdine markets selling local produce, you'll also have the opportunity to visit the idyllic amber building village of La Roque Gageac, which is one of the "Les Plus Beaux Villages de France". There are plenty of historical places of interest to stop along the way, such as the prehistoric site of the Grottes de Lacave, the medieval town of Martel and the largest chasms in Europe, Le Gouffre de Padirac. On your return, you'll leave the quaint French commune, Saint-Vincent-de-Cosse, and head to Souillac rail station 40 minutes away, where you'll take the train to Paris Austerlitz. From here, take the 14-minute connection to Paris Gare du Nord, and enjoy a pleasant journey back to London St Pancras International on the Eurostar.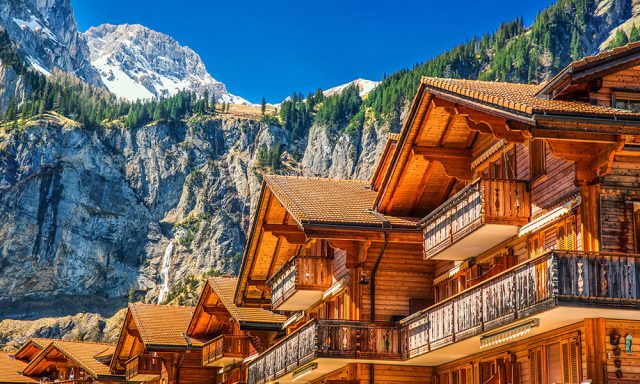 2. Classic Swiss Alps
For those looking to go further afield, our Classic Swiss Alps trip allows you to discover the heart of the Bernese Oberland, from its spectacular Alpine pass and sun-glistening glaciers to their enchanting chocolate-box villages. To get to these beautiful well-marked trails by train, you will need to start your journey at St Pancras International and head to Paris Gare du Nord. From there, you make a quick transfer to Paris Gare de Lyon and onto Lausanne, with the shortest direct train starting from 3hrs and 44mins. Afterwards, take the scenic route to the Alpine town of Brig. When booking this train journey with a member of our team, you also have the option to book an overnight sleeper rail for longer journeys. While in Brig, why not take the afternoon to visit one of its thermal baths or see their 17th-century Stockalper castle before heading to your final destination Kandersteg, that's located just west of the Jungfrau massif.
On this trip, explore the way-marked trails around the Oeschinensee mountain lake, that's punctuated with pine forests, quiet woodlands and alpine meadows scattered with fire lilies, lady slippers and over 25 different orchids in season. This region is also well known for its wildlife, such as golden eagles, ibex and red deer. After discovering the Swiss Alps sheer natural beauty, you can unwind in the evening in the friendly, family-run hotel that offers a heated indoor pool and sauna, allowing you to truly unwind after a day's hiking in the mountains. To get home on the train, head to Kandersteg's railway station and take an hour's train ride to Bern. From there, head to Basel, with over 50 trains each day, it's very easy to get a connection. When you arrive, take the direct train to Paris Gare de Lyon, which will take around 3 hours. After you get here, it's a quick connection to Paris Gare du Nord where you will take your final train back to St Pancras International in London.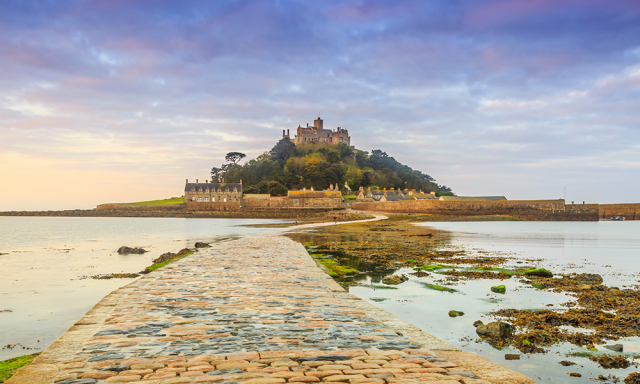 3. The Lizard Peninsula, Cornwall
Why not take a staycation this summer and visit the Celtic Kingdom of Cornwall to discover its beautiful, rugged coastline and the Lizard Peninsula? Designated as an "Area of Natural Beauty" (AONB), that's peppered with traditional fishing villages, Norman castles and wild serpentine cliffs, Cornwall is the perfect place to explore on foot. The best way to get to the most southern and westerly tip in the UK is to head to London Paddington Station. From here, you take a 5-hour train to Penzance on the Great Western Railway (GWR). Normally, there are around 27 trains to Penzance per day, so you can choose when you want to travel. Once you get to Penzance, hop on a quick 10-minute bus at Penzance bus station to get to The Square in Marazion.
Our Walking the Lizard Peninsula trip offers the perfect introduction to Cornwall. Starting in Marazion, the route takes you past the legendary cobbled causeway over to St Michael's Mount, a beautiful abbey that was built by Benedictine monks in the 12th century. Following the Cornish coastline, you'll enjoy an exhilarating walk towards Mullion Cove, Cadgwith Cove and Kennack Sands. Passing pastel-coloured fishing villages along the way, you can enjoy tucking into fresh fish at the local restaurants and pubs. Ending your adventure in the traditional thatched cottage village of Coverack, take a 30-minute taxi to Falmouth Docks, where you'll hop on a short train to Truro and transfer back to London Paddington station.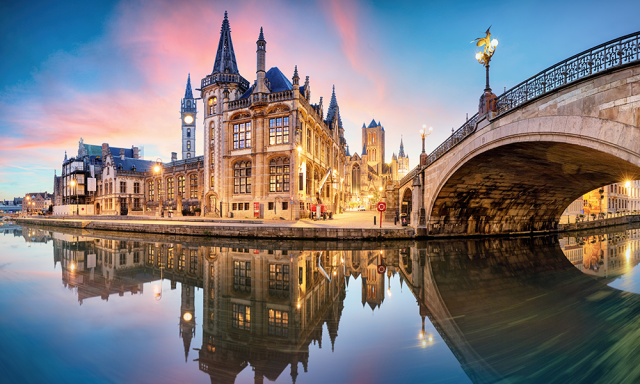 4. Brussels, Belgium
There's much more to Belgium than its craft beer, decadent chocolate and triple-fried frites. With its world-class art galleries and museums, iconic canals streets and stunning medieval architecture, Belgium is a great destination that's easily accessible by train. To get there, head to London St Pancras International and enjoy a quick direct journey to the centre of Brussels in 1 hour and 53 minutes!
Thanks to its predominantly flat landscape, Belgium is the perfect place to explore on two wheels. Enjoy relaxed, easy riding on our Cycling from Brussels to Bruges trip as the route takes you from the comic strips and world-famous Manneken Pis statue in Brussels to the fairy tale historic centre of Bruges. Pedalling through meadows and tree-lined country lanes, you'll stop to visit the artwork of Flemish masters, including Van Eyck, Brugel and Rubens, before heading to Antwerp and the captivating Old Town of Ghent. Take your time to visit the picturesque St Michael's Bridge, St Bavo's Cathedral and wander through the Castle of the Counts, whose cobblestone alleys have remained largely unchanged since the mediaeval times. After cycling through the rural Meetjesland region and the quiet villages of Maria-Aalter and Moerbrugge, you'll follow the Ghent-Bruges canal to Bruges. Once you've spent the morning visiting Bruges' enchanting Belfry tower, Grote Markt and Rosary Quay, make your way to the Bruge train station and transfer to Brussels-Midi where you can travel directly to London St Pancras International. The journey should take around 3 hours and 25 minutes.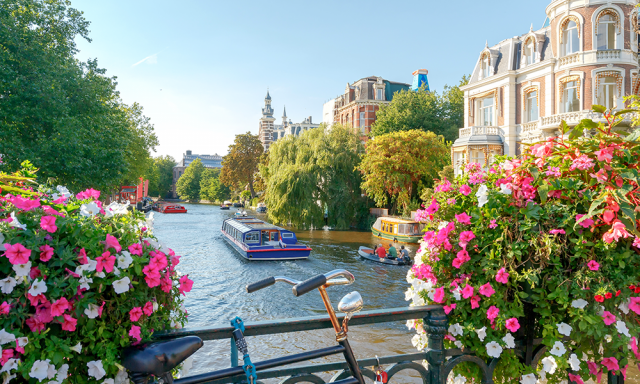 5. Amsterdam, Holland
Discovering Holland's centuries-old windmills, world-class museums, art galleries and picturesque canals, may be easier than you think. With daily direct trains from London St Pancras International to the beating heart of the Netherlands in 3 hours and 52 minutes, you can travel effortlessly from one city centre to another in no time. When you arrive at Amsterdam Centraal Station, take your time to visit the Van Gogh and Anne Frank museum or get off the beaten track and take a peaceful cycle along the Brouwersgracht canals.
One of the best ways to experience Holland is by bike. The famously flat Dutch terrain and cycle-centric infrastructure in cities across Holland make cycling a rite of passage for anyone who travels through the country. Our Pearls of Holland Cycling trip starts in the Amsterdam canal's and takes you on a gentle circular cycling route through the city's cultural hot spots towards country estates and spectacular peatland near Haarlem. Passing Haarlem, you'll get to explore the famous Dune and Bulb region, where vibrant tulips, daffodils, crocuses and hyacinths burst to life in the fields during springtime. With visits to the old windmills and farmhouses in Leiden, you'll ride through the "Green Heart of Holland" towards Gouda, a city known for its cheese markets and delicious syrup waffles. Heading back to Amsterdam at the end of your trip, you can enjoy a relaxing journey on the Eurostar from Amsterdam Centraal station direct to London St Pancras International.
If you're looking to discover more Headwater Holidays that are easily accessible by rail, take a look at our travel by train collection here.