Food is a fundamental part of any holiday experience and at Headwater we pride ourselves on choosing locations where you can sample the best of authentic regional cuisine. Whether it's a gourmet meal paired with the finest wines, a cookery lesson sampling local delicacies or a simple local dish that just hits the spot, food is king on a Headwater holiday.
To provide you with a taster of the food on offer in Tuscany, or if you've travelled with us before, to enable you to recreate moments from your travels, we have spoken to a local chef who's provided a flavoursome recipe that you can put together in your own home.
Tuscany and food
Nestled in the heart of Italy, west of the Apennine mountains, the enchanting region of Tuscany boasts stunning landscapes and equally stunning food and wine. Think traditional, hearty, simple meals prepared using fresh local produce and meat from the region's gentle rolling hills.
You could start your meal with an antipasto of cured meats or a bowl of ribollita – a vegetable and bread soup that's a perfect comfort food. For a tasty snack, try lightly toasted Tuscan bread rubbed with raw garlic and a drizzle of freshly-pressed olive oil, washed down with a glass of Chianti or Montepulciano wine. Or relish that first bite of a lightly-aged pecorino cheese, topped with sticky honey and crunchy almonds. Tuscans also love beans and cannellini beans can be found in many dishes. If you want something special, the famous tagliatelle al tartufo, pasta covered in a truffle sauce, is definitely not one to pass up.
Recipe
Tortelli with a potato and garlic filling (Serves 4)
Ingredients:
For the filling:
500g potatoes
100g Parmesan cheese
1 clove of garlic, chopped
2tbsp of extra virgin olive oil
Parsley or rosemary, chopped (to taste)
Nutmeg, grated (to taste)

For the dough:
3 eggs
300g flour
Pinch of salt
 Method:
Boil the potatoes in their skins. Meanwhile, prepare the dough: make a well in the middle of the flour mound, leaving aside 60g that you will add along the kneading process. Crack the eggs and blend them slowly into the dough one by one. Keep working the dough until it is a soft smooth ball that doesn't stick to your hands.
Cover the dough and let it stand for half an hour, cut it into pieces and roll them out until the strips are 2mm thick.
Mash the hot potatoes and add the parsley/rosemary, garlic, nutmeg, Parmesan cheese and oil. You can also add one or two spoonfuls of tomato sauce.
Place walnut-sized balls of the filling onto the dough, 2cm apart, fold the dough lengthwise and seal the pasta. Cut the pasta into 4cm squares and separate.
Cook the pasta in boiling salted water for two minutes.
Serve with a generous Parmesan cheese dusting and meat ragout, or with duck sauce or sage leaves browned in butter or oil, and some chilli.
The chef: Ercole Lega, Palazzuolo sul Senio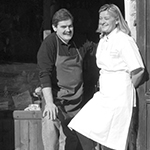 The reputation of Lega's cuisine has spread far and wide: only organic ingredients and fresh herbs grown in the hotel's own garden are used. At the end of the summer, Ercole will be out in the woods at dawn collecting wild mushrooms for the table that night. Roberta and Ercole vary the menu to offer the best produce available from each season.
Alessia Francini-Beaumont, Programme Manager at Headwater, said:
"Having grown up in the Mugello, this dish is my go-to comfort food, reminding me of when my grandma used to make the Tortelli on her kitchen table. Her recipe was passed on to my mum and most recently on to me. My top tip is to serve your Tortelli with a rich and tasty ragu sauce."