Food is a fundamental part of any holiday experience and at Headwater we pride ourselves on choosing locations where you can sample the best authentic regional cuisine. Whether it's a gourmet meal paired with the finest wines, a cookery lesson sampling local delicacies or a simple local dish that just hits the spot, food is king on a Headwater holiday.
To provide you with a taster of the food on offer in the Loire, or if you've travelled with us before, to enable you to recreate moments from your travels, we have spoken to a local chef who's provided a flavoursome recipe that you can put together in your own home.
The Loire and food
Often referred to as 'the garden of France', the Loire Valley is home to great produce due to the mild climate and fertile soil, making it a gastronomic delight. Standards of cooking in the Loire are consistently high. It's civilised and refined country cooking, not heavy but rich in flavours and textures, drawing on the great garden of the Loire Valley. Fruit and vegetables abound: asparagus, artichokes, button mushrooms, cherries and strawberries from the Loire are transported to kitchens throughout France, as well as more rare produce such as black truffles and saffron. These provide succulent accompaniments to the duck, venison and wild boar dishes (all hunted locally) and served in sauces using wines from the local vineyards.
With three wide, gently flowing rivers passing through, freshwater fish appear on most restaurant menus. Sandre (pikeperch) and brème (bream) are especially popular and are usually served in a beurre blanc sauce. A specialty you will often find at markets is the traditional "fouace" or 'fouée', a small turnover stuffed with many different things such as rillettes (a paté-style dish), melted butter or goat's cheese. The majority of the cheese found in the Loire is goat's cheese – our favourite is Selles-sur-Cher from the neighbouring Blesois region.
Recipe
Creamy Risotto with a Carpaccio of Porcini Mushrooms (Serves 4)
Ingredients:
1 rabbit

2 bottles of dry

Chenin white wine
3 shallots
1 leek
2 carrots
1 head of celery, chopped
1 bouquet garni
1 bunch of parsley, finely chopped
1 bunch of tarragon, finely chopped
2g of agar
3 cloves of garlic
12 green asparagus, peeled
4 white asparagus, peeled
Garnish: chervil, baby spinach leaves, edible flowers of the season, radish (finely sliced), oil and balsamic vinegar reduction (or glaze)

Method:
Remove the legs and de-bone the saddle of your rabbit. Place the legs, shallots, leek, carrots, celery, bouquet garni and the wine in a large dish, cover and marinate overnight.
Simmer the rabbit legs for 3.5 hours (the meat should fall off the bone). Ten minutes before the end of the cooking time, add the rabbit saddle.  Remove the saddle and put to one side with the rest of the meat, then filter the liquid/stock. Take 500ml of the stock and boil along with the agar. Add the meat, parsley and tarragon. Place in a container to cool.
Cook the green asparagus in salt water. Cut the raw white asparagus lengthways and marinate with a little olive oil. Once cooked, cut the heads off the green asparagus and put to one side. Mix the stems with 20ml of olive oil, parsley and tarragon, then sieve.
Portion the cooled terrine accordingly. Place three thin slices of rabbit saddle on top, followed by three green asparagus tips, a few slices of the raw white asparagus, along with the garnish. Dress with several drops of the herb and asparagus oil and a fine drizzle of the balsamic vinegar reduction.

The chef: Jacques Arrayet, Hotel L'Aubiniere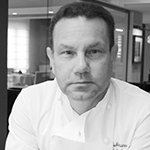 The owner of the hotel, and gastronomic chef, Jacques discovered his passion from an early age. Having graduated from a Hotel School in Biarritz, Jacques acquired experience in some iconic hotels in Paris. He worked alongside chef Duguet for five years, which allowed him to express his art, before becoming proprietor, with his wife, of Hotel L'Aubiniere in 1989.
Vlad Ryser, Programme Manager at Headwater, said: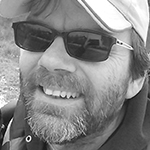 "This recipe goes perfectly with a smooth wine, such as a Pinot Noir – Burgundy like to think that they own the rights to the Pinot Noir grape, but from my experience the Pinot Noirs in the Loire Valley give them a run for their money and should definitely be sampled whilst out and about."
Savour the flavour in the Loire
During our self-guided Loire Gastronomic Cycling holiday you'll spend two nights at the bijou Hotel L'Aubiniere. Odile is a trained sommeliere and Jacques is an artistic chef whose trained eye finds the best regional produce to conjure up dishes that are full of taste and natural flavours.
Prices from £1,149 per person – all breakfasts and gastronomic evening meals included.
6 nights/hotel-to-hotel/departs every two days from 11 May '17 to 8 Oct '17.