Food is a fundamental part of any holiday experience and at Headwater we pride ourselves on choosing locations where you can sample the best of authentic regional cuisine. Whether it's a gourmet meal paired with the finest wines, a cookery lesson sampling local delicacies or a simple local dish that just hits the spot, food is king on a Headwater holiday.
To provide you with a taster of the food on offer in Piedmont, or if you've travelled with us before, to enable you to recreate moments from your travels, we have spoken to a local chef who's provided a flavoursome recipe that you can put together in your own home.
Piedmont and food
Tucked away in the north-west of Italy is the gastronomic gem Piedmont – home of the Slow Food Movement, characterised by rolling countryside and sweeping vineyards.
The region was deservedly put in the spotlight by 2015's Masterchef: The Professionals and Gino Di Campo also featured the delicious delicacies of Piedmont in his 2016 series, Gino's Italian Escape. Its rich and fertile landscape is responsible for some of Italy's finest food and wine. Think quality, local meats such as locally-caught game served up in mouth-watering ragùs, aromatic white truffles and signature cheeses like Gorgonzola and Toma delle Langhe. Not forgetting crunchy hazelnuts that grow in lush hazelnut groves around the region. In Alba, the famous chocolate is hard to resist – home of Ferrero Rocher, the sweet scent fills the air as you explore the bustling piazze.
Recipe
Creamy Risotto with a Carpaccio of Porcini Mushrooms (Serves 4)
Ingredients:
320g Carnaroli rice
1lt chicken stock
60g fresh butter, to toast the rice
100g fresh butter, cut into cubes
75cl bottle of Moscato
80ml white wine
1kg red onion, finely chopped
100g grated Parmesan cheese
Fresh Porcini mushrooms, chopped
1 bay leaf
Star of anise powder
Extra virgin olive oil
Salt and pepper to taste
 Method:
Gently fry the onion in a little extra virgin olive oil with a pinch of salt and pepper and the bay leaf.
Add the bottle of Moscato and let it reduce until it's nearly all gone, then blend and put through a fine sieve.
Toast the rice in a pan with the 60g of butter and a pinch of salt, soften in the white wine and then cook in the boiling stock (12mins after adding the stock) on a low heat, gradually adding the stock a bit at a time.
Six minutes before rice is cooked, add the Moscato-cooked onion.
At the end of the cooking time, stir in the 100g of butter and Parmesan cheese and season to taste.
To serve – add the Porcini mushrooms, a touch of extra virgin olive oil and a dusting of star anise powder.
The chef: Damiano Nigro, Relais Villa d'Amelia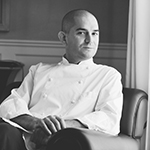 Damiano learnt his trade under famous chefs including Marco Pierre White, and gained his Michelin Star in 2011. He specialises in creative yet traditional Italian cooking, mixing classic Piemontesi flavours with a rich Puglian twist, straight from his roots. He personally selects top-quality seasonal ingredients for his cuisine supplied by small local producers.
Heather Godbert, Senior Programme Manager at Headwater, said: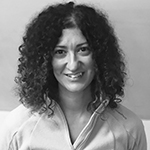 "This will make a perfect main course if entertaining at home – although in Italy, risotto is served as the first course, with a hearty main to follow and then the dessert. Damiano gives his risotto an unusual yet highly tasty twist, with the local Moscato wine (don't forget to bring a bottle home if you visit Piedmont!)"
Refresh your palate in Piedmont
On our self-guided Gastronomic Barolo Cycling holiday you'll spend two nights at Relais Villa d'Amelia, just outside Benevello, which boasts a superb Michelin-starred restaurant serving delicious gastronomic meals.
Prices from £1,599 per person – all breakfasts and gastronomic evening meals included.
8 nights/hotel-to-hotel/departs every two days from 11 May '17 to 14 Oct '17.