There's always been an air of alluring mystery circling the Galápagos Islands. Serenely adrift 620 miles from its Ecuadorian mainland, the archipelago represents all of those far-fetched pipe dreams of selling your two-room bedsit in Slough to knuckle down for good in the rugged and astoundingly beautiful wilderness. Amidst the sea of miraculous scientific discoveries that have happened here since Charles Darwin's field studies in 1835, we often overlook the contributions of the few settlers who decided to follow up on those dreams, and sod it all for a life in the wild.
Quite why a soap opera adaptation of these initial settlers' island lives has never surfaced is beyond a mystery. The events that took place after their arrival in 1929 could be drawn out on the screen to a degree that rivals Eastenders.
It all started when Dr Friedrich Ritter of Germany abandoned his practice and his wife and eloped to Floreana Island with one of his patients, Dore Strauch. They had become fed up with Germany's great depression and needed the most dramatic escape route. Two years later a German family, the Wittmers, showed up to escape Germany in a similarly dramatic way. Travelling 6700 miles to the other side of the world to meet more Germans was in neither of the two sets of inhabitants' plans, so they set about duly ignoring each other as much as a speck of sand surrounded by water will allow.
If space was not scarce enough, the next arrival ensured that relationships would become seriously fraught. Eloise Wehrborn de Wagner-Bosquet AKA 'The Baroness', AKA 'The Empress of the Galápagos' as she tended to refer to herself, touched down in a wave of modesty shortly after the Wittmer family. She was an Austrian accompanied by two German lovers, Robert Philippson and Rudolf Lorenz, all of whom lived in a lavish homestead named 'Haçienda Paradise' which was funded by donations from passing yachtsmen who had heard of the Baroness through her steadily growing role in the international press. As the original German hipsters, Ritter, Strauch and the Wittmers were concerned that Floreana Island was becoming a bit too mainstream.
This inevitably led to some friction. The obnoxious flamboyance of The Baroness became too much for Ritter, whose anger erupted in numerous tirades at The Baroness, her entourage and even Strauch. The Baroness replied by badmouthing her neighbours to the visiting yachtsmen, who relayed everything to the international press. Meanwhile, tension at Haçienda Paradise caused by increasing resentment of Lorenz by The Baroness and Philippson had become too much.
According to the Wittmers, The Baroness and Philippson had taken up the offer of some American friends to sail for Tahiti and never return, but neither Ritter nor Strauch remember a yacht turning up, fuelling suspicions that they had been murdered by Lorenz. When confronted with the suspicions, Lorenz fled on a small fishing boat skippered by Norwegian fisherman, Nuggerud, which ran aground at Marchena Island, where both men's sun-baked remains indicated that they had died of thirst. A few months afterwards, Ritter died of what Strauch ascribed to food poisoning from uncooked meat, but what many believe to be a very deliberate poisoning attempt by her due to their rapidly deteriorating relationship. The only unscathed survivors of this soap opera were the Wittmers, who cashed in on their land when the tourism industry took off, leaving their present-day family as very wealthy beneficiaries.
However sordid the lives of these early islanders, and however feeble their contributions to Darwinian science, they undoubtedly helped to put the Galápagos on the map. The archipelago today is a wonder of science and tourism and, as countless David Attenborough documentaries have attested, as varied in culture and wildlife as its Pacific brothers. It's the wildlife that has been most under threat in its history, but there have been a few recent signs of improvement.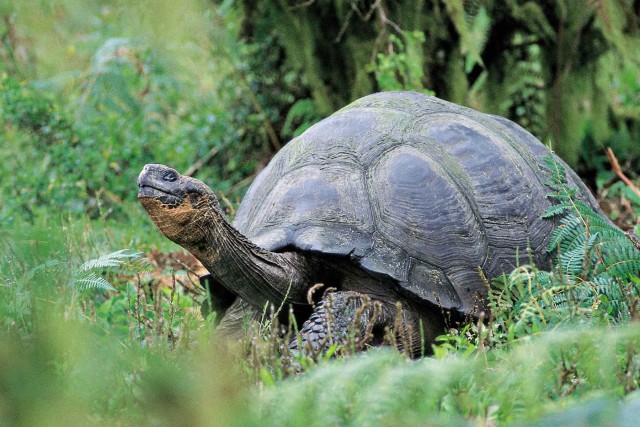 The tortoise, from which the islands get their name and their most cherished icon, was hunted to near extinction. Four of the subspecies that Darwin noted after his arrival can no longer be found, with the death of one member of the Pinta Island subspecies, nicknamed 'Lonesome George', the last to die in 2012. Overall numbers plummeted from around 250,000 to around 3,000 during the islands' discovery and occupation up until 1974, when real efforts to quell the decimation began, yielding an upward curve in their numbers, leaving us at around 20,000 today.
Now a recent expedition has given tortoise fanatics the world over (hands up, people) reason to celebrate. In 2008, scientists from Yale University found traces of DNA from the extinct Pinta and Floreana subspecies in tortoises from other islands. The discovery heralded hope that these subspecies can be revived through selective breeding, meaning Lonesome George might not have been so lonesome after all. These captive tortoises are currently being reintroduced to their native islands, similar to the recent reintroduction of Española Island tortoises that helped stabilise the Española ecosystem.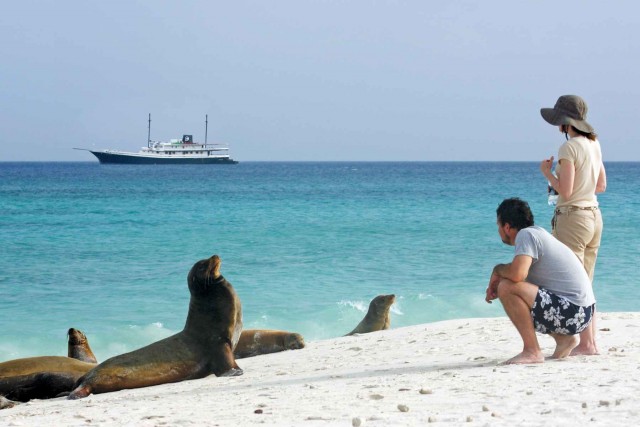 Aside from the Galápagos' lovably slow-crawling, trademark residents there's a treasure trove of animals here who are unafraid and camera-friendly. The relatively small amount of predators on the islands means that visitors can cosy up to sea lions, land and marine iguanas, blue-footed boobies, penguins and cormorants without the horrible gut-punch of rejection. The fact that most of the names for animals here start with 'Galápagos' implies the rarity and uniqueness of the wildlife to be found on these islands.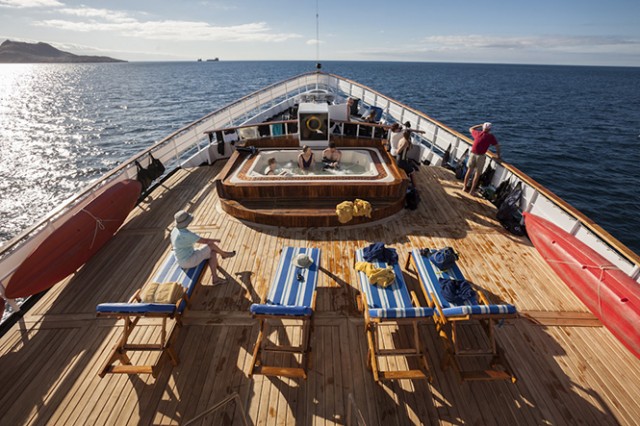 If you're searching for a holiday experience like no other, it's likely you'll find it on the Galápagos Islands. Headwater runs two different types of walking holidays: Darwin's Enchanted Isles tour, taking in those marvels of isolated evolution and the Central & Remote Northern Islands tour, swinging by Floreana Island – the setting for the unsolved drama which unfolded in those early settlement years. Whichever you choose, prepare to immerse yourself in the most unique island life.