Catherine Crone, our PR and Communications Consultant, and her husband Phil enjoyed our Contrasts of Puglia Cycling holiday earlier this year. Here Cath tells us all about her search for a bottle of wine…
My first taste of Puglia was in the form of a large glass (or two!) of Primitivo di Manduria in a tiny Welsh wine bar. Strange how most of my love affairs are inextricably linked to grapes! Anyway, this was no ordinary bottle of plonk. It really was quite an exceptional wine which convinced me, on the spot, to put a trip to the region responsible high up on my travel wish-list.
Fast forward four years or so and in April 2014, Phil and I touched down in Bari, albeit in the rain, for our sun-filled (hmm?), wine-filled (just for the record, our first drink was a hot chocolate) cycling break.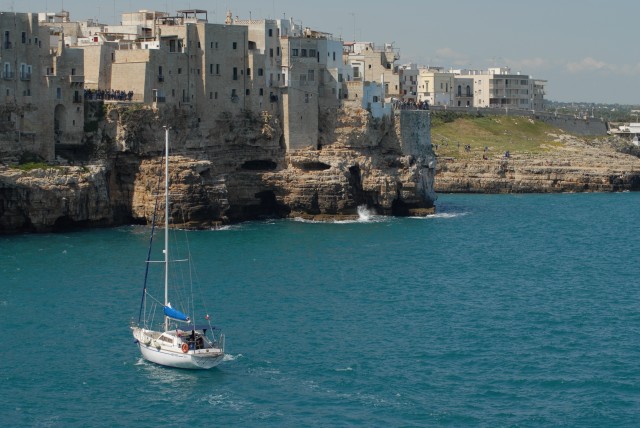 In a region scarcely touched by tourism, especially outside of July and August, we looked at first like extras from Karl Pilkington's 'Idiot Abroad' TV show. The locals were all cosily wrapped up in scarves and coats, smiling sympathetically at our white linen 'we're on holiday' attire! We were united only by our designer shades. I must add, I never have quite understood the Italians' obsession with sunglasses, whatever the weather, both indoors and out.
At this point I really needed to track down that bottle of Primitivo. And so we did that evening, in the gorgeous dining room at our hotel in Monopoli, where it lived up to and probably, exceeded all of our expectations! After rounding off the evening with a couple of incredibly potent limoncello's (homemade -lethal!), the rain didn't really seem that important and we went to bed – happy!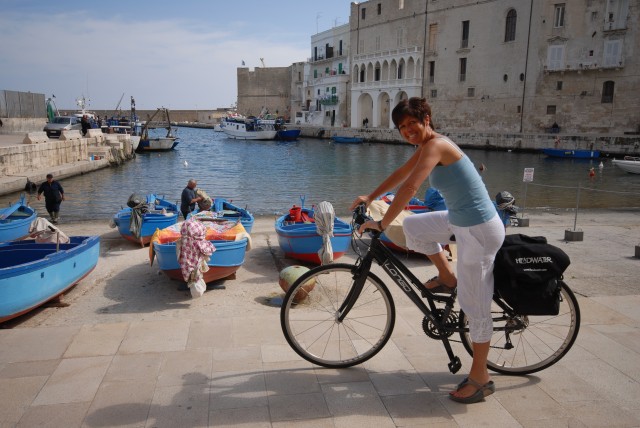 The next morning we woke to glorious sunshine. Thank you to Pope Francis or whoever was watching over Italy that day. We began our trip in earnest, as we embarked on a fabulously varied, sun-soaked discovery of the 'heel of Italy's boot'. Too many highlights to list but just some were:
The understated, undersold Old Town of Monpoli; its cobbled streets, hidden squares, artisan shops and truly unique coffee bars.
Seafood lunch on the beach in Capitolo;
Two nights in an authentic trullo house in Alberobello (we upgraded to a suite with a garden, so reasonably priced and worth every euro);
Being invited into the kitchen of the tiniest bar-cum-restaurant in Noci and told to look in the fridge and point to whatever we fancied to eat.
The 68-choice pizza menu at the local brasserie in Conversano.
The impromptu classical music in a hidden courtyard in Poligano a Mare.
The fabulous 12km descent from Alberobello down to the Adriatic which was probably the most exhilarating cycling we've ever done and with the most incredible coastal views! A real added bonus.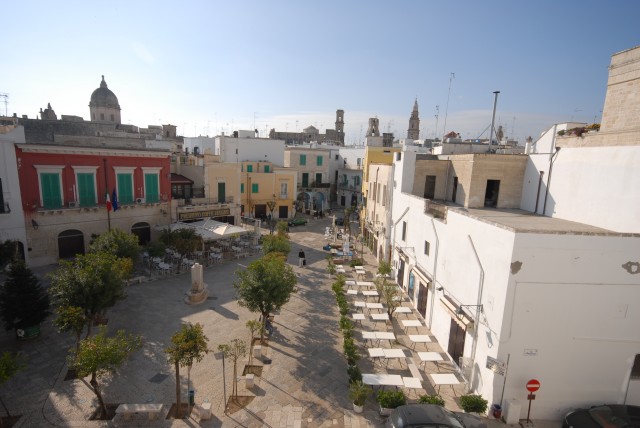 In a nutshell, we went to Puglia expecting good weather, good cycling and decent hotels. It certainly didn't disappoint and it delivered so much more! The unspoilt coast, the delicious great value meals, the lovely towns and villages and, above all, the friendliest Italians we've ever had the pleasure to meet. Do think about visiting but pack a phrase book, most of the locals don't speak a word of English!!