PRESS RELEASE: June 2013
Not yet made plans for this years' summer holiday? Not a problem – from Alsace to Austria, and from Slovenia to the Swiss Alps, Headwater has some great, interest-packed walking holidays to tempt you! Some are independent, others guided; most involve walking from hotel to hotel (always with your bags moved for you), others are based in one place, with daily walking routes provided. And, wherever you choose, Headwater guarantees a warm welcome, high quality hotels and great local cuisine!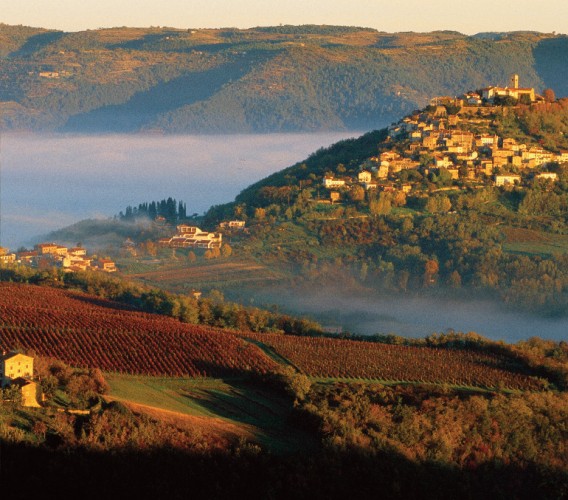 CROATIA: Castles to Coast Walk
This 8 day self guided walk explores the Croatian province of Istria which lies at the very northern tip of the Adriatic. The coastline sparkles with bays and inlets, while inland castles and palaces in hilltop villages ?oat in the early morning like stone battleships on a swirling sea of valley mist. Istria is a fusion of Croatian and Italian in?uences in cuisine, architecture and language – so much so that it is often referred to as Croatia's Tuscany. Departs every Tuesday until 24th September.
FRANCE: Provence & Cote d'Azur
On this 8 day guided walking holiday we've combined some of the most spectacular walks in Provence with mediaeval villages, bustling ?shing harbours and magni?cent coastal stretches of the famous Côte d'Azur. It's a glorious mix. Impressive pirate strongholds stand high in the ancient forests of the Maures Massif; once great monasteries sit silent in the high valleys; traditional little ?shing boats bob happily between the sleek yachts of the rich and famous. Departs selected Sundays until 22nd September.
MADEIRA: Marvels of Madeira
Surging from the Atlantic Ocean, Madeira o?ers a temperate sub-tropical paradise perfect for year round walking. This 8 day self-guided holiday follows the island's unique network of water channels, known as levadas, from the sleepy wine village of Santana on the north coast to bustling Funchal in the south, passing a bewildering variety of ?ora en-route. Departs selected Thursdays until 31st October.
FRANCE: Alsace Wine Trail
This gentle, relaxed 8 day self-guided walking route runs in parallel with the central part of the famous Route du Vin, where practically every colourful village has its own vineyard and east-facing ruined castle. There are countless opportunities to taste wines along your way. The Alsatian vignerons are so proud of what they produce that they will insist you sample their whole range, while everyone enjoys a good chat. Departures every two days until 24th Sepember.
SPAIN: Catalan Classic Walk
The stunning 'Cap de Creus' peninsula, has been carved by the elements into sweeping green valleys and a smugglers' paradise of shimmering shallow coves and azure harbours. It is is one of the largest protected Natural Reserves in Catalunya, and the only one in Spain that incorporates a Marine Reserve. The sea is your constant companion on this 9 day self-guided walk, with magical views every day from the high trails that lead you through the reserve. Departures every two days until 8th October.
ITALY: Highlights of Tuscany
This 11 day guided holiday combines gentle walking with sightseeing and introduces you to the very best of Tuscany. It's a journey of variety and beauty, balancing the rugged landscapes of the Cinque Terre and the Apennine mountains with the splendour and opulence of some of Italy's ?nest Renaissance cities. Departs on selected Wednesdays until 2nd October.
For bookings and further information, please call Headwater 0845 322 4672 or email sales@headwater.com 
Images: https://www.flickr.com/photos/headwater