So, we've gotten over that hump in the year, January; a time for recouping some of those huge financial losses from the tail end of last year. It's a good feeling, but unfortunately, you've gone and fallen in love, so now you have to dip back into those savings to satisfy your partner's insatiable appetite for devouring every penny you have. Well, they do deserve the best, so instead of paying five times the usual for eating pretentious food in an overcrowded restaurant this Valentine's Day, here are four ideas from around the world that will keep the love train rolling until at least this time next year.
1. Kyoto – Japan
Generally, unless your name ends in Kardashian, you'll probably find that marriages last more than a few months. It's impossible to say in which exact month you'll be feeling the pulsating lurch of love the hardest, but if your relationship happens to span at least half a year, Kyoto's got you covered for all eventualities. The ancient Japanese capital has a fantastic all-year-round appeal. Winter often sees a blanket of snow settle delicately on the bones of the skeletal trees, amongst the bushes and on the layered roofs of the highly cherished Golden Pavilion, giving the picturesque scene a beautifully monochrome reflection in the pond on which it stands.
The city blooms in extravagant fashion a few months later when the iconic pink Japanese cherry blossoms take centre stage; coaxing even the most introverted lovers into flirtatious passion with scenes that rival any romantic competitor the world over. Autumn has a similar effect. The trees sing again with the most vivid array of autumnal colours, setting the sky and the ponds of Kyoto's various gardens ablaze in flurries of red, orange and yellow leaves. Summer is the season of culture in this traditional city, as the long evenings become flooded with ancient dances and the nighttime with beautiful and eerie torch-lighting rituals.
2. Jaipur – India
Definitely the roughest gem on this list, but a gem nonetheless, is one of India's most flamboyant destinations, Jaipur. The "Pink City", as it has been titled, owes its outrageously uniform colour scheme to the loneliness of Prince Albert, who missed his wife so much during his 17-week royal excursion in 1876 that the Maharaja of Jaipur, Sawai Ram Singh II, in an attempt to relieve the Prince's woe, decided to paint his entire city in the traditional colour of welcoming and hospitality: terracotta pink. It's hard to say if it helped, but the Maharaja's wife loved it so much that the city's romantic tinge became an actual requirement by law which still remains to this day.
The plethora of forts bathed in a hazy pink now add a royal sense of grandeur to the city. They were historically used for a mix of defence and residency, each giving a different glimpse into the exotic lives of Jaipur's powerful rulers. The only true way to enter Amber Fort is on a lavishly decorated elephant's back, and the towers of Jaigarh Fort give panoramic views of Jaipur's mountainous surrounds. Birla Mandir temple is awash with women in colourful sarongs come nightfall, as this is the time when the moonlight accentuates its contoured beauty.
3. Vienna – Austria
There aren't many bodies of gently propelling water in the world more romantic than the one that cuts Vienna neatly in twain. The Danube has garnered such a reputation by finding itself squarely situated in a city with a truly remarkable output of artists, composers and poets. Vienna is essentially built around these creatives, with most statues, buildings and parks dedicated to the individuals who have romanticised the heck out of the Austrian capital for hundreds of years.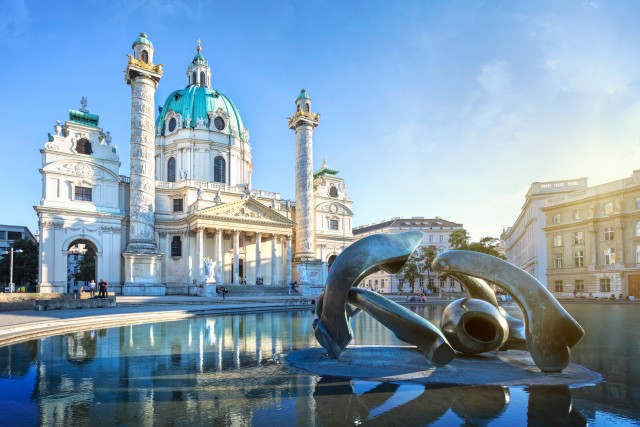 And there are certainly harder places to romanticise. You can see the city's elegance stretch for miles. You can hear the lilting classical tunes from every shop door. The sheer amount of ornate buildings draped in palatial grandeur is simply breathtaking. It's all so impossibly grand that the marvellous state opera, at its inception, was considered the ugliest building in the city, leading its two lead architects to commit suicide out of shame.
You can follow the swell of the beautiful Danube as it snakes its way through mountainous Austria with Headwater's Passau to Vienna Cycling tour, which takes you from quaint little towns to the country's most elite and romantic metropolis. Score extra romance points on day 4 in picturesque Linz, where the ancient baroque architecture meets the new luminescence of the Lentos Art Museum and Ars Electronica Centre in a passionately discordant exchange.
4. Maasai Mara – Kenya
There can't be many feelings more peaceful than lazily drifting above the Maasai Mara National Reserve in Kenya, with a glass of Champagne in your hand and the world's largest mammal migration at your feet. Hot air balloon rides are this region's romantic speciality and making your ascent to meet a sky awash with the pink and orange hues of dawn will be an experience not soon forgotten. If you time the whole thing right, in September and October you'll be soaring above thousands of wildebeests, zebras, impalas and gazelles galloping from the neighbouring Serengeti in search of food.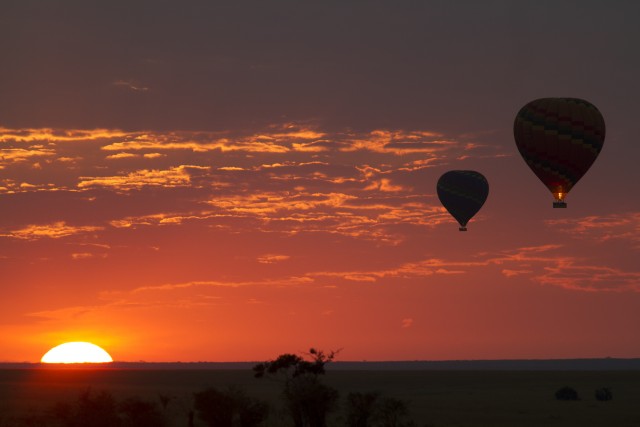 The variety of life on the vast plains of the Mara is simply stunning. More than 570 species of bird and 60 mammals call this land home, and the density of animals means you're never far away from another furry, feathered, or spotted African icon. The plateaus, escarpments, hills, woodlands and savannas of the Mara are located in the Great Rift Valley – a huge fault line in the earth that makes for some incredibly dramatic scenery. The whole area becomes bathed in such a diversity of colours within 24 hours that there's a very real possibility you'll be more intimate with your camera than with your other half.