The Sustainable Destinations Top 100 was unveiled this year, so we checked the list out to see whether any of our holiday destinations have made the cut. We're really pleased that Geilo in Norway, Azores in Portugal and Terres de L'Ebre in Catalunya are on the list. But what are the qualities that make a holiday 'green'?
Being environmentally-responsible when booking a holiday can require a little more time and research but once you've made the right choice you'll feel like you're travelling to a destination that cares, and comforted that you can leave a positive footprint on the place whilst you're there. It's nice to make a difference!
Here are our top tips for going green on your travels:
Choose an eco-friendly destination
Take a look at this year's top 100 sustainable destinations before setting in stone where you want to travel to.
Stay in green accommodation
When deciding where to stay, check out the hotel's sustainability credentials. Does it source local food? Does it employ local people? What is their policy on washing linen, towels and napkins? We choose our Headwater accommodation carefully based on a sustainability rating system.
Travel slow
Exploring a country by bike, on foot or in a canoe is a green way of getting about your destination. Not only does it enable you to get up close with nature and really experience a destination but it's also far greener (obviously) than travelling by car, and cuts your carbon footprint.
Ditch the plastic water bottle
When visiting a different country, often it is safer to drink bottled water; however, plastic has an impact on our environment. Single-use water bottles end up as rubbish, and this plastic can take a thousand years to biodegrade. Bringing your own reusable water bottle is a great alternative that enables you to limit plastic waste, providing you use it. Here at Headwater, we've made the eco-conscious decision not to provide complimentary water bottles on our cycling holidays from 2017, due to the fact that many don't get used by customers (who bring their own) or they are being thrown away. Hopefully this will reduce the carbon footprint of our holidays further, little by little.
Eat locally sourced food
So, you know your hotel sources their food locally, but what about when eating out in restaurants, cafes, etc? Keep an eye out for local eateries advertising local produce – these places are reducing their carbon footprint – and the food will taste better too!
Case study: Geilo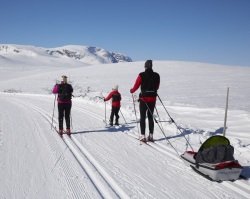 Geilo is a mountain village in the centre of southern Norway, situated next to two national parks. Being granted the title of  'Sustainable Destination', Geilo has a strict nature management system and pays attention to visitor management and communication strategies. They also invest in an innovative power supply with power-saving strategies, re-use solid waste from run-off by producing peat for their cabin roofs, promote environmental certification for local companies and intensively support local producers.
Our Geilo Winter Activity holidays :
Our Geilo Winter Activity holiday has a 90% sustainability rating. We've worked this out based this on the environmental impact of each element of the tour from the point of arrival in the destination resort.
We've looked at the following:
The number of local transfers throughout each trip and mileage
The size of the vehicles and using the most eco-friendly vehicles
Whether meals are prepared using locally-sourced products
Selecting small, family-run properties that employ locals where possible
The hotels' policy on washing of linen, use of solar panels or water conservation systems
Using local guides or leaders for all holidays
Whether there is opportunity for customers to inject cash into local communities.
We hope you've picked up some interesting information from this blog on how to travel green. Do you have any other green tips – or maybe you have an opinion on green travel? Let us know in the comments below, we'd love to hear from you!