In Homer's Odyssey there is an island called Ogygia, the home of the demi God, Calypso, where she keeps the main character Odysseus from returning home. There's been a lot of speculation about where exactly this island is in the world we know, and the best guess has been Gozo. So let's have a look at that.
The Myth of Calypso
Calypso was a nymph who runs through Greek mythology, not a demi-god, but that's grand enough to get you interested. She did quite a few things throughout ancient-Greek lore, but her most famed role is in the story of Odysseus, when she stole him and kept him on an island for seven years in an ultimately-vein attempt to make the handsome chap her immortal husband. If we going on current marital states, I'd say that seven years was a good stint, but this was a few thousand years ago, and I think things lasted a little longer, back then.
Gozitan Food
This is where we try and combine the two things. You'd assume that Calypso and Odysseus ate something other than grapes for those seven years, so is there any clues in current Gozo cuisine that we can attach to them?
There's a traditional Maltese dish called Aljotta that would work quite well here. It's a fish soup that is often eaten  around lent, and fits into the highly-economical way of life in the Maltese islands, born from their history of financial and military hardship – by that, I mean you use the whole fish. Head and tail and everything except the guts.
Aljotta recipe
This dish will definitely serve four, and you may have a few portions left over if you're tiny people that don't eat much.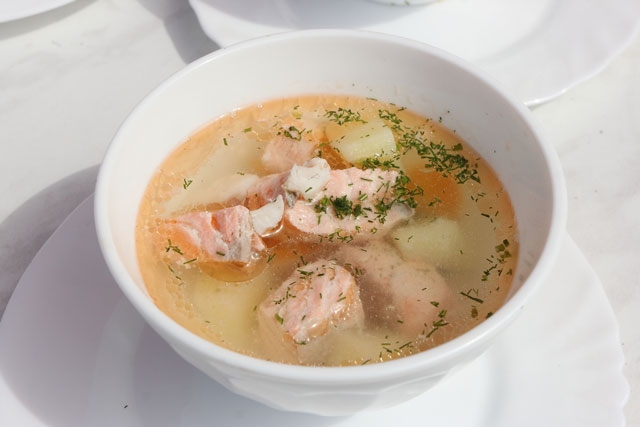 Ingredients:
800g Fish – preferably rock fish, but snapper, halibut or flounder will do.
8 Cups of water with fish or veg stock
1 Onion – Finely Chopped
1 Bay leaf
3 garlic cloves
1 handful of mint
2 tbspn oil
2 Lemons
1 cup of rice
6 vine tomatoes
seasoning
The creation of the soup is, like most soups, pretty easy.
Fry the garlic and onion for five minutes until they're soft.
Add in the tomatoes with the herbs and stock water, then add the fish until cooked (roughly 5-10 minutes)
Take the fish out of the soup and remove the skin, heads, tails and bones.
Strain the liquid, putting it back onto the heat for the rice. Once the rice is cooked, add the fish back in, give it a squeeze of lemon. Then serve with the other lemon, sliced, bread, and some fresh parsley if you have it lying around.
Books based on Homer's Odyssey
If you came here for the food but want to know more about the Odyssey, or perhaps you've read the original novel but want more, here are some other great books based on the tale.
James Joyce – Ulysses 
This is probably the most  famed link to Odyssey. James Joyce slipped several parallels in the modernist novel between Odysseus and the protagonist, Leopold Bloom. Good news is that this book is public domain, so you can grab it for free pretty much anywhere.
View Ulysses on amazon
O Brother, Where art Thou?
This film, while seemingly unrelated, is a modern satirical film based on the odyssey. Let me know if you've watched it and can see the similiarities. I can't.