Heart of Veneto Cycling
This single centre self-guided cycling holiday offers a real insight into rural Veneto. It's easy to become enchanted with the idyllic, back-to-nature lifestyle, that doesn't compromise on the comfort and style that genuine Italian country living boasts. The area is excellent for cycling as the valley floor here is criss-crossed with lots of quiet country lanes. We've put together a selection of circular routes of varying lengths, so you can be as active or relaxed as you choose. Further afield, the must-see regional highlights, such as Venice, Vicenza and Padua, can all be reached on a full day out. Or, of course, you can just laze by the pool (typically open June - end Sept only) and soak up the warm Italian sun!

Your base for the week is the charming AAA nine-room, Agriturismo l'Albara, nestled just outside the tiny village of Villaganzerla, in the heart of the Venetian countryside. Run by the affable Valfrido and Angelina, their daughter, Romina, and son, Federico, this is one of the friendliest places we've encountered. Don't be surprised if you're invited to take part in fruit picking or whisked away to the local grappa distillery just down the road!

The bedrooms here are cheerfully decorated with wrought iron bedsteads, brightly coloured throws and polished wooden floors. The dining room is light and airy and serves fresh, regional cuisine according to what's in season. Everything, even the wine, comes from the farm!
Read press reviews of this holiday in Daily Mail.
Day-by-day itinerary
Day 1 Arrive in Villaganzerla
Arrive at your friendly agriturismo in Villaganzerla where you'll be kitted out with a bike and go through the various cycling choices available to you before dinner (time permitting).
Day 2 Bastia Market 23km/14.5mi
Sunday is market day (morning only) in Bastia, so we've built in an easy cycle along quiet country lanes criss-crossing the Paduan plain to get you in your stride. Stroll around the stalls before heading off to the tiny village of Lovolo, a charming village square with its ancient lime kiln, for lunch. Your return route takes you through the delightful hamlet of Monticello as you wind your way back to Villaganzerla.
Day 3 Lake Fimon 33km/21mi or 38km/24mi
Today's route takes you along wonderfully tranquil valley lanes and on to Lake Fimon, a totally undiscovered gem surrounded by shaded woodland. There are lots of little spots for picnicking by the water's edge, or you can take lunch at one of the lakeside trattorie. It's a lovely 5km circular cycle around the lake, before you meander back amidst the green backdrop of lush valleys and rolling hills to your agriturismo.
Day 4 Villas and Vineyards 25km/16mi
Heading north this morning, your first stop is the lovely village of Costozza, named after the network of caves in the cliffs above, with its impressive campanile, beautiful villas and extensive formal gardens lined with statues. Ice cream lovers should call in at the locally renowned gelateria before looping south and on to Lumignano, famous locally for its annual pea festival! Your route then follows the strada del vino as you wind your way through rows of immaculately tended vineyards, against the rolling backdrop of the Berici Hills. This is the only area outside Hungary where the red Tocai Rosso grape is grown. Stop off for some tasting, perhaps in Castegnero or Nanto, with its striking Venetian bell tower, before pedalling east and back in time for a swim before dinner.
Day 5 Vicenza and the Villa Rotonda 33km/21mi
A cycle path (those feeling lazy can catch the bus) takes you to UNESCO-recognised Vicenza, nicknamed 'Venice of the Terra Firma' for its marvellous architecture. Palladio designed dozens of the city's buildings from the Basilica Palladiana in the main square to the Teatro Olimpico, so there's plenty to explore. On the way home you can visit the famous Villa Rotonda and its surrounding gardens.
Day 6 - Free day exploring or Visit the Praglia Abbey 37km/23mi
Why not give the bike a rest today and head off to one of the great Italian cities? Venice, Verona and Padua are all easily accessible by train from Vicenza (short bus or cycle ride). If you prefer to avoid the crowds, perhaps take the bus to Bassano, home to the region's famous grappa and a museum in its honour. If you fancy more of a challenge, take your bike and discover the natural beauty of the Euganean Hills National Park. Alternatively you can ride down to Praglia and visit the Abbey and the nearby palatial Palazzo dei Vescovi.
Day 7 Southern Strada dei Vini Berici 25km/16mi
Today, ride past Villa Pigafetta-Camerini, inhabited by the Camerini family since 1700, to Mossano and enjoy the stunning panorama of the Venetian plain. The wine road undulates through the vineyards between the towering Berici Hills and the Paduan plain, offering wonderful vistas on all sides. You pass through the pretty villages of Barbarano and Villaga before turning east towards the idyllic Franciscan monastery of San Pancrazio. From here you have a lovely descent to Ponte di Mossano and a ride along the quiet country lanes of the Paduan plain back to l'Albara.
Day 8 - Leave Villaganzerla

For a longer tour, why not consider combining this with our Venetian Villas and Vineyards Cycling or Walking in the Venetian Hills
Where you stay
This single-centre holiday is based at the following hotel. If you'd like to extend your stay here, or upgrade your room, just let us know at the time of booking. You can call our sales team on 1-800-567-6286 to discuss accommodation options.
Agriturismo L'Albara, Villaganzerla (3 Acorn)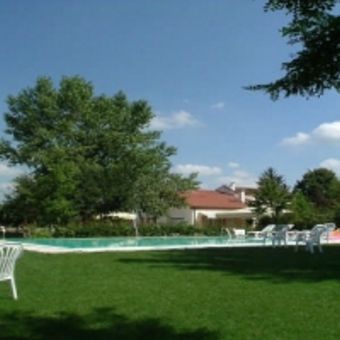 The Agriturismo L'Albara is situated about 1km from the centre of the tiny village of Villaganzerla in the middle of rural farming land. The area is known for its olive and cherry trees.

L'Albara is run by Valfrido, Angelina and their family. They are keen for you to discover the very best that this delightful region has to offer - from must sees around Venetia, to the local cuisine! Everything here comes freshly prepared according to what's in season and the wines come straight from their own vineyards!

The bedrooms here are cheerfully decorated with wrought iron bedsteads, bright coloured throws and polished wooden floors. They are all ensuite. The dining room is light and airy, with exposed wooden beams and dark wooden tables with views over the surrounding fields - the perfect setting for your evening meal.

Further details on the hotel website, and independent reviews on Trip Advisor.
---
Extra nights and stop over hotels
If you'd like to extend your trip with extra nights at the start or end, or if you'd like to arrange a stop off point en-route, then we recommend the following hotels.
Giulietta e Romeo , Verona (3 star)
The Giulietta e Romeo hotel, named after the town's most famous lovers, lies in a quiet side street just yards from the Arena. The hotel is fairly modern in style and very comfortable. There is a large lobby area, which leads onto the breakfast room, which is decorated in white with subtle lighting and art deco friezes on the windows.

The rooms are all carpeted and traditionally decorated in blue and red décor with cherry wood furniture. They are all en-suite and have double-glazing so there is little noise from the street. A couple of rooms even have the famous Juliet style balcony if you fancy a re-inaction!

Further details on the hotel website, and independent reviews on Trip Advisor.
Hotel Kette, Venice (4 star)
The Hotel Kette is set in the heart of Venice, a short distance from Teatro La Fenice, from via XXII marzo, the elegant shopping street, 2 minutes from piazza San Marco and only 10 minutes from Ponte di Rialto. So this is an excellent base for exploring the many delights Venice has in store.

The 63 en suite rooms are immaculately furnished and are fully worthy of the four-star rating.

It is possible to reserve a non-smoking room (please contact us and we will request this for you).

Further details on the hotel website, and independent reviews on Trip Advisor.
Travel options
Transfers included from Vicenza train station at 14:03, and back to at 13:15.
Please call our sales team on 1-800-567-6286 or email info@breakaway-adventures.com to arrange connecting flights.
Customer reviews
Everyone who goes on a Headwater holiday will be emailed a link to our post-holiday questionnaire where they can give us an honest assessment of all aspects of their holiday - everything from how quickly we answer the phone to how clean the hotels were - plus, of course, an overall rating and comments about their holiday.
Any feedback collected is posted straight to our website - totally unedited. So, for the real tales, twists and turns of our holidays, look no further than the reviews from our previous travellers.
Reviewed by Mr Ridley on 19/10/2016
Excellent holiday but, perhaps, not so much n the shoulder season.
Reviewed by Mrs Mitchell on 16/10/2016
Easy pedalling in the sun with local cuisine and a great chance to be somewhere where English is hardly spoken!
Reviewed by Ms Barbour on 05/10/2016
The Heart of Veneto cycling tour was a very positive experience for us. The rides were interesting, the distances appropriate and the cycling notes were very clear. Sarah, our Headwater rep, was very helpful and approachable. L'Albara, our Agriturisimo accommodation, was perfectly fine, the farm interesting and the meals delicious but there wasn't a lot to do in the evenings. Happily, we became acquainted with 3 friendly, fellow cyclists from Britain and at our dinners every evening we shared the day's experiences amid laughter and lively conversation. We would definitely choose Headwater again but would choose a tour on which we would stay in a different place every evening,
Reviewed by Ms Linsell on 05/10/2016
Good healthy weeks holiday
Reviewed by Mrs Lamont on 04/10/2016
Lovely place to stay, great food. Wine a little expensive at the farm.
Reviewed by Mis Dekan on 28/09/2016
Great cycling holday for those that want plenty of excellent scenery without too much effort - routes were easy to follow and a good 1 bike holiday. The only slight downside is the accomodation is quite remote so after the evening meal there is no where to go, but of course lots of chatter about the days experiences with fellow guests.
Reviewed by Ms Pye on 20/09/2016
Perfect. What far better than we could have imagined. The accommodation, food and quality of the cycles were all excellent.
Reviewed by Mrs Chambers on 13/09/2016
Great holiday overall. L'Albara lovely place to stay, family very welcoming and evening meals and wine delicious. Hannah also very delighted to have cake for breakfast every morning! Transfer from MarcoPolo to Venice mestre and then train to Vincenza quite tiring and a bit stressful. Probably worth suggesting at booking the option for a taxi transfer ( I know this is mentioned in the brochure)
Reviewed by Mrs Cox on 06/09/2016
Beautiful quiet region of Italy. Family at L'Albara are very welcoming. The food is excellent. A real get away from it all experience. This is our second visit and it was just as good the second time. Would happily go back again.
Reviewed by Mr Davies on 24/08/2016
This was our first cycling holiday abroad so we were looking for a central base from which we could explore on a daily basis rather than living out of suitcases. With hindsight I'm not sure we could have chosen better. The accommodation was superb (in particular Angelina's cooking!), the cycle routes of the right length (such that we had time to ride the mornings and relax in the afternoons) and there were opportunities to visit Vicenza or go further afield. Thoroughly recommended.
Reviewed by Mr Jackson on 22/08/2016
A superb holiday, tailored exactly to our needs and specifications. Our reception from our reps, Luke and Eleanor, was outstanding: nothing was too much. Very personable and up-beat - exactly what you want on holiday. Headwater's hotels are second to none, in perfect locations and with wonderful facilities. I can not recommend Headwater holidays high enough.
Reviewed by Mr Benner on 08/08/2016
the provision of laundry local laundry services would be much appreciated.
Reviewed by Mrs Bailey on 03/08/2016
A lovely week of gentle rides on quiet roads through beautiful countryside. At the end of the day we could look forward to a few hours relaxing by the pool at the wonderful agriturismo L'Albara, before a truly magnificent evening meal. We loved every minute.
Reviewed by Mr Bell on 20/10/2015
A lovely rural part of northern Italy with a number of quiet country roads, largely traffic free, to enjoy. The relative closeness of Vicenza and Padua gives the opportunity also to experience a number of cultural and architectural delights. Add to this the wonderful food prepared at The L'Albara Agriturismo and this is a holiday to savour.
Reviewed by Mr Harris on 29/09/2015
Very well organised lovely places to visit !!!!
Reviewed by Mr Broome on 25/09/2015
This holiday does 'what it says on the tin' - provides accomodation, meals & cycling with a rep available as required. The accomodation was a bit too far out of town for my liking - once dinner was over at 9:30 - 10.00 there was not much else to do. s a solo traveller, I had several days when there were no other guests to talk to, despite Headwater implying there was limited space avilable when I booked.. Finally, as a non-drinker, I was disappointed in the lack of alternative drinks at dinner: water or water. Apart from these small gripes I had a great time and loved cycling in the countryside. The food at the accomodation was generally very good and certainly ample quantities.
Reviewed by Mrs Bullock on 16/09/2015
This was our first experience of an activity holiday and none of us are experienced cyclists so we chose a grade one single centre holiday, whilst a little apprehensive after a hefty breakfast and a briefing from our excellent rep Sarah we set off on our first ride. The cycling was well graded and the route description very easy to follow, we did not get lost or go wrong at all during our weeks stay, best of all we were able to go at our own pace and explore some lovely countryside. Returning to our accommodation we were able to share experiences with the other groups over a glass or two of the local wines. We never thought we would find a cycling holiday relaxing but have returned home very chilled and despite the exercise about 5lbs heavier than when we started, which is a testament to the quality and quantity of the food. Thank you to all.
Reviewed by Mrs George on 15/09/2015
This was our 5th Headwater holiday. We like the attention to detail and the fact that we can rely on the equipment and the rep. We feel we are in good hands and that we can be sure of everything running smoothly. We enjoy meeting other Headwater customers. (I have put myself in the 'over 64' bracket, but my son now age 31 has been coming on these holidays with me since he was in his teens, and continues to enjoy them)
Reviewed by Mrs Hoile on 28/08/2015
A great place to tour on cycles, local people and hospitality are excellent
Reviewed by Ms Hawking on 08/08/2015
An extremely positive experience, wonderful accommodation and cuisine, superb support from the rep, gorgeous rides offered suitable to our experience, great fun and relaxing holiday had by all!
Reviewed by Mrs MacEnri on 04/08/2015
We were a group of 9, who were made to feel most welcome. L'alhambra is in a beautiful setting, and the pool was most welcome after a hot days cycling. The evening meals were always delightful, using produce from the farm, breakfast was however a little un imaginative and we had to ask for eggs-which were then available every morning. Sarah is very knowledgeable, whether your asking about pumping the tyres, local wine or the times of trains! She quickly found answers to our queries and made calls on our behalf. The wine tour and tasting at Catalunga was the highlight of the week- bigger saddle bags required!!
Reviewed by Mr Biddlestone on 03/08/2015
It was our first cycling holiday and both of us enjoyed the experience. The pool was excellent, the bikes excellent, the weather superb, and our hosts Valfrido and Angelina, their daughter Romina and son Frederico certainly made us welcome. If circumstances allowed, for we are both skiers, i think we would certainly entertain repeating the holiday. As we never cycled after 2 pm, we both thought the pool was an essential requirement. As for the food and drink. I can certainly believe it all comes from the farm, as it tasted so fresh, but this means only wine and water are served with the evening meal. Finally the rep, Sarah was organised and helpfull.
Reviewed by Dr Young on 27/07/2015
Booking was not entirely straight forward. I appreciate that we had different members of the party coming from different places - and indeed staying for different lengths of time -and with some dietary requests - but for me there is not the attention to detail that i would expect. I picked up several errors during the booking and invoicing procedures - that were just frustrating. Everything was eventually resolved but not without my going through every detail carefully. Unfortunately when one error arises one has to look even more closely at all the documentation- all of which was exceptionally time consuming.At all times I was dealt with politely, and am grateful for the written apology I received on this occasion . However if one can push through this - your holidays are just superb.Recognising that we were fairly energetic, Sarah provided us with 2 extensions on the given routes which were just what some members needed. Also, a previous guest, had written an alternative route back on the visit to the lake. That was wonderful but certainly in the 2 to 3 cycle realm - but we loved it.- so there is room to offer this as a more than one cycle if wished. The hotel pool was wonderful and much used in the very hot conditions! The family at the hotel could not have been more helpful and the atmosphere there was just lovely- marvellous to relax there after the cycling. For future customers you may like to add that if you have an inordinate wait at venice station there is a great restaurant opposite called Soul Kitchen - who allowed us to sit for 2 and a half hours over a lovely easy meal.
Reviewed by Mrs Griffiths on 10/07/2015
Excellent from start to finish as usual!
Reviewed by Mrs Allen on 28/06/2015
A really enjoyable holiday,in a beautiful area. Take note of the weather forecast in the Veneto - it seems it is often stormy in June. Great cycling but take your own saddle - I have a ladies saddle on my own bike and I never made friends with the one on the bike that was supplied, which, despite being a gel saddle was a generic one rather than a saddle for a women. The bike itself was excellent apart from the saddle problem. Another warning is take high strength anti-mosquito solution, I was bitten badly even though I was using what I thought was a good quality solution - I bought some high strength from the local supermarket and that worked well but I had to make sure I put it on every exposed bit!!
Reviewed by Mr Lumsden on 28/06/2015
It seems that overall the employees and agents of Headwater have forgotten who is the guest and who is the host
Reviewed by Mr Harper on 14/10/2014
Great dinners, basic breakfasts (although there were always delicious cakes).
Reviewed by Ms Robson on 13/10/2014
A great area with varied cycling and a relaxing base. Sarah was very helpful with advice on alternative routes.
Reviewed by Mr Raven on 19/08/2014
Wonderful - just what we were after
Reviewed by Mr Ayech on 31/07/2014
it was very interesting, enjoyed the countryside, the people especial. the l' Albara family met some very good people and cycled with some . Pleasantly different
Reviewed by Mrs Charnley on 14/07/2014
People can book with confidence as the description in the Headwater booklet is an accurate description of the experience on offer. Sarah, our holiday rep, was very friendly and helpful. Our accommodation was very good, lovely location and great food. However, as a family group of between ages 10 and 67, we did feel that eating our dinner at 8.00 pm was far too late and we would have appreciated the availability of tea-making facilities in our rooms.
Reviewed by Ms White on 08/07/2014
The perfect holiday for the more active.
Reviewed by Mr Edwards on 27/06/2014
A very well organised holiday with excellent travel arrangements and a warm welcome from rep and hosts.
Reviewed by Mrs McKay on 03/06/2014
L'Albara was wonderful and accommodated our dietary requirements (vegan) very well - every course had a vegan version and the quality of the food was the best we've had.
Reviewed by Mrs O'Hanlon on 19/09/2013
The outgoing travel was poor as we waited 5hours in Venice for out train as our rep did not have the time to meet us earlier. We were all very tired having been up since 3 a.m and not arriving at our destination until 5.30p.m. On our return we were offered a coach to take us directly to the airport for an extra cost of 10 euros each forfeiting our return train tickets. Why could this not have been done on the outward journey ad we could have spent a pleasant afternoon around the pool instead of waiting on a station. We used the main Station in Venice not the one of your choice as this one had left luggage facilities and restaurants.
Reviewed by Mr Birtwhistle on 18/09/2013
As a holiday it represented poor value for money with poor communication skills on behalf of the hosts ad the area had little variety. The food was fair at best and nothing like we had expected or experienced on previous headwater holidays. Overall not good value.
Reviewed by Mr Kersley on 30/07/2013
Our holiday with Headwater was a real pleasure , everyone we dealt with , from the girls in the office to our rep Sarah were very professional , friendly and helpful , taking all the worry out of the planning . Okay , so we feel that we have maybe paid a bit more than we would have if we had done all the organizing ourselves , but hey , it was worth it !! Thank you.
Reviewed by Mr Hails on 25/07/2013
Excellent communication prior to departure - during the stay - and arriving home!! A great service which gives clients confidence that nothing has been left forgotten !!
Reviewed by Mr McLaren on 11/07/2013
It was well organised, trouble free, and thoroughly enjoyable with the added comfort of an excellent superb locally based english-speaking rep (Sarah) who was only a phone call away in case of any issue, big or small, and who provided excellent route notes and a fountain of local knowledge about the area we were cycling in. the holiday was just what we needed and was 'up there' with the best package holidays we have done!
Reviewed by Mrs Shiel on 19/06/2013
We found the combination of cycling till 2 or 3 and then swimming in and relaxing by the pool ideal ! The food and welcome at the Villa Ganzerla were excellent.
Reviewed by Mis Furber on 29/05/2013
We really enjoyed this holiday, the thing that made it was the friendliness of the people in the hotel! They would do anything for you! the food is lovely and they did a great job of catering for a vegetarian. it was very cosy but we did feel that previous holidays have been better value for money where we had more facilities! The rep is wonderful and the scenery is very pretty! We had some lovely weather and great cycles!
Reviewed by Mrs Herd on 10/10/2012
Sarah was a terrific Rep: really friendly and helpful, giving us lots of tips for our particular circumstances. My less than perfect score for the 'waymarking and routenotes' was taking into account the building of the new road which had meant that local signs had been changed. Sarah was doing her best to change the master notes in the hotel to keep up with these. A fantastic holiday for us all and we would definitely love to do it again with Headwater.
Reviewed by Mrs Tatton on 13/09/2012
We would have appreciated bar facilities at Agriturismo L'Albara for drinks in the afternoon when lazing by the pool after our cycle rides and before dinner. We were surprised that no cheese or cold meats were offered for breakfast – we even noted some saved cheese from dinner for breakfast on the next day. The dinner was a set menu of four courses with no alternatives. We liked, in particular, the pasta dishes, but there is no system for advising guests of the set dinner menu beforehand in case any dish was not liked and so have the chance to ask for an alternative. The Headwater rep advised that alternatives could be requested but we suggest that the dinner menu could be displayed in the morning at breakfast time
Reviewed by Mr Hearn on 05/09/2012
Both rep and hotel made our stay enjoyable. The food was delicious and sufficient for hungry cyclists. The bikes provided were very comfortable to ride and had appropriate gearing and efficient brakes (both essential for our favourite hill climb). The route instructions were very clear and the maps allowed us to construct our own routes.
Reviewed by Mis Newton on 01/09/2012
This is the first time we have used headwater and would definitely use them again. The support provided by our rep was a lovely surprise and made the whole experience very easy and enjoyable. Location amazing, weather fantastic, scenery breathtaking and the overall experience beyond expectation. Roll on next year!
Reviewed by Mrs Kenn on 29/08/2012
We really enjoyed this holiday, lots of cycle paths and quiet roads, hotel relaxed and friendly yet efficient care and good home cooked food, so ideal for a week's stay; pool lovely as was weather. Bikes and support were excellent.
Reviewed by Mr Luck on 29/08/2012
We have now taken 9 Headwater holidays and very much enjoy this type of vacation. It worked well to stay in one place as in this instance there were enough cycle routes and places to visit to occupy the whole time. Other places we have stayed in the past would not have worked so well.
Reviewed by Mrs Tulloch on 13/08/2012
A great holiday, cycling routes were perfect length and level to allow me to feel I had exercised well in the fresh air in beautiful scenery. This made time for relaxing in the peaceful environment of the Agriturismo and feel justified in eating the plentiful food. Would definitely recommend Sarah the rep who was quietly efficient,friendly and knowledgable.
Reviewed by Mr Lane on 07/08/2012
Lovely rural family hotel, growing much of the food and producing their own wine, excellent pool. Need to plan the rides carefully to catch opening times. Extra nights in Venice well worth it, great hotel and location.
Reviewed by Mrs Pritchard on 28/07/2012
A perfect holiday, great cycling, delicious food, lovely pool, beautiful scenery.
Reviewed by Mr Wall on 28/07/2012
This is an amazing area of Italy which we would not otherwise have visited, were it not for our travelling friends with family who wanted a one-centre stay. There are so many things to see and do we could easily have had another week! In particular the cities of Vicenza and Padua were real gems. not to mention the surrounding beautiful countryside. It was just the "heat wave" when we visited in July that slowed us down a bit!
Reviewed by Mrs Munro on 23/07/2012
A great week in the sun.Bike was excellent and routes easy and interesting even at 32 cetigrade. Garden and pool lovely to come back to and eating outside every night a real pleasure.
Reviewed by Mis Jameson on 23/07/2012
We can thoroughy recommend both the Agriturismo L'Albara in Villaganzerla as well as the cycling holiday taken from the venue. It was a pleasure to receive an excellant stay in a lovely setting and feel part of the family. Thankfully Federicos English is better than our Italian but there was never really a language barrier. Food and accommodation was great, we can recommend the Prosecco, although to really enjoy it you need to bring some back with you, self drive, (long way but better carrying capacity than budget air line). Very hot whilst we were there so make sure you can cycle the distances relatively easily, practice before you come out! Andrew and Fiona.
Reviewed by Dr Williams on 11/07/2012
It was a very relaxing holiday. The cycling was generally easy to complete within 4-5 hours giving time to relax by the pool. L'Albara is very welcoming, scrupulously clean and the food quite superb. We thoroughly enjoyed it.
Reviewed by Mrs Turner on 16/06/2012
Very positive family holiday experience
Departure dates & prices
| | | |
| --- | --- | --- |
| May 2017 departures | Tour only | |
| May 6 | $1285 | |
| May 13 | $1285 | |
| May 20 | $1360 | |
| May 27 | $1360 | |
| | | |
| --- | --- | --- |
| June 2017 departures | Tour only | |
| Jun 3 | $1360 | |
| Jun 10 | $1360 | |
| Jun 17 | $1360 | |
| Jun 24 | $1410 | |
| | | |
| --- | --- | --- |
| July 2017 departures | Tour only | |
| Jul 1 | $1410 | |
| Jul 8 | $1410 | |
| Jul 15 | $1410 | |
| Jul 22 | $1410 | |
| Jul 29 | $1410 | |
| | | |
| --- | --- | --- |
| August 2017 departures | Tour only | |
| Aug 5 | $1410 | |
| Aug 12 | $1410 | |
| Aug 19 | $1410 | |
| Aug 26 | $1410 | |
| | | |
| --- | --- | --- |
| September 2017 departures | Tour only | |
| Sep 2 | $1330 | |
| Sep 9 | $1330 | |
| Sep 16 | $1330 | |
| Sep 23 | $1330 | |
| Sep 30 | $1330 | |
| | | |
| --- | --- | --- |
| October 2017 departures | Tour only | |
| Oct 7 | $1330 | |
| Oct 14 | $1330 | |
Holiday details
Holiday type
Self-guided cycling, single centre. Managed locally by Headwater employed rep.
Departures
Saturdays from 6 May '17 to 14 Oct '17, for 8 days (7 nights).
Meals
All continental breakfasts and evening meals included.
Other details
Please see our Planning your holiday and What's included in the price? pages for additional information. Please call us for single room supplements, room upgrade options and child prices.
Starting your tour
Transfers included from Vicenza train station at 14:03, and back to at 13:15.
Enquire about this holiday
Simply complete the form below and a member of our sales team will contact you (when it's most convenient for you) to provide availability information, travel options and additional information.

Not quite what you're looking for - then why not take a look at some of our similar holidays?